A Mountain Pass Safari in the Western Alps



2. Ubaye Valley and Savoi Alps
The Arc angel of Cycling

The next valley I cycled through, was the Stura Valley. A short day ended in Demonte, where I accepted a chance to crawl into the lap of luxury and take a Albergho host's offer for a half-pension (room with breakfast and supper). It was the best offer for such a combination, I had so far. The price included a two course supper (three counting dessert). I am no expert in cuisine, everything tasted just fine. I just wished that the amount of food could somehow match the high number of courses that it was divided into. Three courses, four or five, it didn't really matter. It would have been better if I could just have eaten as much as I wanted from any one course. I finished the last water, hoping that possible trace minerals contained there in, would maybe yield a few more calories. The bread was exhausted already. The bread was good, but eating all that bread inevitably leads to the European bread belly feeling; and then, after a while, you just can't eat any more bread. Instead of a gluten free diet, this is a gluten only diet. But the friendly woman must have read my mind. But maybe mind reading skills were not even required. All that was necessary was, that she observed how entirely free of crumbs, or other signs of food remnant every dish was, that she took back into the kitchen after having delivered it with such pride. The second night the portions seemed bigger already. Again I cleaned the plates until they were practically sterile. If rain would force me to stay a third day again, maybe the portions would have been - even just a tiny bit bigger.

This fine one star albergho in Demonte was the perfect starting point for another loop ride, that looked too appealing on the map to just pass by. As it turned out this was the most thrilling ride sofar on the trip. I think that the ride over the Colle Fauniera/ Col de Morti at 2481 meters is a favorite for many cyclists who have done it. In this ride also, snow and rocks played a major role; more details on the Colle Fauniera page.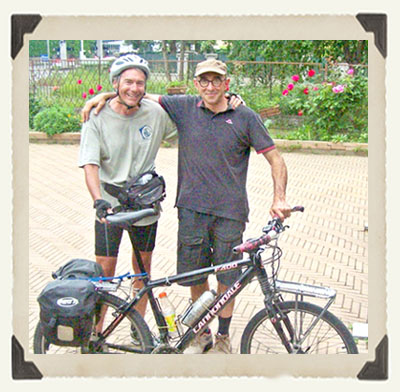 During the return trip, a nagging mechanical problem found a resolution, with the help from a sort of Arc Angel for Cyclists. His name was Marco, and his shop caught my attention through the variety of restored bikes parked outside. I was ready to buy new shoes and have new cleats screwed onto them. The old cleats were worn so much, that they couldn't get a firm grip in the pedals anymore. When Marco understood the situation, he promptly tried to get the cleats off the old shoes, something that I had given up on a long time ago. He couldn't get them off either, but he jumped on his "around town" bike with 16 inch tires and a horn for crossing driveways on the sidewalk, and signed me to follow. Promptly we arrived at a friend's house, who fired up his electrical metal saw, to liberate the shoes from there disfunctional cleats. But this would take a little time. Meanwhile Marco and me rode back to his shop - me in socks. But Marco had some spare shoes to lend out at his shop - for just such an occasion it seemed.

Meanwhile, I got the grand tour of the store. Of course everything was Italian, including a vintage 72 bike, with what may be the first attempt at suspension. The front fork was able to bend forward, creating a scissor effect between the frame and the fork. Marco was also a guide and active in helping organize races. From him I learned that an Italian apparently won a stage in the Tour de Colorado, something that I should be able to tell him instead. Apparently the metal saw had its work cut out for it too. But in the end the Arcangel and his friend won, and I completed my loop over the Colle Fauniera and arrived back in Demonte with newly gripping cleats, and one great pass cycle experience richer. Marco has a web site in Italian at http://ciclofficinacervasca.wordpress.com/ . His speciality is restoration of historic racing bikes.


---
The Ubaye Valley and the Belvedere

It's not the hills you know about, that wear you down. It's the ones that come as a surprise, usually at the end of the day. From the Stura Valley I followed the centuries old, historic route over the Col du Larche/ Colle della Maddalena with all my cycling baggage, and crossed to Jausier in the Ubaye Valley in France. Again a friendly couple at a chambre d'hote made a few telephone calls on my behalf, and I had a room more to my liking near St Anne la Condamine, at the Belvedere de St Anne, about 4km back on the road. I didn't know at the time that it was also 350 meters above the road. This was not a Gite on a hill, it was a Gite on a mountain. But once I was up there, it was impossible not to like it here, with the view of the main range in Mercantour Park out the panorama window, this time from the northern side. Again I was the only guest, except for couple who stayed two days. The next day I rode a food shopping ride into Barcelonnette, since I had use of the kitchen. All the other food shopping trips before, were only training for this one. I came back with 2 liters of milk, 1 liter of juice, 3 liters of wine, 1 liter of sauce or soup to make dinner - 1kg of frozen vegetables to fight the European bread stomach, and more foods too numerous to mention.

"Belvedere" sounds like a hotel, and there probably are lots of hotels named that. But this Gite had things that no hotel could offer. For one, it really had a Belle-vedere, a great view onto the southern side of the Ubaye valley. With Binoculars you could see the highest road cut in the alps, the road over the Cime de la Bonette, slightly lower the highest pass the Col de la Bonette/ Restefond. It looked like it still had quite a bit of snow on it. A few hundred meters difference in altitude and the exposure made all the difference in the world. On the classic loop ride over Cayolle, Champs and Allos, it was hard to even find views with snow.

This last day excursuion is one of those classic rides, that you really have to do while passing through this area, if you want to consider yourself a bicycle tourist. It is sort of like having to tour the Alhambra palace when you are in Sevilla, when you consider yourself a regular tourist. At this point, I would like to think of myself as a bicycle tourist, at least more than I like to think of myself as a regular tourist, even if this ride turned out to be a little more than I had bargained for. Sometimes it's a good idea, not to do too much research into the rides one wants to do, because if you really know what you are getting yourself into, you might never do it. This ride was such a ride. It was not a dangerous problem, it just turned out to be much longer and higher than I had guessed by purely looking at it on the map, and therefore much more exhausting.

But not since the ride over Colla Langan on the Italian coast, had I seen this many cyclists per km, and these were many more kms. Quite a few cyclists on the circuit also seemed a bit on the nervous side. One group of Germans I rode with only briefly, seemed to sprint individually to the tops of the passes, but then had to wait an extraordinary amount of time, waiting till the entire group was assembled again. In order to not get cold from the wet jesrseys, they had worked out an elaborate plan to change jerseys for each climb and decent. All that changing clothes takes time too.

Also - I have never seen photos of a bicycle tour, covering all three passes without exceptionally good weather. I don't think that the weather here is so exceptionally great. But - you want to make sure that you can actually end this ride where you started it. Consequently most people wait for stable weather conditions.

The one other dayride, I started from here, was still higher than the highest point on the previous route, the Col de Cayolle. But it was still a little lower than the snowy panorama of the Cime de la Bonnette. But the snow and ice on the following summit point was particularly well shielded from sunlight, because it went through an old military tunnel, the tunnel de Parpaillon. This route is a well publicized cycling goal with a sort of cult status for mountain bikers. But generally cyclists wait till the all the snow has melted in the fall months. How I faired on that crossing is on the Tunnel de Parpaillon s(u) page (return over Col de Vars).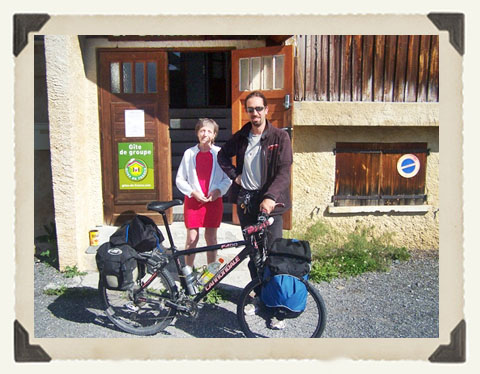 I was getting quite spoiled by the fact, that since leaving the coast, I had always been practically the only guest at the Gites. I spent quite a bit of time inside this gite, the Bellevedere. The last two day rides also resulted in two rest days. Luckily they coincided with rain days - actually not entirely out of pure luck. I had wifi access and so planning rides for good weather days was much easier than without the internet. Here in the Belvedere an entire family worked to keep the Gite open, fix it up, and and so to speak entertain the guests, or in this case - guest.

Marie, the mother in the family business, had a real talent in coming up with good French sentences, just difficult enough for me to just understand. I understood them, but I won't venture to write them down in their original French: "The woman is taking the dog outside for a walk, because we don't have a toilet for dogs" she observed about the one other guest, who was about to leave. I had to laugh about this example, thinking about bike rides in less civilized continents, where you had to dispose of the toilet paper in a bucket next to the toilet, because the plumbing couldn't handle the challenge. Well on this bike ride, even a toilet for the "chiens" was not out of the question, and the plumbing was taken for granted. She would make a great French professor, and I told her so.

The next rest day we were bird watching through the panorama window, with the view of the Col de la Bonnette obscured by clouds. These sentences were getting very difficult. She observed "I use this book to identify birds with the eye, because I don't know their "songs", except for the cookoo, the duck and the woodpecker. She explained the meaning of the last three words with the actual sounds the birds make. Now how come my French teacher didn't do that ?

As for Sylvan, the caretaker, he asked me if I needed anything periodically. On the second day this included an unusual request for a volt meter, to check continuity in the power cable to the computer I am currently writing on. Continuity was not there. But since I am still writing, you can probably guess that Sylvan had an extra cable for an old computer with the same connectors, which he even gave to me. He also let me use a flashlight so that I could get through the Tunnel de Parpaillon. What Belvedere Hotel could you say that about ?

After 6 days I said goodbye. My French had progressed to the point, where I could explain to Marie the origin of my uncivilized coffee, which consisted of pouring hot water onto regular, ground coffee.. "The coffee I drink is called Shepard's Coffee in the United States, because the sheep herders did not have coffee filters". I write the sentence in English, because I am too embarrassed of all the errors I would make in French. At this point Silvan and Marie were even daring me to put more Spanish words into my French, something that they had persistently corrected in the past. "You said muy instead of tres" Sylvan had said about a 100 times. Oh well, it's not pretty but it works. Their gite has a web site at ete.belve.fr , and is just about perfect for a loop ride through the Parpaillon tunnel. For the Cayolle, Champs, Allos loop the location adds considerable distance and climbing.

In the end Sylvan made a few telephone calls and even got me another room in a town, I thought I would reach in a day ride: St Leger les Melezes. My mission for the day, according to the directions, was to find the roudabout in this town, then proceed 50m direction Gap, then go right into a driveway and look for a glass door with a piece of paper, having my name written on it. If noone was there I was to go in and everything else would be settled later.

As usual I overestimated the distance I could cover with a heavily loaded bike and a back pack with a computer on my back. My route led me over two more low passes: Col de Pontis and also Col de Mousiere. I could have easily skipped the first one. But it would have been a shame. It was like a dessert, small and sweet, with a lake below it as special attraction.

I did get to the finish eventually, and a friendly girl came out from behind the glass door with the paper with my name on it. Everything was ready for my arrival, but she still had to put the quart of orange juice in the refrigerator, she said. Even without a common language, I somehow felt very "understood". I often find it very difficult to explain the lust-like thurst with which I consume a quart of orange juice after a long hot ride. But I think she knew, and she understood, without even making an attempt to explain it to her.

It had been a long day, especially after another unexpected 6km grocery shopping trip into the valley below. For this and other reasons, I chose again to linger another day and rest. The house was built on a hill, and I could enjoy an incredible view in 3 directions into the mountain ranges of the Ecrins National Park, while taking advantage of the modern appliances to fix things to drink and eat, on what must be a balcony with one of the best mountain views in all of France. The next morning the actual owners, the parents of the girl who had shown me in, showed up and introduced themselves. They offered me more foods for breakfast and promptly also lowered the price of this luxurious balcony home by 10 euros.

Two more days led me over three, not too high passes to Bourg d'Oisans. These were Col de Noyer, Col de Malissol, and Col de Morte. The second one in the list, Col de Noyer, is a personal favorite of mine, not because it is extraordinarily long or high or low. But the landscape around the pass is in transition in every direction, giving a ride in this region a special variety. All sorts of different landscapes are not far away, the high Ecrins mountains to the west, Bourg d'Oisans and the deep canyons around the Gorge de la Romanche to the north, the many low passes of the coast to the south, not to mention all the mountain faces and passes of the Devoluy region in every direction.

In between those two touring days I also had the chance for a new overnight accommodation experience. This involved sleeping in a camper, rented out in a campground, or caravan as they are called here. For the first time on this entire tour I managed to not stay at least one day extra because of an additional day ride that I just had to do, or a day of rain. I had this determination to keep moving north in spite of the fact, that I could have covered at least 3 new passes, so obscure, or better - such novelties - that they were not even listed on Quaeldich.de. I resisted the temptation and pushed on north, in spite of the fact that light rain started coming down. I think this marks the beginning of the second phase of the trip, the time when you begin to internalize that time is final, and you have to keep moving. It's like a midlife crisis, but the life is the trip. However, mid trip crisis or not, I would have found it difficult to just ride through the next day's end destination: Bourg d'Oisans - especially after having done just that on a previous tour.


---
The ultimate Cycling Resort: Bourg d'Oisans

I sometimes feel a little self-conscious, going into grocery shopping in my cycling attire. But in Bourg d'Oisans there really was no reason for that. There were many people with noisy footwear and colorful advertising jerseys, running down the supermarket isles, looking for the cheapest quart of orange juice for example. In the check out line a TV showed the pitch for the town, made by the bureau of tourism. It was mostly about bicycling, road climbs, paradise of the mountain biker, phrases like that appeared a lot. It's the tour de France that brought all this publicity.

The most heavily cycled road in the area is the climb to Alp d'Huez. It is the most distributed image, it's what's first on the list of things to be done by nearly every newly arrived cycle tourists, myself included. Many hours have been spent previously dreaming about riding this famous racing climb. Consequently people take themselves fairly seriously, when they finally do take on the "21 levels" as the signs call them, or switchbacks for non French English speakers.

Human interaction on this ride was limited. I had two of them. First, when a girl passed me and she dropped her leg warmers from her small under-the-saddle bag. I picked them up and tried to catch her. But my mountain bike with two panniers was no match for her carbon frame, not even mentioning my clearly inferior legs (as any fool could see). "Hey Mademoiselle vous avez perdu votre legwarmers" I yelled after her. But it was no use. She kept on riding, never turning around, while I swung her cycle clothing in circles above my head. I concluded she didn't speak French, or English for that matter. I later found the car accompanying that group of riders and gave the leggings to them. She was the only woman in this group of riders, so she was easy to identify.

The second human interaction really wasn't one. Enterprising photographers place themselves at strategic switchbacks, taking oh so personal momento photos of the hundreds of cyclists going up. They can then buy this photo on a web site. They put their business card in your jersey, as you pass.

More about the Alp d'Huez climb is in the Col de Sarenne page. Even though just a few km away from this ski resort spectacle, this pass is really something quite different, but the road to Alp d'Huez is the most direct approach to the pass from the east.

Bourg d'Oisans seems to have something for everybody. For me it also had one of the most exciting dayrides on this entire tour. It is not a big pass, but the views and the experiences along it sure makes you think so. It took me two tries to get over it, both in the same day. The first time I started following the Villard Notre Dame sign, and passed the sign warning cyclists of 4 dark tunnels, I paid little attention.

Half an hour after venturing into the dark hole in the mountains, I was back down in the village supermarket, looking for a cheap wearable flashlight. The tourism video about cycling was still playing at the checkout counter. Back in the TV section, which just happened to be adjacent to the flashlight section another cycling related video was on the news. Lance Armstrong, five time winner of the tour de France, was suspended from cycling because of doping. I hope it won't take away from the enthusiasm, with which thousands of cyclists attack the 21 levels of the Alp d'Huez. But I really don't think so. I think they like to suffer even without drugs. - I found an 8 Euro helmet light at the supermarket. I'm sure I wasn't the first cyclist, returning from a failed attempt to ride to this pass, and then look for a light here. After all, how many other supermarkets have helmet lights ? How I fared on the second try through the four dark tunnels, and what else makes this road so special is on the Col de Solude page.

In Bourg d'Oisans my accomodations were also in a gite. At least it said "Gite" on the outside. In this case I would translate the term with "Conference Center" rather than "mountain hut". On the western outskirts of Bourg d'Osains about 5 to 10 bungalow style houses are grouped around a large park like meadow. It gives the appearance of a modern rendez-vous spot, where people can cook and sleep in groups of 3 or 4 around the perimeter of a grand park, and then entertain each other and their common interests on a common ground, surrounded by magnificent mountain walls. In terms of scenery in the US, I would describe the natural setting as Yosemitish. The next-rendez vous was scheduled for next weekend. Until then I could have one of these apartments for 30 Euros a night the owner told me. This gave me two day trips in Bourg d'Oisans, really not enough, but it will have to do for now. These two days caused me to think differently about my entire cycling experience in the alps. Prior to those two days I thought, that I had actually already seen quite a bit of the roads the alps have to offer. Afterwards I realized that I had just barely caught the smallest glimpse of all the cycling opportunities in this region of the world, especially if you add the MTB or VTT dimension.

Leaving Bourg d'Oisans I had to work much harder for my scenic views the next day. If I were at 1200m in the Bourg d'Oisans region, I would have been on a high balcony overlooking the gigantic Gorche de la Romanche> But today I was at 1200m and still on the valley bottom, working my way up the Col de Glandon.


---
What can happen when you think it's Saturday but it's really Sunday

Thinking that it's Saturday, when it's really Friday is not so bad, I don't think. But thinking it's Saturday, when it's really Sunday can have consequences. The story starts on what was really Friday.

By now I had learned that gites are generally located in out-of-the-way places, and here that means in the mountains. Grocery shopping rides became climbing workouts, categorized by vertical feet and quarts of liquid, carried back to the gite. Even the woman in the tourism office in the Vaillard valley said that the grocery shopping situation was bad for this particular gite. But heck, it was still Friday, I had enough time to ride into the valley and stock up for the weekend, and then spend two nights in a beautiful location. The gite was located in the building labeled "Mairie". It's the same building as all the town offices - a great stately stone affair. One door lead into the town offices, the adjacent door opened into the gite. On the street side it had three levels. But looking out of the window on the other side, facing the valley, it looked like you were in a regular high rise apartment complex with grand view of the valley. The woman in the town office had shown me how to use the kitchen in the bottom floor, and my room in the third floor, and handed me the keys to everything.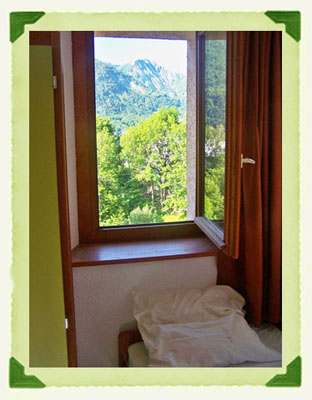 It was quite a shopping trip. It turned out to be a 2100ft / 5 quart climb back. When I came back from my workout I was so exhausted I unlocked the adjacent door to the town office instead of the gite. Surprisingly the key was the same. The town official was still there. She came out laughed and said something I couldn't understand. Whatever it was, I was sure it was "pas de problem" I insured her. But that was the wrong answer for this situation. - That might have been here answer, to whatever I would have supposed to have said in this situation. When I recognized this I substututed a hasty "je suis desole". Now she said "pas de problem" and "C'est ne pas grave". She laughed, I would have, had I not been too exhausted.

Walking to the 3rd floor to get the rest of my dinner supplies back to the first floor felt like a real workout that evening. But next morning all was well, and I did what I thought was my Sunday ride over Col de la Croix de Fere and Col du Moillard. By now I had come to accept that I would see more cyclists here in a day than in the Denver area in 2 or 3 months. I thought they were all here on cycling vacations, after all - what other kind is there ? This is the center of the Tour de France action.

This is how I learned it was really Sunday - the next day. I was wondering why the traffic was so heavy going up Col de Madeleine. The restraurant on top of the pass was doing great business. The huge parking lot on top was filled with motorcycles, people milling about, and the magnificent view of Mont Blanc apparently caused great outbursts of joy. Next a automobile rally of Honda Preludes arrived. It was all a bit too busy for me, so I rolled a km down the other side and found a quiet place in the tundra to have my lunch. I just bought enough for one meal. A conversation about all this with a passing cyclist informed me that tomorrow will be quiet again. But today was "dimanche", that's why it's so busy. Since the stores were closed on dimanche this meant grocery shopping in gas stations for me. There were just slightly out of the way along my route in Moutiers. I managed to find a carton of vegetable soup, 5 eggs, 2 quarts of milk, a quart of orange juice and two croissants. Along the way I rolled over a crushed glass bottle, but the tire seemed to be all right.

About 3km before my goal Aime I had my first flat of the tour. I was thinking back of those images of Tour de France riders getting flats. There is the support vehicle with half a dozen bikes on top and a full dozen of wheels, and voila, a push from the back and he's on his way. But thinking about that didn't help. It only made it worse. It made the fact worse, that I had great difficulty getting the pump to work and finding the cause of the flat. I just got enough air in it to get me to the outskirts of Aime. An open fire department was kind enough to let me use their air pump. By the time I was in Aime I had another flat, and the gite I was trying to get to was still 10km up a hill. Feeling dejected by my ability to fix tires, this would have to be the place where I would stay. I walked to the three hotels that seemed to be in walking distance, "ferme" - all three of them. The second person I asked for further possibilites to get out of this situation told me sit on a bench and wait. 15 minutes later I was in the basement of the house behind the bench, while the woman put sheets on the bed. Basically she acted as if it was a gite. The couple showed me how to lock the door when I would leave, gave me towel, and asked me if I needed anything else. I couldn't help but wonder if this readiness to help was a result of the gite experience, which must be an integral part of everybody who grows up here. The instructions were the same "lock the door and drop the key in the mailbox"

After some vegetable soup with eggs and a few tomatoes I found in the bottom of one saddle bags, I decided to examine the tire again and dug a little piece of glass out of the mantle. "Tomorrow I'll have to look for more tubes. Hopefully it won't be Sunday anymore and the stores will be open" I thought. Again I left 25 Euros on the breakfast table, and thanks again for everything.


---
Is it a boy or is it a girl ?

Actually anything to do with bicycles was closed on Monday too. I should have known, this was to make up for being open on Saturday. But a gas station was nice enough to patch my tubes, and so I had a functional tire and a spare tube and continued over another popular, high climb the Cormet de Roselend to Beaufort. I thought that the picturesque town would make a good base camp for several day rides. But there actually was a much better place, I just didn't know about it yet. The search for a room began as usual in the bureau de tourism, and it didn't look promising. The experience also pointed out another characteristic of the "bureau de tourism". They are often very knowledgable about the entire area, but they work for the small district or town they are in, and they are reluctant to let business go, and send you to the adjacent town. Not until I had personally checked out and rejected the two hotels in Beaufort, did she tell me the details about an auberge that sounded much better. It was located 8km from here, down in Quaiche - or was it up in Quaiche ? It wasn't easy to find, the best directions were the "first house on the right". I should have suspected that Quaiche had several parts, an upper, a lower, a middle. But at the end of a long day of climbing directions starting with "the first house" sounded pretty appealing. To make a long story short. It took a long time to find and I stayed longer than I had anywhere else so far - a week, and not just because I was afraid of how difficult it would be to find another place to sleep again. - However I did schedule the departure for a Monday, not a Sunday, and I made sure I got my days right by asking the gite's proprietor. After a week of excellent sunny weather, I could add these rides from Quaiche:

Cormet d'Areches - It's higher than the popular, adjacent Cormet de Roselend, but it also contains an unpaved section over the top.
Col de l'Arpettaz - this little road just seems to go in circles - or is it switchbacks ? - forever and a day.
Col des Saises - This is the highest summit on a loop of 4 or 5 recognized passes, that can easily be abbreviated, or expanded for that matter.
Colle Tamie - This ride is a lot shorter. The main purpose of the day was to get a new tire in Albertville. The ride still contained enough scenic beauty for two days.


--------------------------


I was trying to tell her, that I really didn't mind that she had looked into my room. She was profusely apologizing. "You speak English" she said suddenly and didn't seem to mind at all either. Actually she seemed quite happy about it, even if I had an American accent, and she spoke pure London English with a twist of East Ender accent, but only if she wanted to. Elizabeth didn't get to speak that much English any more, since she had followed Bernard to the outskirts of Annency, where they had first lived in a gite for an entire year. She was an original London East Ender, and she assured me "yes life there is really like on the TV show with the same name". Elizabeth and Bernard met in London, and now they were a binational lumber jack couple. He cuts the trees and she measured them and did the bookwork. In the evenings they looked up the sap content of the day's harvest and calculated the corresponding monetary value of the day's work as teamwork. Their current job was only a few kms from here. But one of these kms was purely vertical. Their work place was at about 1800m.

Elizabeth was only happy to speak English for a change, even if it was about French speaking habits. "Normalement" now there's a puzzle. You know what it means when the answer to a question starts out with "normalement". "Normally the weather is ...". It means that the person really does not know the answer. It's different than "I think the weather will be...". It's more like "I don't know, but my guess is that "normally ... the sun shines". While Elizabeth and me talked and compared languages, Bernard cooked. "You do what you do best" he said to Elizabeth - "Entertain".

The other thing Elizabeth found confusing about her boyfriend's language was the gender issue. Take the "le pain", the bread - it's a boy - but then la baquette - more bread but - it's a girl. "Don't forget "la Briouche' - again more bread - this time a girl. It was one of Elizabeth's favorite questions to Bernard, when speaking French: is it a girl or is it a boy ? But don't feel bad about English being such a simple language" she said. They may have all the genders, conjugations and declensions, but WE HAVE MORE WORDS. The English dictionary is much bigger than the French.

During the first three days at la Auberge des Roches I had two suppers. One that I fixed myself fairly early as, I do out of habbit, and then another, later supper, that Bernard and Elizabeth invited me to downstairs in the kitchen. Using the remaining bread to wipe the last drops of sauce off the plate signaled, that the dinner was slowly coming to an end. After that was still a course of cheese, usually brie but also some goat cheese. And finally the last final course, the chocolate. Bernard preferred milk chocolate and had good things to say about the happy cows that produce the best milk, and hence the best chocolate. Elizabeth preferred dark chocolate with a high cocoa content - a boy and a girl chocolate so to speak.

Every couple of days the proprietor, Missieur A., dropped by and worked on the house. It was a large old house, maybe 4 rooms with 6 beds each, and a large kitchen and common area downstairs. The house told its own story. The rooms were decorated with vintage 60s photography.: lions on a hunt, a smiling peruvian boy, happy children with lipstick. Mrs. A. was much to young to have been there, when this auberge had its busiest days. He had bought it from the woman next door, and was now in the process of working on it, while still running another gite in upper Quaiche as a family business. Elizabeth and Bernard had the apartment under the roof. I had my pick of several large bedrooms on the second floor. The house was ultimate peace to look forward to after a hard ride. After Bernard and Elizabeth's work was done in this area, Mrs A. gave me a key so I could lock up the house during the day. He was mostly at the other gite, the one in upper Quaiche, the one that would have taken another hour for me to climb to on my bicycle