Col du Mollard


The best scenic view from the famous
Col de la Croix de Fere
are the three glaciated horns of the Aigles s'Arves, that prick the landscape like three shark teeth. Well - this pass gets you one ridge closer to this mountain jaw.
There are fewer bikes on this road than on the busy Croix de la Fere. But bicycles still seem to outnumber cars by a significant margin on a sunny day in June.

1.(00.0km,533m) START-END WEST: St Jean de Maurienne, eastern side, near river Arc
2.(05.0km,858m) Pierrepin
3.(15.9km,1249m) route turns left onto D80, just before reaching a small dam
4.(21.7km,1638m) TOP: Col du Mollard, just after village of Mollard
5.(23.2km,1516m) Alibiez le Viex, at junction of D80 and another small road on left; profile follows D80 on right
6.(28.0km,1357m) Albiez le Jeune; switchbacks start a km after this
7.(40.9km,544m) START-END EAST: St Jean de Maurienne, western side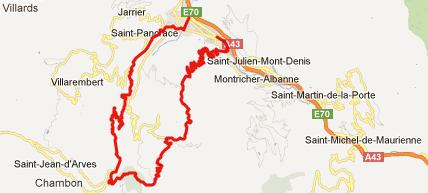 Approaches
From West. I had a small problem trying to find the turnoff to this pass, after descending from Col de la Croix de Fere. The turnoff is several km west of St Jean d'Arves, directly adjancent to a small power station dam, and it is signed.

The road starts to climb through forest and soon the first view of the Aigles d'Arves appears ahead. The pass road winds in switchbacks to the north, with ever improving views onto these 3 peaks, and also several other mountain groups. The top is the town "le Mollard", located directly adjacent to the summit, on this side. On top of the pass is a water fountain dispensing drinking water, several pique-nique tables, some in the open, some in shelter, and a riot of wild flowers in June.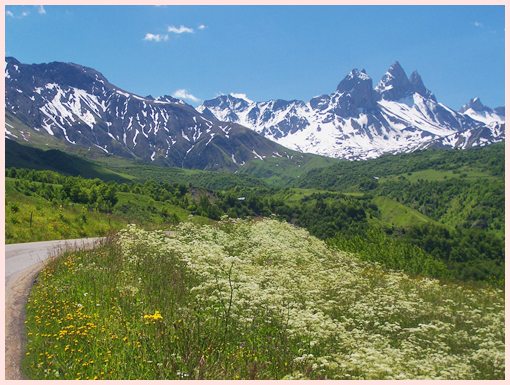 Aigles d'Arves on the way up west side of Col du Mollard

From East. (described downwards): The viewshed in this direction takes in the Maurienne Valley. The church in the first village, Albiez le Vieux, is located on a small ridge, that makes a perfect foreground for photos from many different directions. Some of these are included in the picture page. In this village the roads make some curious twists, maybe to slow down motorists. There are two ways down from here. Rather than rejoining D926 from Col de la Croix de Fere, the profile descends to the south directly to Villargondran. Again the mentioned church shows up in views, this time as foreground to "les Grandes Rousses", a in June snow covered wall also reaching over 3000m. The road descends in innumerable switchbacks through the forest.

You think you've reached the bottom when you enter the old part of town of Villargondran. But there is still more descending to be done, until finally a viewpoint looks out over a valley filled with businesses, railroads, an expressway, an aluminum plant, in short - the modern world. The mountain walls behind this scene are immense. Exiting Villargondon it's possible to descend on a side road, heading west directly into St Jean de Maurienne (I think it was labeled D81), or one can also take a westerly course into the valley.


A dayride with this pass as intermediate summit is on the page: Col de la Croix du Fere

The last summit ride with different start and end points on this Extended Tour was:
Col du Glandon
back to Cycling Passes in Europe