Collet de Tamie

The Collet de Tamie (960m - that is Tamie Hill) is a little higher than the Col de Tamie(907m - Tamie Pass). The latter is a low crossing in the southern part of the Chaine des Aravis, connecting Albertville with Faverges. The Colle de Tamie is a summit on the Albertville side, and to the north west side of the pass. It goes a little higher than the Col. Both points have separate labels on my Michelin map.


1.(00.0km,339m) START-END SOUTH: Albertville, bridge over river Arly
2.(05.2km,609m) intermediate high point
3.(07.3km,474m) intermedate low point
4.(09.3km,560m) lower turnoff to Chevron
5.(14.5km,960m) TOP: Colle de Tamie
6.(15.5km,907m) D104 ends at D201C; profile turns right at Col de Tamie
7.(25.5km,519m) START-END NORTH: Faverges, jct: D12 - D2508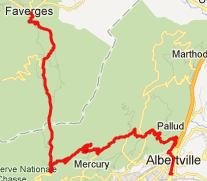 Approaches
From West. There are many possible approaches. The one I happened to find was to follow signs to Pallud from Albertville, and then continue on D104 all the way. There is a shorter more direct approach utilizing 201C. My option lead me over an additional small summit at point 2, before reaching the Colle de Tamie.

Part of the climb is in the forest, which allows some cooling off if the weather is hot. But when the upper road is not in the forest, it is also a kind of viewing balcony, which includes one or two unobstructed views of Mont Blanc in the far distance. But considering this distance it appears at least as imposing as from the much closer Col des Saisies, when the weather is extremely clear.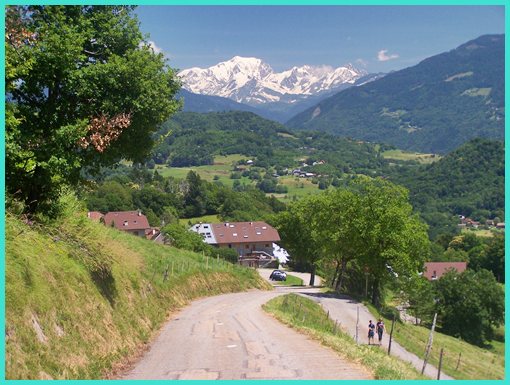 climbing Collet de Tamie with Mont Blanc in background

From East. (described downwards) You could just descend back down to Albertville. But the profile goes over the Col de Tamie, and descends to Faverges. Between the Colle and the Col there is a turnoff to an old fort. It seems to be mostly a pique-nique site with a 3 Euro entrance free.

Descending further, the road with its many cyclists passes the Abbey de Tamie, a nice site looking across a park or filed of royal proportions, stately houses in front of a statuesque mountain. During the beginning of the descent the bike just rolls along a gentle valley, the Plateau des Teppes. But there is a more substantial drop at the end, as you roll into Faverges. There is a excellent bike path following an old rail bed here in both directions, either to Ugine or to the Lac d'Annency.



--------------------------------------------------

----------------------------------------------------




top: Abbey de Tamie, east side of Col de Tamie
left top: climbing above Albertville and Pallud
left bottom: clearing on upper western approach to Collet de Tamie
Dayride with this point as highest summit:

Collet de Tamie , Col de la Forclaz:
Queige > many miles shopping around Albertville > D104 Pallends s(u) > Collet de Tamie > Col de Tamie(sh) > Faverges > Ugine > Col de la Forclaz > sp: 51.1miles with 4330ft of climbing in 4:42hrs (VDO MC1.0 m4:12.6.23)
The last pass ride with different start and end points on this
Extended Tour
was:
Cormet de Roselend
back to Cycling Passes in Europe