Col de la Croix de Fere

On a sunny summer weekend this summit feels like the center of cycle racing culture of the western alps. It's not only a center of Tour de France activity. It is also a popular hang out spot, as well as the finish of many a private rivalry between friends, not to mention many other organized races, other than "the Tour".


01.(00.0km,448m) START-END NORTH: bridge over river l'Arc in la Chambre
02.(07.0km,875m) lower turnoff to Saint Alban de Villards and other villages
03.(08.9km,993m) upper turnoff to Saint Alban in le Plan Champ
04.(10.0km,1086m) Saint Colomban des Villards
05.(21.1km,1924m) Col du Glandon
06.(21.3km,1897m) profile turns left on D926
07.(24.0km,2067m) TOP: Col de la Croix de Fere
08.(31.0km,1502m) Saint Sorlin d'Arves
09.(37.8km,1249m) START-END SOUTH ALT: route to Col du Mollard takes off on right
10.(53.5km,538m) START-END SOUTH: Saint Jean de Maurienne, approaching river l'Arc.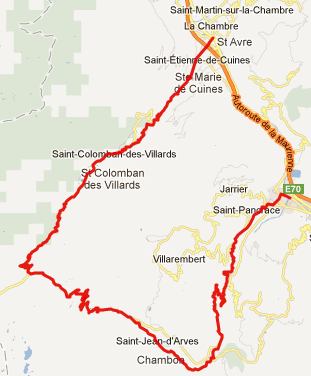 Approaches
From North. From the top of Col du Glandon, just a hundred meters of climbing remain to gain this pass. The route traverses a gentle high valley, in treeless at half height. You're at the top before you can actually fully appreciate the surroundings. Both approaches of Gol du Glandon can be used to construct one day loop rides over Col de la Croix de Fere. But the one using the Col du Glandon southern approach is very long and goes over Col du Galibier. Using Glandon's northern approach to make a loop, Croix de la Fere can be cycled in a loop without any other additional passes. A nice optional addition to that ride is Col du Mollard.

On top of the pass waits a grand panorama, centered around les Aigles s'Arves, three glaciated horns reaching between 3200 and 3300 meters.

From South. (described downwards): Switchbacks and great views last till St Sorlin d'Arves, a ski resort that attracts just as many bicycle events when there is no snow, as ski events in winter. From here the road follows the valley bottom and descends rapidly towards St Jean de Maurienne.

If looking for the turnoff up Col du Mollard, the descend on the main road from the top Croix de Fere, goes well past St Jean d'Arves. The turnoff follows a small damn and is signed. My Michelin map seems to show a completely different picture.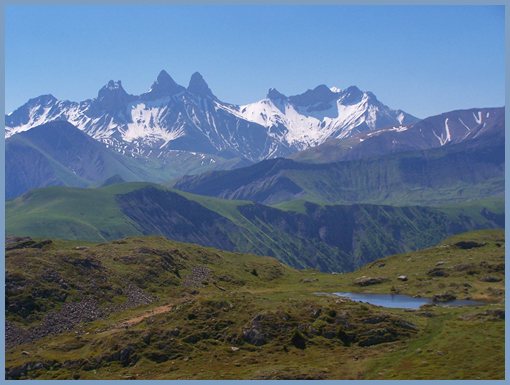 telephoto picture of Aigles s'Arvres from top of Col de la Croix de Fere

History-Cycling. The pass has been a favorite of Tour de France route pickers only since after WW2. But between 1947 and 2012, 16 stages crossed the top.

Dayride with this pass as highest summit:

Col de la Croix de Fere, Col du Mollard:
St Alban des Villards > Col du Glandon(shp) > Col de la Croix de Fere > St Jean d'Arves > Col du Mollard > Albiez le Viex > Albiez le Jeune > Villargondran > St Jean de Maurienne > St Etienne de Cuines > sp: 52.8miles with 6940ft of climbingin 5:31hrs (VDO MC1.0 m4:12.6.15).
Notes: on a hot and sunny day in June
The last summit ride with different start and end points on this Extended Tour was:
Col du Glandon
| | |
| --- | --- |
| | left: the jct with Col du Glandon, as well as its summit, can be seen on the right side of this picture, while riding to the summit of Col de la Croix de Fere |
back to Cycling Passes in Europe