Col des Saises

This well traveled pass road has a ski resort on top. The wide road and the extensive housing infrastructure on top is a good recipe for a Tour de France pass. - And the pass has been on the route many times in recent years, but never has a stage ended here. For me the best thing about this road: There are the most amazing views of Mont Blanc.


01.(00.0km,342m) START-END SOUTH ALT: Albertville
02.(08.2km,536m) turnoff to Queige is on left
03.(14.6km,702m) Villard sur Doron, with another turnoff to top of pass on left
04.(15.8km,716m) START-END SOUTH: profile turns left up D218
05.(24.0km,1182m) road turns left, away from Hauteluce
06.(30.8km,1653m) TOP: Col des Saises
07.(38.9km,1282m) Planay
08.(43.6km,1024m) profile takes a left turn into Flumet
09.(45.9km,900m) START-END NORTH: road crosses bridge into Flumet; profile turns left down gorge of the Arly
10.(59.3km,406m) START-END NORTH ALT: Ugine, approaching la Chaise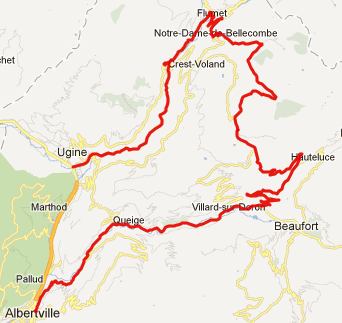 Approaches
From South. D218, a regular wide road with fairly heavy traffic leaves the valley of the Doron between Villard sur Doron and Beaufort. The map also shows a smaller road on this side. It connects the lower southern Villard sur Doron with the main approach, D218, shortly before the top. Usually smaller roads are better. However I suspect that in this case the small road may miss the major attraction on this ascent. There are a few glimpses of what's to come further down. But the uninterrupted view comes just as D218 turns away from Hauteluce and its route up Col du Joly. Mont Blanc appears behind a green ridge, consisting of frozen white ridges, still in mid June. And these ridges are in control of the clouds and the weather. These views last for several switchbacks until the road enters the ski resort of Saises, located on a loaf shaped mountain.

The highest point is immediately north of the town at a roundabout. At the center of this roundabout is a fairly strange statue of a mountain biker. I didn't see a pass sign on top. But there are lots of signs along the way.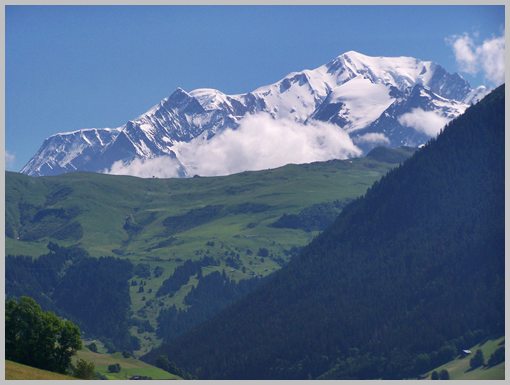 climbing above Hauteluce to Col des Saises,
this telephoto view of Mont Blanc and Col du Joly emerges

From North. (described downwards). After the view of Mont Blanc on the other side, it's hard to compete in the scenery department. The Chain de Aravis is equally steep, just a lot lower. Approaching Flumet at the bottom, a D road on the left makes a short cut into Flumet. It enters with a nice view from above, the village houses hanging over the river Arly precariousely. Crossing the bridge over the Arly, and immediately afterwards crossing the main road, the route heads right up the next pass, Col des Aravis

History- Cycling- Tour de France: Ski resort towns are always a favorite of large organized bike races. Saisies is no exception. Up to 2010, the pass was 11 times on the Tour de France schedule: 1979, 84, 87, 92, 94, 95, 2000, 02, 06, 09, and 2010.

Dayride with this pass as highest point:

Col des Saises , Col des Aravis , Col de la Croix Fry , Col de l'Epine , Col de la Forclaz :
Queige > Villard s Doron > Col des Saises > Flumet > Col des Aravis > Col de la Croix Fry > Montisbrand > Col du Marais(shp) > Col de l'Epine > Marlens > Ugine > Col de la Forclaz > sp: 72.0miles with 9470ft of climbing in 7:12hrs (VDO MC1.0 m4:12.6.22)
Notes: last pass included a bag full of groceries
The last pass ride with different start and end points on this
Extended Tour
was:
Cormet de Roselend
back to Cycling Passes in Europe