Cormet d'Areches

While on the top of the adjacent Cormet de Roselend probably multiple groups of cyclists posed for pictures, I didn't see a single other two wheeled traveler, bicycle or motor bike on this crossing. The Cormet d'Areches is very scenic and reaches higher than the Cormet de Roselend. But this road is unpaved and a mountain bike is better for this surface.

01.(00.0km,342m) START-END NORTH ALT: Albertville, bridge over Arly
02.(08.3km,537m) turnoff on left goes over Col de la Forclaz
03.(14.7km,704m) Villard sur Doron
04.(18.5km,741m) START-END NORTH: Beaufort
05.(24.5km,1132m) Areches: turnoff to Col du Pre is on left
06.(30.3km,1570m) route reaches Lac de Saint Guerin
07.(37.9km,2107m) TOP: Col d'Areches
08.(43.0km,1656m) Laval
09.(58.8km,678m) START-END SOUTH: Aime
10.(72.2km,480m) START-END SOUTH ALT: Moutiers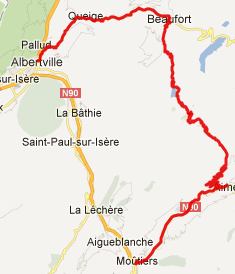 Approaches
From West. Looking at the route on the map, the initial approach between Beaufort and Areches is a side road, compared with the parallel, initial approach to Cormet de Roselend . But in my experience it has more traffic. But it all goes to the town Areches. After that a peaceful paved road stays fairly close to the valley bottom until it reaches the barrage de guerin. Here a sign with a Beaufort Cow as logo congratulates you on having climbed this one way paved summit.

From here on small signs, directed towards hikers, point the way to the Cormet d'Areches at every intersection. But the pavement continues quite a distance further up. Now climbing above the reservoir, le Grand Mont (a little below 2700 meters) takes on a wedge shaped appearance. The road cut for the path we are on, can be seen ahead, up to a point where it disappears in a gap. It looks like it could be a pass, but a waterfall also originates in this gap, so the pass must be higher. After the road changes to dirt it is definitely rough enough to merit a mountain bike. The pass itself cannot be seen from below. It comes very unexpectedly after a left turn, soon after passing the gap originating the water fall. There is a large sign on top, that makes a good foreground for photos in several directions.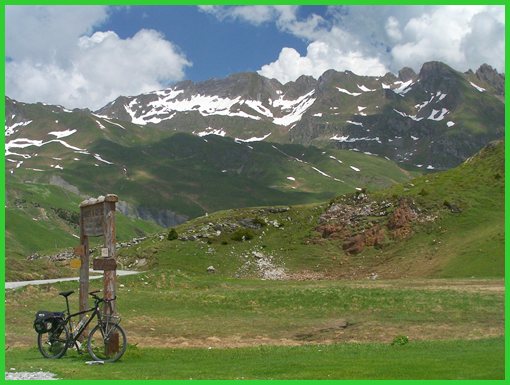 summit of Cormet d'Areches
From East. (described downwards). A hundred meters below the top, a magnificent vista to the west opens up. These high peaks are in the Vanoise National Park. Descending through tundra, the curves in the switchbacks become paved, while the ramps remain dirt road. When the entire road becomes paved the descend becomes very fast and straight. Emerging above the valley, still 1000 m above its floor, the road connects 3 high villages along the long ramped descend. All of them have the locally characteristic church towers and narrow passages through the villages.

The profile continues North to Moutiers. Along the way the National Route goes through a long tunnel. It's well lit and also has a bike lane. Connecting below Moutiers to Albertville takes a little time sorting out on a first ride. Many signs, directed at motor vehicles, constantly lead the cyclist onto the National Route. This road however is closed to bicycles below Moutiers, and the cyclist has to look for the adjacent, unsigned service road.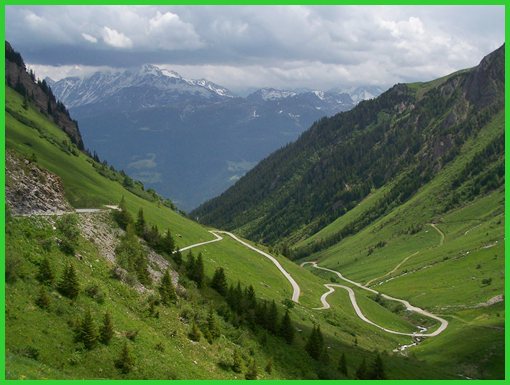 the eastern descend of Cormet d'Areches curves towards treeline with serpentines,
as a thunderstorm threatens


Dayride:

PARTIALLY PAVED / UNPAVED
Cormet d'Areches, Col du Pre x2:
Queige > Beaufort > Areches <> Boudin > Col du Pre > to turnaround point: jct D922[to cormet de Roselend] << back over Col du Pre > Areches >> Cormet d'Areches > Aime > Moutiers > Albertville > sp: 82.0miles with 9160ft of climbing in 7:48hrs (VDO MC1.0 m4:12.6.20)
The last summit with different start and end points on this
Extended Tour
was
Cormet de Roselend