Col de Pontis


Much of what makes this little pass so attractive is the lake below it. The road shortcuts across a ridge, to cut off the area inside a "partial moon" shaped lake. - Probably not the best description, but a look at the map will explain. The little patched up road goes far above the motorcycle caravans, though you can still hear them every once in a while far below. The road below along the lake was also used by the tour de France in 2005, under the name "Cote de Demoiselles-coifees". You could never get a such massive racing troop over this pass. But it's just about perfect for a solo bikeride with sturdy tires.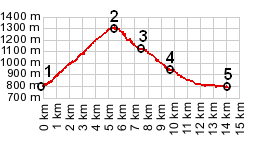 1.(00.0km,803m) START-END SOUTH: jct D954 - D7, near south end of Lac de Serre-Poncon
2.(05.3km,1301m) TOP: Col de Pontis
3.(07.6km,1110m) Pontis
4.(09.6km,937m) road joins road on south shore of Lac de Serre-Poncon; profile turns right
5.(14.1km,782m) START-END NORTH: D954 at bridge across south end of Lac de Serre-Ponce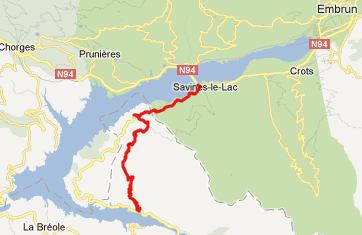 Approaches
From South: The exit of the river Ubaye from the mountains is quite impressive. Sofar paralleling the river, D954 forks off to the right and leads around the eastern side of Lac de Serre Poncon. The road goes through two relatively short tunnels, and then a sign to the right points up the exquisite little cycling road to the Col de Pontis. This is where the profile starts. The road climbs in miniature like switchbacks above the badland topography of the undeveloped southern shoreline of Lac de Serre Poncon. The end of the "Cirque de Morgon" appears above, often perfectly framed by trees hanging over the narrow road. Traffic is light, but it is too easy to forget that there still are some cars on this narrow path. The crest comes soon after a group of old houses. On top stands a pass sign, along with an enticing sign pointing up paved path, climbing higher, with the label "Cyclotourisme brevet de 7 Cols Ubaye".

| | |
| --- | --- |
| | |
| | |
| --- | --- |
| | |
| | |
| --- | --- |
| | |
From North. (described downwards) But instead this description now descends the pass. On the other side is the huge Embrun Valley to the right, and the lake below now has a very commercially developed shoreline. But from up here it all looks very toy like. Just the mountains encircling the entire scene appear too huge to be toylike. The road passes through the village Pontis, which has a little park that is great for pique-nique in the shade. The road now dives into a deep forest for a short relaxation from summer heat. It is so dark in here, that it takes a little time for the eyes to adjust. A little later the road soon merges with the main road again, D954A. This time D954A is also some distance above the lake, and the profile descends along with it to the bridge in Savines-le-Lac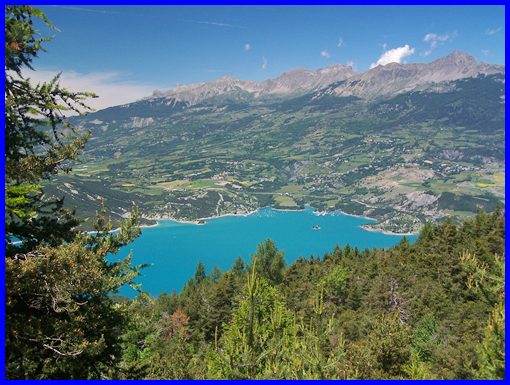 A Day on a Tour:

(<
Col du Larche
|Col de Moissiere
>)

Col de Moissiere , Col de Pontis:
St Anne la Condamine > Barcelonnette > le Lauzet-Ubaye > Col de Pontis > Chorges > Col de Moissiere > Ancelle > St Leger les Melezes <> out and back 6km grocery shopping trip: 67.4 miles with 5530ft of climbing in 6:29hrs (VDO MC1.0 m4:12.5.9)
back to Cycling Passes in Europe