Col de Moissiere

This is a nice, quiet bike ride through the forest. But it would have been even quieter if I hadn't run into two ATV riders on the road along the way, the first ones I have seen in France for at least a 1000 miles. The distant view shed of the ride changes from the Ubaye region and its massive ranges to lower foothills of the Ecrins national park, that are paradoxically more jageed, even if they are lower.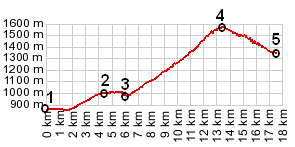 1.(00.0km,858m) START-END SOUTH: turnoff to Chorges from N94
2.(04.3km,1004m) intermediate high point
3.(06.3km,974m) road joins with western approach from N94 from left
4.(13.5km,1573m) TOP: Col de Moissiere
5.(17.5km,1340m) START-END NORTH: road approaches La Rouanne in Ancelle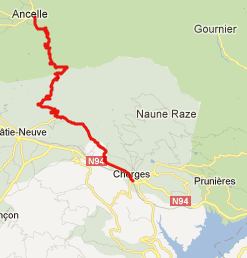 Approaches
From South. Depending on, if you are approaching from east or west, there are two lower approach options from busy, noisy N94 that meet in the group of houses "les Borels". I approached from the west through Chorges, and that's what the profile shows. I had to ask for directions in Chorges, since none of the names on the road signs coincided with any on my map. But the route is pretty obvious. It traverses up the Chamsaur Range, without turning directly into it. This initial lower part of the road has great far views of the mountains surrounding the Ubaye valley, north of Barecelonnette. These views are actually much better than further up on the pass. The small road initially crests in les Bres, descends a small distance, crosses a nondescript bridge and then meets with the other approach option from the east in "les Borels", on a much wider road.
The Ubaye mountains further rotate out of the field of view from here on. But there are still a few switchbacks left to enjoy the view. Soon the road enters a thick forest and also becomes much narrower. A single jagged peak above comes in and of view above reputedly. This climb seemed intermittently very steep to me. I thought that this was because I was riding a fully loaded mountain bike and carrying a backpack, but apparently the slope also reaches 15% for periods so short, that they are averaged out on the profile.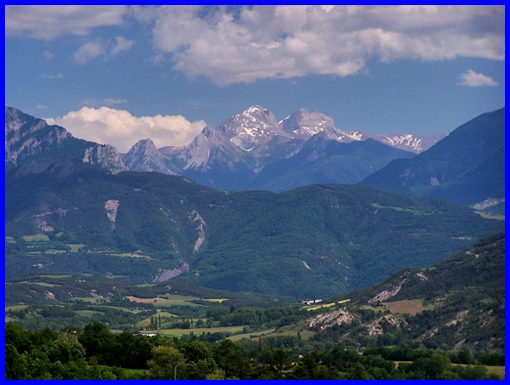 Col de Moissiere - telephoto picture looking towards Ubaye valley, taken from section between point 1 and 2

From North. (described downwards). The top has a ski lift, a pass sign, and an expanse as fields, that give give this summit a natural, undeveloped impression. Here the view to the north and the high, hogback ridges of the Ecrins opens up. Past Ancelle there are many ways to descend. The profile chooses to go north to St Leger les Melezes. All of these are small mountain towns with tourism and facilities for it. Fortunately these are not condominium tower ski towns. Instead -some- judging from my overnight stop, are old on the outside, and boast the most modern appliances and comforts that the world can imagine on the inside.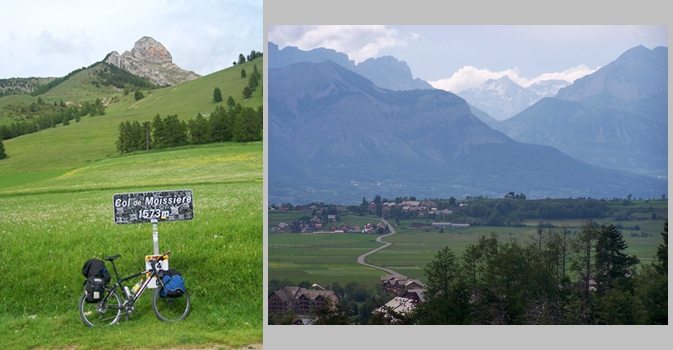 Col de Moissiere: left: summit right: approaching Ancelle


A Day on an Extended Tour with this pass as highest summit:

(<
Col de Pontis
|
Col du Noyer
>)

Col de Moissiere , Col de Pontis:
St Anne la Condamine > Barcelonnette > le Lauzet-Ubaye > Col de Pontis > Chorges > Col de Moissiere > Ancelle > St Leger les Melezes <> out and back 6km grocery shopping trip: 67.4 miles with 5530ft of climbing in 6:29hrs (VDO MC1.0 m4:12.5.9)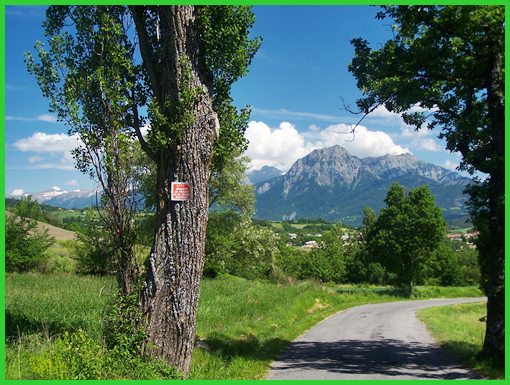 leaving Chorges towards the southern approach to Col de Moissiere


back to Cycling Passes in Europe