Tennessee Pass

Tennessee Pass is the third highest summit on the Copper Triangle Loop, It runs roughly parallel to Fremont Pass. Even though Tennesee Pass is 900ft lower, it is a much more pleasant and relaxing ride, far away from the traffic of the city, surrounded by green hills abruptly terminated in the distance by mountain walls.
Battle Hill Summit
the major part of the "big approach" from Minturn, as well as an interesting summit in its own right, vastly increasing the numbers of possible loop rides in the area, but mostly with a mountain bike.

1.(7730ft,mile00) START-END NORTH: Dowd Junction, connects with Vail Pass profile
2.(7840ft,mile02) town of Minturn
3.(9267ft,mile08) Battle Hill Summit
4.(8560ft,mile10) START-END NORTH-ALTERNATE: left leads to Redcliff and Shrine Pass profile; straight to Tennessee Pass
5.(9340ft,mile15) north end of Camp Hale, Kokomo Pass profile connects to this point
6.(10424ft,mile22) TOP: Tennessee Pass
7.(10190ft,mile31) junction with Fremont Pass road, continue right to Leadville
8.(10190ft,mile31) START-END SOUTH: Leadville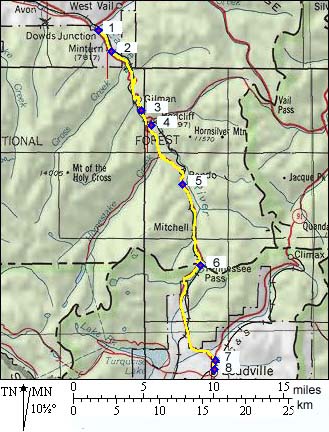 Approaches
From North. The largest part of the elevation gain to Tennessee Pass is really part of Battle Hill Summit. The most persistent climbing workout is on that stretch. After crossing the turnoff to Redcliff, the ride takes on a forested valley character, propelling the rider to 10400 feet through a variety of rolling hills, and gentle forested inclines. This is one of the most gentle ways to get to that altitude in the state. Maybe for that reason, the pass is often cycled in this direction.

Peaks of the northern Sawatch Range make periodic appearances behind a vast forest. From here they almost seem to be at eyelevel. In the spring all that ice at roughly the same elevation takes on an unlikely appearance.

The road passes a little above Camp Hale, a pleasant mountain park, made more scenic by the Gore Range behind it. A grid work of abandoned paved roads are left from the training facility of the 10th Mountain Division. There are also many interesting MTB climbs leaving from here, including on the Colorado Trail. Leaving Camp Hale signals the final ramp to the summit.

The top of the pass in in open forest, with surrounding mountains gently sloping far above. There is a turnoff to Cooper Mtn ski area, another dirt road leading a little higher on the west side and a 10th Mountain Division military memorial - and a single picnic bench, but not much in the way of views.


From South. Looking at the profile, you might ask what approach ? The top of the pass is only 200 feet higher than the starting point, Leadville. Still, this part of the road has the best distant views onto the northern Sawatch Range.
Dayrides with Tennesee Pass as intermediate summit are on pages:

Searle Pass - Elk Ridge
Colorado Trail m148.8(sh)
Fremont Pass


A Day on Three Day Road Tour with this pass as intermediate summit is on page: Vail Pass
History

Fremont (<Currant Creek Pass): The pass was well known by trappers and traders of the 1830s. But the official discovery of Teennesee Pass is credited to professional hero Lieutenant Fremont and his ragged group of "topographical engineers", consisting of former trappers, traders and mountain guides. The fact that the adjacent pass to the south carries Fremont's name, and not this pass, is an oddity. But then again maybe it is quite fitting.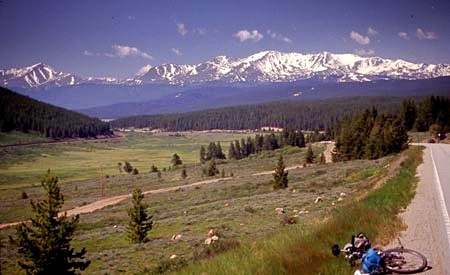 Fremont had a deep desire to explore high Colorado passes ever since he got the job mapping the west for possible emigration and military routes from his father in law. That just happened to be Senator Hart Benton, originator of the catchphrase "Manifest Destiny". America was destined to become a continental power stretching from sea to shining sea, which would also include California, Oregon and Mexiico, all of which where still officially spanish. Fremont's previous two expeditions had centered around Wyoming and its emigration highway west, the Oregon Trail. Only on his way back home during his second expedition had he penetrated the Rockies over Hoosier Pass and Currant Creek Pass.

During Fremont's third expediton in August 1845, he finally returned to the Colorado Rockies and found Tenneesee Pass. However, now the manifest destiny thing was really gathering stream. His wife Jesse did her part too by embellishing stories of what happened to Kit Carson, Tom Fitzpatrick and their leader - her husband - in the wild west. Brigham Young was amongst the people studying Fremont's account of the west and making plans to hit the trail with a sizable contingent of followers. Meanwhile the mexican government reacted furiousely to the american annexation of Texas. Manifest destiny now called for Fremont's military services further west. They were about to be converted to military rifleman in a mission to conquer California with the blessing of president Polk. Ironically, Fremont now had little time to develop enthusiasm or pay much attention to further Colorado Pass explorations, and he barely mentions his crossing of the pass in his journal. It would later be named after the home state of assorted prosepectors who frequented the area.

Fremont did return to passes in the Colorado Rockies one more time, several years later, now decomissioned but still working for his father in law. Years before the official Gunnison transcontinental railroad survey he was trying to do essentially the same thing in the Cochetopa Pass area.

Hayden Survey (<Willow Creek Pass|Battle Hill Summit>): Tennessee Pass was crossed by the Hayden Survey in their first summer of surveying in 1873. One reason was to confirm the existence of Mount of the Holy Cross on its west side. They continued the summer with mapping a part of the Flattops lakes.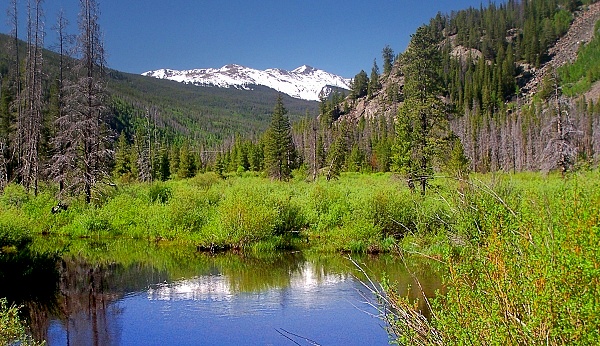 Leadville Boom (<Hagerman Pass|Chalk Creek Pass>): Tennessee Pass today is a major route between the I70 corridor and Leadville. However the pass came into usage when Leadville was the economic center of the state in the early 1880s, and the area south of the pass was frontier country. The pass served as connection to Leadville. There was no road over what is now Vail Pass to the rest of the world. Overflow miners looking for greener mining pastures crossed Tennessee pass from Leadville and founded Redcliff, Gold Park, Holy Cross City and other early developments.

Railroads (<Fremont Pass|Poncha Pass>): When the DRG (Denver Rio Grande railroad) had finished its tracks into Leadville in July 1880, it did not rest on its profits. Rather it began work on servicing mining camps around Leadville. Tracks over Fremont Pass had serviced Kokomo and Robinson. Tracks over Tennessee Pass serviced Redcliff on the Eagle River.

In 1890, the DRG, now under new management, decided to relocate its main line between Denver and Salt Lake City. Before narrow gauge engine chugged their way down to Pueblo, up the Arkansas to Salida, over Marshall Pass to Gunnison, onward to Grand Junction and Utah. Now they still would travel to the Arkansas valley by the same ludicrous, bow shaped southern detour. But from Leadville they crossed Tennessee Pass and then continued towards Glenwood Canyon to Grand Junction. On that occasion, the line over the pass was also converted to regular gauge and the tunnels were constructed.
Tennessee Pass deserves a special place in railroad history. It was the highest railroad pass in the US, and it was the last Colorado railroad pass to be shut down. During the last decade the DRG became part of the Southern Pacific, finally swallowed by the historical foe of them all, the Union Pacific. That railroad finally abandoned the line. The line would make a great dedicated bicycle trail, made even greater by its connection to the Vail Pass trail.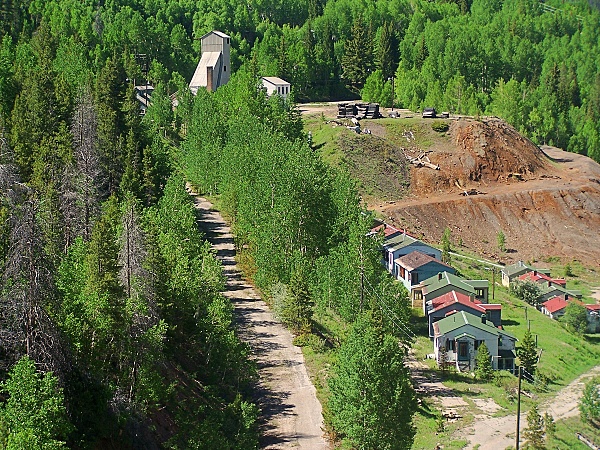 Modern Highways (<Trout Creek Pass|Berthoud Pass): In 1913 Tennessee Pass became part of the second designated cross country automobile route. In the east travelers had an atlas of roads to choose from. In the west choices were more limited. The "National Old Trails Road" reached Colorado Springs over Raton Pass then continued over Ute Pass, Wilkerson Pass, Trout Creek Pass, Tennesee Pass onwards to Grand Junction, Utah and Los Angeles.

Cycling - Ride the Rockies: (<Wind River Pass|Hesperus Pass>): The Denver Posts "Ride the Rockies" crossed Tennessee Pass four times between 86 and 05, which is not that often for a pass so close to Denver. The reason for this is that a route over Tennessee often makes a route over Vail inevitable in order to connect to Denver. Vail Pass however is less than perfectly suited for 5000 bicycle wheels at one time. A route over Tennesee avoiding Vail was followed in 88 93 98 and 01. The day's stage was Vail to Frisco, Avon to Frisco and Buena Vista to Avon.