Slumgullion Pass / Summit

Slumgullion Pass is not really an "alpine" pass, passing by vertical "alpine" cliff faces. The vertical peaks are further away in the Uncompaghre Range and the Molas Caldera to the north west. I think its appeal lies more in the variety of landforms - some near, some far, and its relative isolation.
San Juan paved passes seem to come in pairs. This one is paired with
Spring Creek Pass
. The latter is a more inconspicuous crossing in a forest clearing. But it is where the Continental Divide crosses.
There is a question to the exact location of Slumgullion Pass. Helmuth's book "Passes of Colorado" points out, that topo maps place the summit onto dirt surfaced FR788, 1/4 mile to the northeast. That summit is on the
Slumgullion Pass alternate summit
page.


click on profile for more detail

1.(8660ft,mile00) START-END WEST: Lake City
2.(10850ft,mile09) turnoff to Windy Point Overlook is on left
3.(11310ft, mile10) turnoff to Slumgullion Pass alternate summit, leading to Cebolla Creek is on the left
4.(11561ft,mile11) TOP: high point, slightly south of marked Slumgullion Pass
5.(10440ft,mile16) lowpoint between passes
6.(10901ft,mile17) Spring Creek Pass
7.(9100ft,mile30) START-END EAST turnoff to upper Rio Grande Reservoirs is on right
8.(8900ft,mile50) START-END EAST ALTERNATE: Creede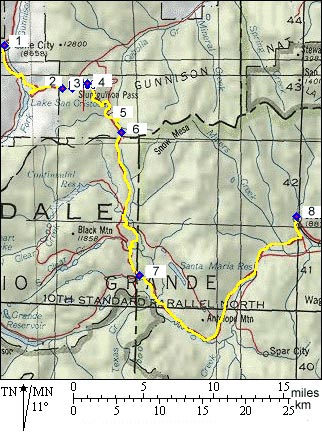 Approaches
From North. Lake City is a special little town. It is a place where you could argue, that not much has changed since the late 18 hundreds, at least from a superficial visitors standpoint. The town's main street still has its fake store front houses. The arcade of trees lining the main thoroughfare through town has become much larger though, and more impressive looking, but that is even an improvement.

The road out of town has no shoulder, but traffic has always been light and friendly in my experience. After one or two rolling hills, passing Lake City's "ski hill" (that's what the sign reads), the first memorable views are of Lake San Cristobal, an uncharacteristically large lake for Colorado Rocky proportions. Like most lakes it was formed by a mudslide.

The best view point comes further up. It requires a slight detour to something named Windy Point. From there, the eye can wander across the valley of Henson Creek and up the lower Engineer Pass road. Across the valley to the north are a few curious, isolated shapes above treeline. They are the peaks of the Big Blue Wilderness, some with names inspired by other famous triangular peaks: Wetterhorn Peak, Matterhorn Peak and Uncompaghre Peak.

A little more climbing and the road curves between more rounded shapes to reach the summit. The turnoff to a dirt road with the alternate summit is just 1/4 mile before the top to the east.

From South (described downwards). The scenery changes on this side of the pass. The next peak to the south impresses with its absence of rocky faces, yet large rounded proportions. Baldy Cinco ( call it "hairless mountain number 5 -13383ft" ) stands at the entrance to the La Garita Wilderness and its high tundra plateaus. After a few girating curves, and the road reaches a low point at the crossing of Cebolla Creek. After a dirt road turnoff the road starts climbing again to Spring Creek Pass.


Dayride with this point as highest summit:

PARTIALLY PAVED / UNPAVED:

Slumgullion Pass, Slumgullion Pass alt summit: Top of Nine Mile Hill (Co149 several miles south of its junction with US50) > Powderhorn > Cebolla Creek Road > Slumgullion Pass alt summit > Slumgullion Pass(shp) << turn around point: low point between the Co149 Slumgullion Pass and Spring Creek Pass summits > Co149 south > Slumgullion Pass > Lake City > back to starting point: 94 miles with 7500 feet of climbing in 8.0 hours (m3: 5.7.18).


A Day on an Eight Day tour of paved and unpaved road passes, with this point as highest summit:

COMPLETELY PAVED:

( < North Cochetopa Pass | Elwood Pass > )

Slumgullion Pass, Spring Creek Pass: Lake City > Slumgullion Pass > Spring Creek Passes > Creede: 53miles (mechanical odometer: m1:87.09.7) .
Notes: This was part of a DBTC and Heartcycle labor day weekend tour. The three days were: Day 1: Saguache > North Cochetopa Pass > Gunnison; day 2: Gunnison > Lake City. day 3: Lake City > Slumgullion and Spring Creek Passes > Creede. There was a car shuttle between Creede and Saguache. The mileages measured 74, 59 and 53 miles with an onboard odometer. But instead of the car shuddle my own tour continued over Elwood Pass.

Rides with this point as intermedate summit are on page:
Colorado Trail m363.1, section: Spring Creek Pass - BLM3323 s(u)
Colorado Trail m374.2, section: Spring Creek Pass - Wager Gulch s(u)

History

The route approximating today's Slumgullion/Spring Creek pass road is ancient. But the name "Spring Creek Pass" is relatively new. Originally a Ute trail, some version of the pass was used as a summer crossing by Bill Williams, Antoine Leroux and other Taos trappers on their way to Gunnison country, serving as an alternate route to the Cochetopa Pass area crossings. They called the route "summer pass" . An army map of 1851 referred to it as "Pass of the Rio Del Norte", meaning the Rio Grande.

The Hayden Survey As if the various names and locations of these crossings weren't already confusing enough, the origin of the name Slumgullion is further reason for confusion. The word Slumgulliom sounds interesting enough. But what does it mean, and where did it come from ? Helmuth's book "Passes of Colorado" attributes the origin of the name to the Hayden Survey. Accordingly the color of the hardened mudflow debris, that blocks San Cristobal Lake, reminded them of the color of their meat stew which happened to be named Slumgullion in 1874. Marsall Sprague in "the Great Gates" also connects the name to the color of the mudflow damming Lake San Cristobal. But according to him, the name was already established, and dates back to New England pioneers. The color reminded them of "the mulitcolored refuse of a butchered whale". In conclusion - it seems to have something to do with stew meat.

The Leadville Boom (<Black Mesa summit(u)|Engineer Pass>) The excess of miners in the Leadville area was so great, that demand for more land to dig up, lead to thoroughly disturbed mountain sides in the San Juans. Amongst the people who profited from this trend were the toll road operators. In 1879 Del Norte's toll road over a route approximating today's road over Slumgullion and Spring Creek Passes was one of two toll roads to Lake City. The other toll road was Otto Mears Cochetopa Pass - Blue Mesa Summit - Cerro Summit route. The Del Norte - Lake City road was called Cebolla Pass, for one of two creeks headed by today's Spring Creek Pass. One guess as to the name of the other creek headed by that pass !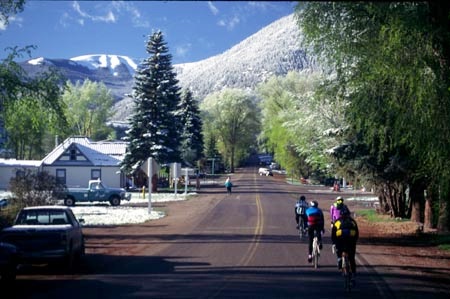 Slumgullion Pass / (Summary)


Slumgullion Pass: 11361ft

Western Approach: paved





from Lake City (8660ft)

2701ft

10+1/2miles

Eastern Approach: paved





from low point at bottom of Spring Creek Pass (10440ft)

921ft

5 miles




---------


View Larger Map

---------