Col du Tourmalet

No other pass is more strongly associated with the Tour de France than the Col du Tourmalet. The cycling traffic on the pass can be pretty intense during 3 out of 4 seasons. During my tour I was especially impressed by the average age of the bikers that I saw on this pass. It gives me some hope for the future. But even these riders probably weren't around for the first race over the top in 1910.

Col du Tourmalet is the highest French paved pass in the Pyrenees. Only one Pyrenean paved pass is higher, the Port d'Envalira in Andorra, not nearly as interesting a bike ride. The name Tourmalet means something like "bad road or way".


1.(00.0km,0560m)START-END EAST: Bsgneres de Bigorre
2.(12.1km,0870m)jct with D918 on east to Col d'Aspin in Saint Marie de Campan
3.(24.7km,1730m)La Mongie
4.(29.0km,2115m)TOP: Col du Tourmalet
5.(40.5km,1230m)Bareges
6.(47.6km,0730m)Luz St Saveur Le Coumet
7.(58.4km,0490m)START-END WEST ALT: turnoff to Soulom and Pierrefitte Nestalas
8.(65.5km,0420m)START-END WEST: bikepath turnoff below Argeles-Gazost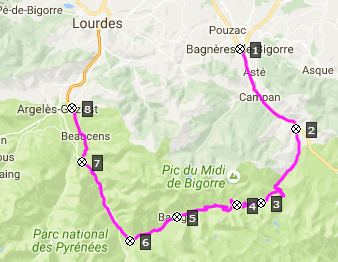 Approaches

From East. The profile starts in Bagneres-Bigorre, a town in front of the mountains, great for supplies and accommodations. At point 2 the profiles joins the historic Tour de France route, coming down from Col d' Aspin. Near the junction, in this small collection of houses called Saint Marie de Campan, clustered around a city hall and a church, stands a large monument of a cyclist Eugene Cristophe holding a broken fork up to the sky, as if he was quietly pleading with the gods. The statue exudes a stoic quality, in strong contrast to the other conspicuous cycling statue along the way, that one located at the top. Tourists of all kinds, many arriving in cars, get out in Saint Marie and take each others pictures in front of the super large, fork wielding cyclist, in memory of early Tour de France days,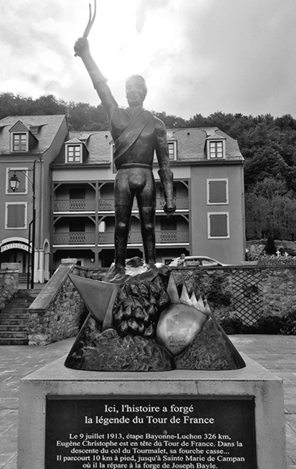 In this town I see two expensive little inns, that cater to cyclists and their pension for quiet little places to rest comfortably and eat well, and as much as humanly possible. Leaving Saint Marie de Campan, the simple but attractive old houses seem to line up in rows perpendicular to the main road, like rows in a theater, where the stage are the mountains to the south. At the back of the stage looms the Pic du Midi de Bigorre, and below it is the Col du Tourmalet.

This is the more pastoral, less developed lower approach, with much fewer towns than on the other side. There are no shoulders on this medium width road, and there is some traffic, and never have I seen outnumber cyclists any other form of traffic on the road, including farm tractors, by such a wide margin.

As the road begins to climb above the valley floor, it passes above a campground and a small group of big brick buildings, grouped around a small power plant. Everything has a pleasantly old appearance. In the nearby Gite I also ask for accommodations, just for future reference. The apron clad host, surrounded by pots with all kinds of odoriferous eatibes, takes a few minutes away from his kitchen activities to check in his foot high hand written ledger book. It looks like next Wednesday there is an opening for a bed and full board for 80 Euros a night. My BNB reservation at La Mongie near the top of the pass is clearly a better deal, as far as I am concerned.

The road now starts to climb in earnest, leaves the villages below and provides views of them from far above, during a Z shaped detour in deep forest. One of several long descriptive signs next to the road tells anecdotes of the Tour de France. I stop to photograph it, so that I can catch up on this when I have more air to breathe, but unfortunately I will never see the photos. Above the quiet Z in the misty forest, the road emerges above treeline.

During my first arrival, the mountains are shrouded in deep fog, but still show up as a gentle outline in a quiet dense grey soup. Approaching the ski infrastructure, the road goes through several galleries. The ski condo skyscrapers of La Mongie appear like an unexpected ghost city with a futuristic look. But still the 10 story and higher buildings are dwarfed by the mountain walls on each side.

This will be my home for the next five days - a place to start rides with a long roll down from the top and finish with a big climb - a place to watch llamas climb at eye level on the opposing ski slope, so close they seem almost touchable. But there is a wrench in my La Mongie skyscraper ghost town paradise. All the stores are closed, including the fairly large and in winter well stocked supermarche. I buy a few raw materials from a kindly resteranteur, so that I can prepare my own food and drink in my rented ski condo. But first the caretaker has to turn on the electricity in my room.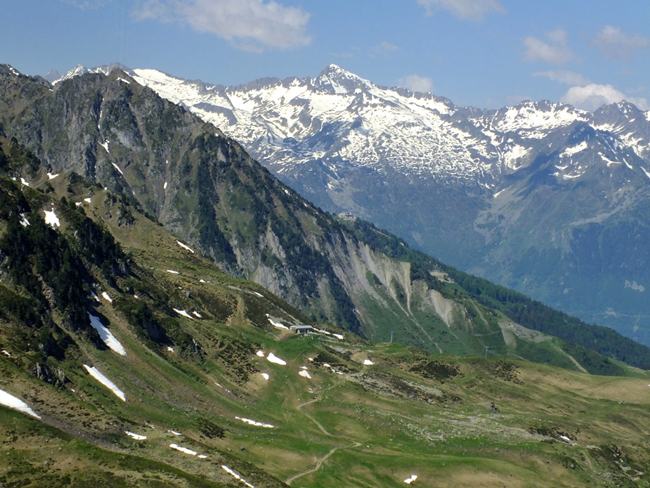 The first ride to the top of Col du Tourmalet takes place in perfect early morning light. Llama heards fill the skyscraper driveways. When I come back and it starts to rain, the same animals huddle under a driveway bridge - so close together, there wouldn't be any more room for me to escape from the rain. But now it is still morning, and the best part of Tourmalet lies ahead, the last few hundred meters of climbing to the summit. It is far from a wilderness, with all that ski infrastructure, but it is an amazing environment all the same.

To the south Pic d'Espade (2467m) presents a wall. But the real landmark peak, immediately recognizable from the plains below, Peak Du Midi de Bigorre (2877m), lies on the north side. Two separate dirt roads leave from the pass towards the summit of Pic du Midi and its observatory. They also lead to several mountain bikable passes, and I can see at least one tunnel ahed. But on this May day there is still too much snow to get very far in a reasonable amount of time, and so I turn around.

At the top of the pass stands another Tour de France inspired monument, a climbing cyclist with an interesting expression on his face, as he gazes skywards at the apparently extremely difficult to reach summit. Unlike other cyclist statues that I have seen on other passes in Europe, this sculpture seems to express a joy for this exasperation, under that old sheppard hat, or whatever it is he is wearing, - not just utter exhaustion that needs to be medicated with drugs. Again, tourists arrive by the busloads to have their pictures take in front of this interesting motive. It was installed in 1999 and since then must have made it onto millions of photographs and 100s of web pages, including this one. A close by, much less photographed statue of Tour organizer Jaques Goddett is easily overlooked. It makes it into far fewer personal pages, but instead into the wiki pages of this summit.

During one of my rides I meet a couple sunbathing in front of their camping bus at the summit, two bicycles mounted on the back rack, always a good sign. I strike up a conversation and learn that they are avid touring cyclists and had in the past toured around the world for several years. During their last trip in south east Asia their camera was stolen and they have no pictures. During the time I don't know yet that I was going to have the same happen to me on this trip. For this pass I managed to salvage a small percentage of the pictures from an overwritten memory card. We spend the afternoon riding together down the west side and up towards Gavarnie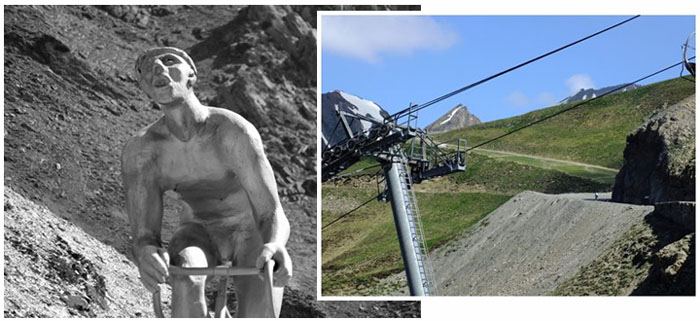 From West. (also described upwards). This side has many more towns, a much wider variety of accommodations and correspondingly more traffic. The approach below the shown profile, starting in Lourdes follows a rather fantastic, smoothly paved bike trail, an old rail line entirely separate from any road. The picture of the diorama excerpt of a race caravan going up Tourmalet was take in a gite along this bikepath.


Lourdes has the best variety of accommodations below this pass for my money, but Argeles-Gazost is the more popular basecamp town, since it is closer to yet more famous cycling passes to its west. Here I take some pictures of cycling mail carriers around town. Unfortunately that pictures did not survive.


Where the bike path ends, and starting the profile, near Soulom, is the only section, which could actually be a little unpleasant for some riders. The road has heavy traffic and leads through the narrow Gorge de Luz, to a "mountain park" (in western US landscape nomenclature), in wich lies Luz St Saveur Le Coumet. This is the major tourist town at the foot of the mountains on this side, surrounded by magnificent peaks in every direction, tourists milling through the streets looking for souvenirs, and cyclists arriving by the busload. Still - all the grocery stores close by 1pm and remain closed until after I would suffer from a major caloric deficiency while trying to bet back to the top, But I persuade one shop owner to let me run through his store to gather up a baguette, large amount of brie, tomatoes and cookies before he locks the door.


From here the road turns eastwards, and stays at the bottom of a steep valley. The mountain stream Le Bastan has been crammed into a wide, straight and rocky, elaborately engineered stream channel, so that all the towns and skiing infrastructure also find room on the valley floor.


Approaching the ski area Le Bastan the road seems to traverse a large ski area parking lot. This marks a transition point. Above seemingly unreachable, but large well built mountain farm houses seem to be glued to the hillside. The road itself climbs above treeline with a few initial steep meanders and then carves its way around the amphitheater, still far below Pic de Midi. This peak together with the transmission facility at its top makes the visual focal point on this side. Above the gap to be reached, is clearly visible, often surrounded by herds of llamas and cut into visual wedges by ski lift wires.


A Dayride with this point as highest summit:

PARTIALLY PAVED / UNPAVED:

( < Col de Beyrede | Hourquette d'Anzican > )

Col du Tourmalet x2, additional out and back: La Mongie <> Col du Tourmalet <> separate out and back towards Pic du Midi but turnaround due to too much snow left <> Bareges <> Luz St Saveur de Le Coumet <> a few km up towards Gavarnie as as far as Cautarets with turnaround due to deteriorating weather (r5:16.4,5)
Notes: gps data is on stolen computer. Pictures are my own.

A Day on a Tour with this point as highest summit:

COMPLETELY PAVED:

( < Hourquette d'Anzican | Col d'Aubisque > )

Col du Tourmalet: La Mongie > Col du Tourmalet > Bareges > Luz St Saveer de Le Coumet > Pierrefitte-Nestalas > Argeles-Gazost > bike path to Lourdes with scenic detours: (r5:16.4,5).


History

Early roads: One of the earliest times, that history mentions this pass is in 1088, when nobility left one side to collect taxes on the other - what a way to enter history. But actually, shepards and pilgrims have used the pass for an unspecified time before then. The first road was planned in 1688 and finished in 1730.

The next period during, which the pass road was improved, was the road building period under Napoleon. The "Route Thermal" was inaugurated with a ceremony at the pass itself in 1859. The name alludes to crossing the pass in order to get to the thermal curing waters of Bareges at point 5. This route basically lasted into the 1970s, when a more modern road bed was constructed.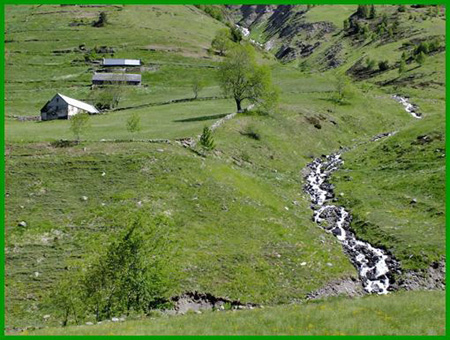 Tour de France: In 1910 the Tour de France for the first time, crossed a pass in the Pyrenees, and they picked the highest one first. But the pass was already of interest to cyclists before then. The "Touring Club de France" mentioned it in already in 1902. The statue of the climbing cyclist at the top commemorates the first Tour de France leader over the top, Octave Lapize.

This first crossing remains a monumental endurance event state. It was 325km long and also climbed Col de Peyresourde, Col d'Aspin, Col d'Aubisque and Col d'Osquich. That year an even longer but infinitely flatter stage went 424km from Brest to Caen. But combining Tourmalet with Aspin and Aubisque has become the classic race route, emulated by thousands of cycling tourists every year.

Three years after the first Tour de France crossing, the racer Eugene Cristophe broke his fork coming down the east side of Tourmalet. It happened about 10km before reaching Saint Marie. He came into the little village, carrying his bike. A welder offered to do the repairs. But race officials insisted that riders were responsible for their own repairs, and so he managed to weld the fork himself with some guidance. He received another small time penalty for receiving help from a kid with the bellow inflating the tire. Eugene Cristophe still managed to finish the Tour in seventh place. With a story like that, the pass is bound to become famous.

Since 1910 the pass has been included in the Tour de France route more than any other pass, and that adds up to 83 stages up to 2014. This includes a few finishes at La Mongie, and a stage ending at the top. The Vuelta de Espana has also crossed the pass several times.