Col du Beyrede

This is a relatively little used, parallel alternative to the more popular Col du Aspin. There are fewer views but more peace and deep forest.

I have used the pictures of panoramio and flickr contributors, as well as other web sites to illustrate this page. There are copyright notices and links to all original pictures. My own pictures were on a computer, that was stolen at the train station Frankfurt Airport (model Acer Aspire One (serial# NUSGPAA01625101C947600F)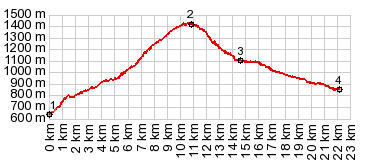 1.(00.0km,0650m)START-END EAST: D107 turns off busy D106, just south of Sarrancolin
2.(10.1km,1430m)TOP: Col de Beyrede s(u), just before the real pass
3.(14.7km,1100m)Payolle. A little profile joins D113 from Col d'Aspin
4.(22.2km,0860m)START-END WEST: Saint-Marie-de-Campan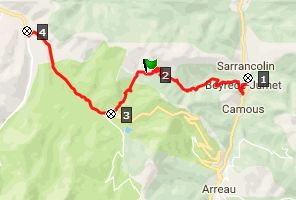 Approaches

From East. South of Sarrancolin there are two opportunities to escape from busy D106 and ride up this quiet, out of the way pass. Picking the southern option the road is extremely steep as it climbs through the last houses of the town. The road stays in the forest and passes several old, unoccupied stone sheds. They are built halfways into the hillside so that the roof becomes the hillside. The loudest noise is the rustling of the leaves, except for less than a handful of cars. Parts of this road are remarkably steep and pot holed.

Just the top of the pass, shaped in every way like a real saddle, reaches above treeline. A single building stands on the grassy surface, a restaurant with an inviting arch made from posts. The road reaches slightly higher than the pass itself on each side. A single far peak seems to swim above the fog. The map shows a further unpaved connection that meets the road to Col d'Aspin, a little further up towards the summit.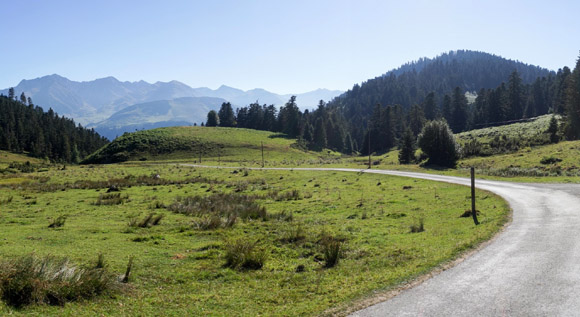 Copypright: quaeldich.de contributor: OSFM pagelink piclink
From West. (described downwards) The road drops steeply into a deep forest gorge. The road surface becomes unpaved two separate times. But the group of maybe 50 roadbikers in racing attire, that I meet along the route, are not detracted by this. After a steep descent the road exits the forest unexpectedly, surrounded by a handful of old stone houses: La Payolle. Right behind it, the more popular and populous France reappears: large groups of cyclists heading up Col du Aspin, and restaurants next to the road doing a brisk weekend business. The profile continues down valley as far as Saint-Marie-de-Campan. This is the junction for Col du Tourmalet


A Day on a Tour with this point as highest summit:

( < Col de Peyresroude | Col du Tourmalet > )

Col de Beyrede: Sarrancolin > Col de Beyrede > Payolle > Saint-Marie-de-Campan > La Mongie (r5:16.4,5)
Notes: gps data and distances are on stolen computer - the biggest one way summit of the day was La Mongie. But Col de Beyrede was the highest two way summit point.