Col d'Aubisque

For me Col d'Aubisque is scenically the most interesting and unique pass, that I have cycled in the Pyrenees. The reason is the traverse along the Cirque de Litor, between Col du Soulor and Col d'Aubisque. Even though that part of the road is really close to flat, it cuts along a steep exposed cliff and uses two tunnels to get to the other side.

Of course you can use either approach to Col de Soulor as part of the eastern approach to Col d'Aubisque. The one not shown here, actually makes for a shorter day loop.

I have used the pictures of panoramio and flickr contributors, as well as other web sites to illustrate this page. There are copyright notices and links to all original pictures. My own pictures were on a computer, that was stolen at the train station Frankfurt Airport (model Acer Aspire One (serial# NUSGPAA01625101C947600F)

1.(00.0km,0420m)START-END EAST: bridge over La Gave de Pau, below Argeles-Gazost
2.(02.5km,0520m)profile joins D102 above Argeles-Gazost
3.(13.0km,0870m)Arrens-Marsous
4.(21.2km,1450m)Col du Souloir
5.(31.2km,1709m)TOP:Col d'Aubisque
6.(35.0km,1360m)Gourette
7.(14.4km,0690m)Eaux-Bonnes
8.(62.7km,0420m)Laruns9.(km,m)START-END WEST: Arudy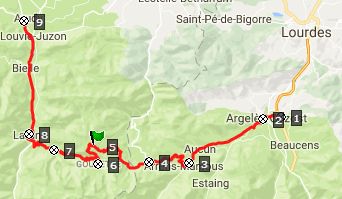 Approaches

From West. From Lourdes a old railline converted to a biketrail runs to Argeles-Gazost and beyond. Many great bike climbs can be started from this trail. This profile starts where the trail connects to the road below Argeles-Gazost.


The profile makes its way through town in some manner and goes on the busy main road towards Col du Soulor and Aurens. In spite of the fact that this is a fairly busy road without shoulder, there are lots of cyclists on the road. The road seems to head straight for gigantic white tooth of a mountain in the distance.


Up the valley in Arrens-Marsous, the road has entered the national park, and the price of orange juice in the small grocery reflects this change in status. The road changes drastically from here. The traffic is gone and so are the long straight stretches. The road contours along steeply climbing curves up the hillside. On the other side of the valley, Pointe de Surgatte, rising to a little below 2400 meters, comes closer and closer. During the last part of the climb to Col de Soulor the road is above treeline and negotiates between high knobs on a rounded ridge.


Col de Soulor may be only a shoulder point to Col d'Aubisque, but it is the perfect vantage point on the best part of this ride. In appreciation of this perfect location, there are several picnic tables on a knoll above the pass, a number of information tablets, even a small bar or restaurant.


Ahead you can see the road to Col d'Aubisque traverse along a rock face of a very steep ridge, the Cirque de Litor. It is just above treeline and contains exposed rock cuts. There is a small descent to a low point between the two passes. It amounts to a little over 100 meters. For the purposes of these pages I'll call Col du Soulor a shoulder point to Col d'Aubisque. At the low point between the two are two tunnels, that I remember as fairly rough and wet. Crossing over a small stream at the low point marks the transition from the Haute Pyrenees to the wetter Atlantic Pyrenees. On this traverse the cyclists I see, outnumber cars by a wide margin. The ones going up to Aubisque don't ride very close to the edge of the road. I myself sometimes ride on the left to avoid getting too close to the dropoff. This is a very exposed road with vertical cliffs below. Falling off the bike may involve a much larger height than just the height of the bike itself.


Another interesting scene is the birdseye view of the other approach of Col du Soulor, cutting across the top of green triangular mountain with a straight line roadcut. The climb to the top of Col d'Aubisque finishes as a long meandering set of curves above treeline on gentle tundra slope - a gentle finish to a harsh climb. The summit house comes into sight a couple of km before getting there.


SLIDE SHOW 1: section Argeles-Gazost - Col du Solour

cLiCk on image , arrows , or thumbnails to advance slideshow

The top has quite a circus atmosphere, and absolutely everybody has to stop here, including plenty of motorcyclists. Partly the reason for this is the summit house, partly it's the set of gigantic stick bicycles, set up on the summit. Never mind the scenery. The most pictures taken here, are of each other doing acrobatics on these bicycle props that don't move. At least that's the impression I get from my visit, and the numerous pictures of this on the web confirm it. You see these oversized stick bicycles in many French locations. But here they are especially numerous, even bigger and supremely strategically located. People of all persuasions, including motorcyclists, are prone to climb them and have their picture taken while hanging meters above the ground from a handlebar. Among the many cyclists I come in contact with here, are also two world cycling girls from New Zealand. We exchange pictures and cameras.


From East. By the time I leave the summit, the afternoon light has become hazy and almost flat. A few rays are still making shadows. This seems to be a common occurrence. I am now in the wetter Atlantic Pyrenees. Across from the Col d'Aubisqe, towards the slope on the Spanish border, I see a large number of steep switchbacks climbing up the opposite hill. That looks like quite a mountain bike ride. But from the map it appears to be just a ski area access road.


A long enjoyable road above treeline on relatively gentle rolling tundra with magnificent far views waits on this side. A restaurant or inn of some sort clings to one of the few cliffs in this landscape. The road winds down to an on-first-view incredibly ugly, industrial strength ski area, Gourette. But I suppose if you learned to ski here and are now a world class skier you have reason to find the place understandably beautiful, Then follows a long descent through the forest.



But the most interesting town of all is still ahead, an old elegant spa resort by the name of Eax-Bonnes. The road goes through its center, a series of elegant old hotels around an elongated park that also makes a traffic circle. Unfortunately it is too late for me to spend much time here to look around and see what is open. Maybe some other time.


More rolling is to be done from here, but brakes become optional. Before reaching Laruns, the road makes a right angle turn to traverse above it, apparently just to show it off. I get lost in this town for a while. Picking up the main road again, it is now normal, wide and modern highway the rest of the way to Arudy. The map also shows a small side road alternative on the other side of the river, that may be a more interesting ride.


History

Cycling-Tour de France. Since 1947, the Tour has crossed the pass 45 times (current to 2016). This is the second most often crossed pass by this race for that time period. The first crossing took place in 1910, also the first year that the race entered high mountains for the first time. That year Col d'Aubisque was cleared of snow specifically for the race. But the surface below remained unpaved. During that monstrous 326km stage, it was the last of 4 passes on a stage from Bagneres-de-Luchon to Bayonne. The others were Peyresroude, Aspin and Tourmalet. Octave Lapize won that stage and is said to have walked a part of the Aubisque approach. These four passes continue to this day to be the four most famous Pyrenean cycling passes. Stories of snow and crashes on a snowy road persist through the years. In 2016 a stage of the Vuelta d'Espana also finished on top of the pass.


SLIDE SHOW 3: section Col du Solour - Arudy
cLiCk on image , arrows , or thumbnails to advance slideshow


Dayride with this point as highest summit:

COMPLETELY PAVED:

( < Col du Tourmalet | Col de Spandelles > )

Col du Aubisque : Lourdes > bikepath south > Argeles-Gazost > Aucun > Col du Soulou\r(shp) > Col du Aubisque > Eux-Bonnes > Laruns > Gere-Belesten > Louve-Juzon > D35 west > Asson > Lestelle-Betharam > Peyrouse > back to Lourdes (r5:16.4,5)
Notes: gps and distance data are on stolen computer

( < Hautacam(ow) | Segus s(u) > )

Col d'Aubisque: Boo-Lilhen > Aucon > Col de Soulor(sh) > Col d'Aubisque > Gourette > Eux Bonnes > Laruns > Louvie-Juzon > Lestelle-Betharam > Lourdes > bikepath back to starting point in Boo-Silhen with grocery shopping
Notes: same ride as the one 3 years earlier, but different starting point with a short additional out and back - even better weather than before - finally got to look around Eaux-Bonnes

History

Cycling - Tour de France: This summit has been on a Tour de France stage an incredible 48 times, which should ensure that it remains amongst the top 3 most popular passes with route planners for the Tour de France - or a Holiday bike tour for that matter, for decades to come. The first time it appeared in the race was jsut at the beginning of the post WW2 in 1947. Surprisingly Pau is the most popular anchor point, outnumbering tourist bases for vacation cycling, such as Lourdes (used five times), Argeles-Gazost (used only once), and Bagnere de Bigorre (four times), and (Bagneres de) Luchon used eleven times (as of 2019).