Col de la Pierre Saint-Martin

This crossing of the main ridge line in the eastern Pyrenees is remaracable, in that it stays above treeline for quite a long time. My impression of the area is of a high sculpted plane, a karst topography with large rounded cones sitting on top. On the Spanish side these are quiet isolated mountains with few visitors, while the French swarm around their area in droves. Road construction also differs on both sides. The French side tends towards narrow, curvy, steep roads descending into intricate green valley depths, whilte the Spanish side tends more towards evergreen forests and shallow straight roads, which have recently been resurfaced.


1.(00.0km,0500m) START-END SOUTH ALTERNATE: jct N240-A237
2.(02.3km,0510m)Sigues
3.(33.3km,0790m)START-END SOUTH: Isaba
4.(36.7km,0850m)jct with small road to Alto Zurizo on right
5.(60.3km,1802m)TOP: Col de la Pierre St Martin
6.(62.7km,1610m)turnoff to ski area on right
7.(63.7km,1542m)Col du Soudet
8.(67,7km,1215m)Col de Suscousse
9.(93.7km,0230km_pix[94m)START-END NORTH: Tardets-Sorholus, just after the turnoff to Port de Larrau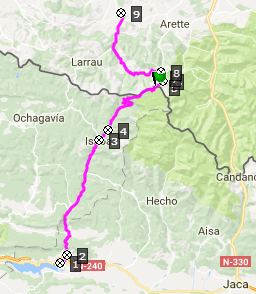 Approaches

From South. I started the profile all the way down at the (reservoir) Embalse de Yesa. The road up from this wide valley leads through several old villages. The scenery changes from a wide semi arrid valley to increasingly evergreen forested hill country.

In Isaba I stay for about 5 days with an EU citizen who moved here from England. He gives me a special rate in in his historic guest house. Unfortunately all contact information is on a stolen computer. The ride over this pass is my first day loop from this location.

After following a wide valley with hints of bare rocky peaks above towards the west, the road turns back east and climbs the ridge with regular switchbacks. In spite of the clear sky there is more than a hint of haze in the sky. As I round the last switchback and now head along the bare ridge, back in a westerly direction the reason for the murky view becomes apparent. A brush fire has broken out at the bottom of these peaks. I pass fire trucks. The fire fighters watch the fire from above, along with only a handful of travelers who are up here today. The road follows close to the French-Spanish border for several kms, before it reaches the summit on the border.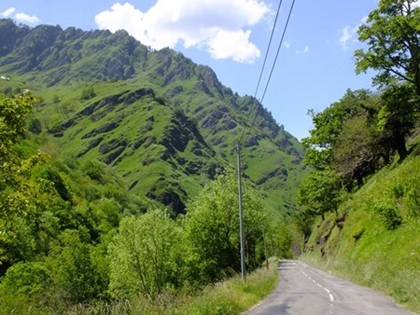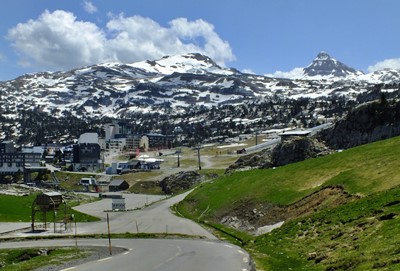 From North. (described downwards). I find a picnic bench near the summit for a picture perfect lunch, that now also includes a vew of a steep horn shaped mountain to the west. As I descend further it becomes clear that this landmark is the focal point of a ski area, at its base Arrette-Pierre-Saint-Martin. In 2015 a Tour de France stage, coming up from the French side ended here. The climb from the Spanish side was also used once by the French race, in 2007. .


While sofar the smoke has acted as a kind of frame around the peaks at times, below here it just becomes a wall of haze

The first pass encountered on the way down is Col de Soudet. The profile takes the smaller of the roads at this point and turns back east. From this vantage point the route appears as a steep descend into intricate green grassy canyons. Another pass, also only a shoulder point along the profiled route follows: Col de Suscousse. This green lower landscape has actually more vertical walls than the terrain traversed above treeline. Another thing becomes immediately apparent: the French side is much more heavily used. Parked cars line the roadways near trailheads, and wherever it smells like food, people sit outside in droves and consume it. Before reaching Tardets-Sorholus, my route turns back up into the mountains to Port de Larrau






Dayrides with this point as highest summit:

( < Puerto de Santa Barbara | Port de Larrau > )
Col Pierre da la St Martin, Port de Larrau , Paso Laza: Isaba > Llano de Belagoa > Col de la Pierre St Martin > Col du Soudet(shp) > Col de Suscousse > Sainte Engrace > Larrau > Port de Larrau > Paso Laza > back to Isaba.
Notes: the gps data from this ride was on a computer stolen at the Frankfurt airport train station. The picture are my own, that I managed to recover from an erased memory card

(< Col de Marie Blanc | Monastario San Juan de la Pena s(u) > )
Col St Pierre Martin x2 , Col D'Ichere , D918 Arrette - Issor s(u) : Bedous > N134 north > D241 west > Col d'Ichere s(u) > Idios > d341 south > Col Labays (shp) <> out and back > Col du Soudet(shp) > Col St Pierre Martin <> turnaround point at 5450ft >> down D132 > Arrete > D918 Arrette - Issor s(u) > Issor > N34 south > back to starting point in Bedous: 57.7miles with 7394ft of climbing in 6:35hrs (garmin etrex30 r5:22.09.14) - including hike at Col St Pierre: 59.4miles with 7750ft of climbing in 7:26hrs
Notes: pictures from this ride are also on the shoulder point pass: Col de Labays

Historical Notes:

The name - The "pierre (stone)" in the name has nothing to do with the prominent mountain scenery. A sign along the way says that it refers to a stone used historically by two neighboring villages along the border to renew their "treaty of the the three cows" where they promise not to attack each other. But in reality the origin of the name is murky. It seems to date back to the area of christianization. "St Martin" was the new "christian" name for an existing pagan monolith. Another possibility for the name is the gratitude for "divine intervention" after the battle of Poitier in 732. The victor Charles Martel was so grateful that he apparently decided to name the pass after his favorite saint.