Puerto de Santa Barabara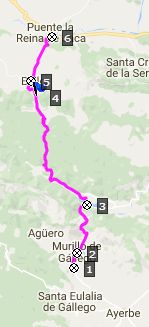 Despite the relatively small and gentle climb, this is a well known panorama point onto the Pyrenees. I had perfect weather while going over the top and the main ridge in the panorama was crowned with leftover snow from the winter. I like to think that my pictures were as interesting as the ones in the slideshow form the PicosdeEurope site. But then again, I didn't stay up here till sunset, or till the perfect fog cover developed. So the PicosdeEuorope pictures are more fun to look at.

The only thing I can say in defense of my own pictures is this: They did contain a slice of everyday reality. In the foreground was my bicycle with disorderly packed bags and a baquette sticking out of the saddle bag. It leans on old stone road marker, that is left over from an older highway construction. The viewpoints over the top are really a progression of large dirt parking lots. A wild yellow flowering bush was in full bloom, providing yet more possibilities to compose pictures.

I have used the pictures of panoramio and flickr contributors, as well as other web sites to illustrate this page. There are copyright notices and links to all original pictures. My own pictures were on a computer, that was stolen at the train station Frankfurt Airport (model Acer Aspire One (serial# NUSGPAA01625101C947600F)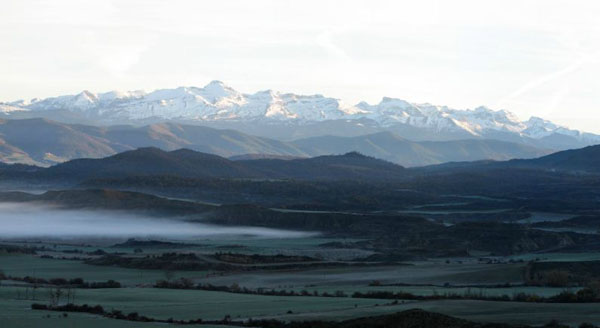 Creative Commons Copyright: picoseuropa.net pagelink


1.(00.0km,450m)START-END SOUTH: bridge over Rio Gallego before reaching Murillo de Gallego
2.(02.6km,500m)Murillo de Gallego
3.(09.6km,550m)bridge over Embalse de la Pena
4.(26.7km,875m)TOP: Puerto Santa Barbara
5.(29.6km,700m)upper turnoff to Bailo
6.(35.4km,610m)START-END NORTH:jct on the left is the bridge over Rio Aragon to Puente Reina de Jaca.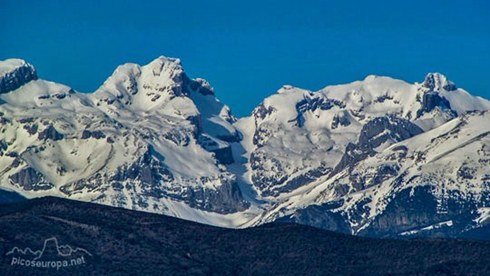 Creative Commons Copyright: picoseuropa.net

pagelink

Approaches

From South. The profile starts at a low point in the road, where it crosses the Rio Gallego. I started the profile her so that I could include a few pictures of the canyon walls around Murillo de Gallego. The ride in this wide valley, bordered by vertical canyon walls can easily be the scenic high point of the route, if the light conditions over the top are not perfect. These limestone walls form vertical walls with some curiously rounded corners seem to be a scenic peculiarity of the Spanish Pyreneen foothills. Riglos and a few other groups of houses nestle between these walls at half height.


Muriillo de Gallego itself is a beehive of high houses on the other side of the road. These imposing canyon walls continue as the road stays at the side of Rio Gallego and cuts through the limestone range. A mining railroad has also follows this course. The profile leaves the railroad where it crosses the Embalse de la Pena. The next stretch is a relaxing gentle climb through the woods, without much excitement, traffic or far views.


Reaching the top the road breaks out of the forest and reaches a series of far panorma points. This side appears to be much drier is covered with open fields before the white wall of the Pyreneen main ridge is reached on the horizon.





From North. (described downwards) A short descend leads to the village that has played the middle ground it the last 45 minutes of photography: Bailo. This is actually the steepest part of the whole ride. The profile ends at another bridge, this time over the wide Rio Aragon. On the other side of the bridge is also a small vacation village with this name.



A Day on a Tour with this Pass as highest summit:

COMPLETELY PAVED

( < Via Verde Ojos Negros s(u) | Col de la Pierre Saint Martin > )
Puerte Santa Barbara: Huesca > Ayerbe > Murillos de Gallego > Puerto Santa Barbara > Puente de Reina de la Jaca > Berdun > Sigues > Salvatierra de Esca > Burgui > Isaba.
Notes: gps data and mileage are on a computer that was stolen, but I do remember it was a very long day. In Isaba I met an English Hostal owner with whom I stayed for the next 5 days. Unfortunatly the contact data is lost too. Great room - directly opposite the nightly lit up church tower. There is one very well visited grocery in this village.


SLIDE SHOW1: summit views

cLiCk on image , arrows , or thumbnails to advance slideshow

SLIDE SHOW2: Rio Gallego Canyon section


cLiCk on image , arrows , or thumbnails to advance slideshow