Col de Palmarella/
Col de la Croix


D81 on the western coast of Corsica crosses these two passes between the beach towns Galeria and Porto. Palmarella is the highest point with 408m. But the most scenic scenic sections are around the summit of Col de la Croix, and so this name is better known, even though this is just a shoulder point on the descent.


1.(25m,00.0km) START-END EAST: jct D81-D351, east of Galeria
2.(408m,13.8km) TOP: Col de Palmarella
3.(320m,16.0km) Col de la Croix viewpoint
4.(270m,25.4km) turnoff to Osani on left
5.(225m,33.7km) Partinello
6.(30m,41.9km) START-END WEST profile turns left off D81 to descend to beach on D724
7.(20m,43.4km) START-END WEST ALT: end of D724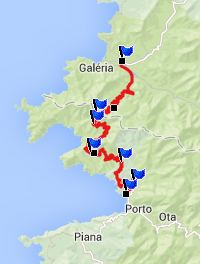 Approaches

From West. Before D81 starts climbing, right at the junction with the coastal road and the way to Galeria, the highest peaks in Corsica loom ahead like an alpine wall. The highest peak is the tooth like slab of Monte Cinto at 2706m.

But this road really heads for a much different scenery. First it hides between two low ravines. It becomes quickly apparent, that there is a gap in the low ridge ahead. It is where two straight slopes run down from adjacent wooded mountains. The climb to Col de Palmarella is not really steep, but the far view out onto the ocean makes it seem higher than it is.


From East. The road seems to like it up here, because it just goes down very gradually. Even with a fully loaded touring bike there is barely any need to use the brakes. The main scenery of this ride is below. The Golf of Girolata seems like a super extravagant stage set, just to make the stay at the small beach below as dramatic as possible, at least that's the way it looks from up here. The left side of the stage is set by Mt Senino, 619m, while the right side is defined by a low ragged ridge on the Scandola Naturale Reserve. But actually - above is a scenically happening place too. Limestone slabs with snow on top compete for attention to the south.

Rolling down ever so gently, there is a Gite d'Etappe in Curzo, but it doesn't look like the rooms have any windows, also a small hotel with a grocery store, selling beer at the rate of over 3 Euros a can in the next town Partinello, still high up on the traverse. There are several ways to descend down to the beach before going to Tuara. I tried the option to Vettricia. Staying on D81 along the coast involves another small 500ft summit point that is equally spellbinding.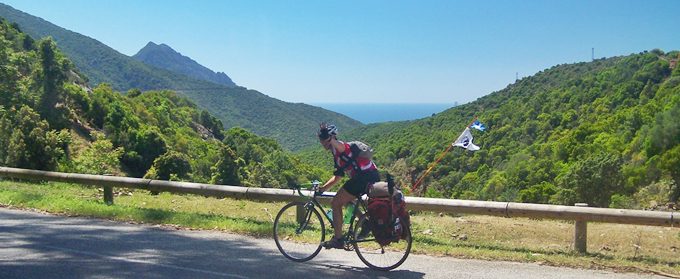 the flag of Quebec - flown in Corsica


A Day on a Tour


COMPLETELY PAVED:


( | Belvedere de Saliccio s(u) > )
Col de Palmarella/ Col de la Croix: Calvi > a mile or three of sightseeing around Calvi > D818 south along coast > D81 south > Col de Palmarella/ Col de la Croix <> several miles of out and back between Curzo and Partinello <> out and back to beach at Vettriccia: 55.8miles with 3773ft of climbing in 6:07hrs (Garmin etrex30: 14.5.17)


Dayrides from the starting point of this tour, Nice, are on pages:

Moyenne Conrniche s(u)
Chemin de la Greo: Berre les Alpes s(u)
D1 - D2209 Carros Vilage(sh)
D27 Ascros s(u)
Col de l'Ecre
Col de l'Orme s(u)


History-Cycling: The Tour de France found this scenic outpost of France just recently in 2013, and crossed the pass for the first time on a 145km stage between Ajaccio and Calvi.