Belvedere de Saliccio


The Michelin Corsica map rates many places in Corsica with stars, as to their attractiveness. The coastal area "Les Calanches" with its wild limestone cliffs and the old village Piana is one of very few places that gets 3 stars. Exploring the area around this Belvedere (lookout) is a short out and back, half day excursion in this area.
The Belvedere de Saliccio is a mountain with antennas just south of Les Salanche, with a great view over the town Piana and the snow covered Mte Rotondo (2622m) behind it. One approach is paved to the top. The other side is a short, rough dirt track, that can also be quickly walked with the bike (but probably not road racing shoes). It connects with the paved road over Col d'Osini with the beach below. Col d'Osini is just a shoulder point, with the road leading to higher points before (or after) the pass, no matter which way you slice it. I don't see any route that would make Col d'Osini the highest point. On the island side it meets D81 over
Col de Lava
, and keeps climbing higher in either directions.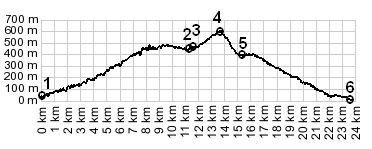 1.(40m,00.0km) START-END EAST: jct D84-D81,east of Porto
2.(450m,11.2km) Piana
3.(460m,11.7km) route turns off D81 on right
4.(600m,13.7km) TOP: Belvedere de Saliccio
5.(400m,15.3km) route joins D824 from Piana
6.(20m,23.6km) START-END WEST: beach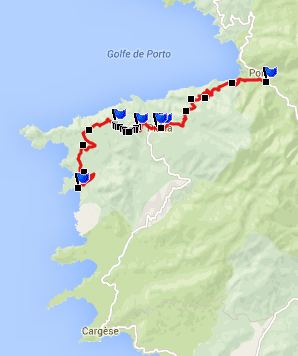 Approaches

From East. The profile starts in Porto and climbs on D81 direction Piana and the low Col de Lava. Just a short distance east of the summit of this pass, a paved road climbs in a northerly direction between houses, scattered around the hills. It quickly becomes apparent that the road is looping around the cone shaped hill ahead, and is heading for the antennas above. Along the way it opens up great views if Piana, in the background snowcapped peaks. To the north Capo Sinino and the Scandola peninsula form rugged dry ridges that descend steeply into the Golf of Girolata

From West. (described downwards). A steep, rocky double track trail descends into a northerly direction. Already after a 100m or so the paved road below comes into sight, and the dirt track meeting the paved road, becomes visible. This portion is easily covered by a quick (but steep and rocky) walk. Continuing down towards the shining sea, the paved road passes a trailhead for a popular hike onto Turghio Rock, and then splits in order to descend to two different beaches.

A day on a tour, including a half day ride without touring luggage with this point as highest summit:

PARTIALLY PAVED / UNPAVED:

A Day on Tour with this Point as highest summit :

(<Col de Palmarella./Lava | Col de Vergio>)
Belvedere de Saliccio , D81 north of Porto s(u) : Partinello > D81 north of Port s(u) > Porto > Col de Lava(shp) > tunraround point about 150ft below summit << Belvedere de Saliccio s(u) > Col d'Osini(shp) > Plage d'Arone << back over Col d'Osini > Piana : 44.1miles with 5390ft of climbing in 5:01hrs (VDO MC1.0 m4:`14.5.18)
Notes: The small summit D81 north of Porto just barely reaches 500ft, and is every bit as scenically interesting as Col de la Croix