Passo del Lagastrello

Today this is one of several passes in this densely forested area of the northern Apennin. It's a sure escape from the traffic in the valleys and great quiet workout in the forest. The crossing dates back to ancient times, when it was used for pilgrimages from the north to Rome and Lucca in the south.


01.(70m,00.0km) START-END SOUTH: SP74 takes off to the right in the north end of Aulla
02.(160m,4.9km) Monti Di Luccianana
03.(210m,7.9km) Licciani Nardi
04.(1200m,26.9km) TOP: Passo Di Lagostrello
05.(660,48.1km) Palanzano
06.(610m,61.2km)jct with road to Pignone on right
07.(710m,63.0km)Lagrimone s(u)
08.(660m,64.9km) Antognola
09.(550m,70.7km) Boschetto
10.(350m,74.4km) START-END NORTH: Capoponte; bridge over Torrente Parma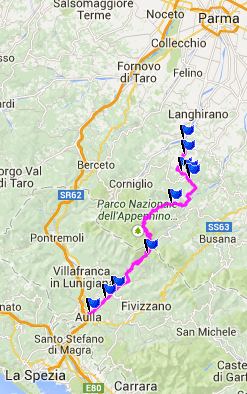 Approaches

From North. I was really glad to get to the starting point of of the profile near Aulla. The traffic from La Spezia to Aulla was something, that people who pay for guided bicycle tours would never put up with, I thought. But then again I'm not paying anybody to lead me around - thank god. But once I took the right turn after Aulla, marked Passo del Lagostrello, things began to improve quickly. After passing the two pleasant villages before the summit and stocking up on lunch tomatoes, there were so few cars I was going to count them for an accurate report. But then I got thinking about other things.

It became quickly apparent that this is a very pleasant pass. After the coast and all its traffic, this area seems like a wilderness. A few km before approaching the summit you pass a few walls of a medieval ruin. The accompanying informational tablet says something about a "wedding present", and goes on to describe the intricate affairs of medieval nobility in detail. Today the wedding present stands between two immaculately paved switchbacks, and makes a nice place for slicing up some tomatoes for lunch. After that the road levels out and quickly reaches the summit. It remains in the trees, but you can recycle your accumulated touring garbage on top into color coded containers. Taking a right at the pass, the road to the right towards Camona keeps on climbing.

From South. But the description descends from the pass. The Apennin Mountains descend towards the north east in a series of rounded green waves. Not until you get on top of one of the smaller wavelets between the pass and the Po Valley, and look back, do you recognize that there are some large white crested storm waves in the bunch, ie. mountain peaks above treeline. These landforms resemble many of the peaks in my home in Colorado much more than the vertical walls in the alps. Interspersed with these are pleasant small villages with very few signs of businesses. All the ones I found were closed, and that's why this is the only Apennin Pass in this area I am going to ride over and write about for now.
Following signs for Parma, there is another small summit along the route. That point, in my opinion, has really more interesting far mountain views than Passo Lagastrello itself.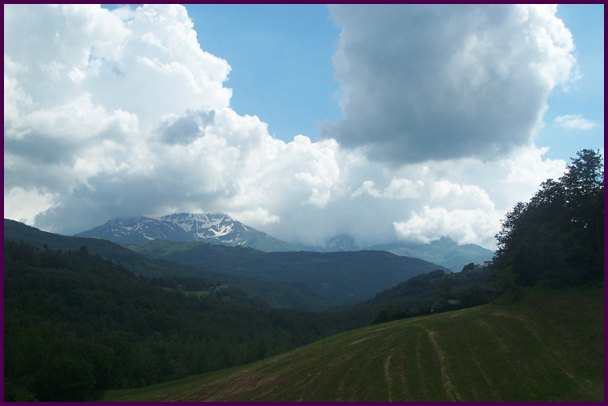 A Day on a Tour:

( < SP10 Castelnuovo - Seravezza(sh) | Passo della Maniva > )
Passo del Lagastrello , SR65 Antenola - Carpaneto s(u)?: lleaving La Spezia with detours > Aulla > Passo del Lagastrello > Palanzano > Sevanizza > Ranzano > Lagrimone > Langhirano > Torrechiara (about 16km south of Parma): 75.3miles with 6547ft of climbing in 7:25hrs (Garmin etrex30 m4:14.5.28)

Dayrides between this and the next day with different start and end points are on pages:

Monte Varagna s(u)
Passo Bordala
Passo Tremalzo
SP3 Monte Baldo s(u)