Passo Tremalzo


First something about the lowest part of the profile : the Ponale Road, Riva del Garda's most famous mountain biking attraction. - It is also a hindrance to road bikers. The Ponale are several miles of old military road that thread up a cliff south of Riva, under rock overhangs, between tunnels, through galleries hanging over the lake, with switchbacks that you can't put together into a continuous path, when you look down on them. It's an amazing sight, from afar or while on it. Much of it is unpaved. It is also the only way to get a bicycle legally from Riva into another great cycling region: the Valli Ledro. This is one of the very few occasions where an almost 1km long tunnel on the main road is closed to bicycles. But the tunnel is well lit, and in reality doesn't present much of a problem in practice.
There are several variations to ride to Passo Tremalzo, but if you start at the bottom for a loop ride - ie somewhere on Lago di Garda, most of them are bound to include the Ponale as part of the loop. (The only exceptions i can think of is leaving from Tremosine and returning to the south over Passo San Rocco). So I'll include a description and pictures of the Ponale here, even though it could also be on the route for reaching many lower points. But it's difficult to assign this road to any particular summit point. I think most people start loop rides to Passo Tremalzo, not from the shore of Lago di Garda, but from further up in the Ledro Valley. This option skips the Ponale Road.

The Ponale Road
Now to the Passo Tremalzo itself. For me this is a ride where at the end of the day, it is hard to remember all the tunnels, all the sections, the endless turns, views of switchbacks reaching skywards. I'll try. But I do remember I walked a lot.

One approach to this pass is what I just described, the other is paved almost to the top. The first decision to make is weather to climb to the top on pavement or on dirt road. My decision for this was to climb on the dirt part. Judging from the hundreds of bicycles I saw going down, I am in the minority.



1.(80m,00.0km) START-END EAST 1: southern end of Riva de Garda, before jct with Ponale.
2.(250m,03.4km) route stays on left bike path, direction Pregasina
3.(510m,08.0km) Pregasina
4.(881m,11.1km)Bocca De Lanci
5.(1159m,14.0km) Passo Rocchetta
6.(1286m,19.6km) Passo Bestana
7.(1205,20.5km) Rifugio Alpini Passo Nota
8.(1424m,23.2km)Passo Pra Della Rosa
9.(1839m,28.0km)TOP: point of highest elevation, before Bocca Di Val Marza
10.(1700m,29.8km) Passo Tremalzo
11.(747m,42.6km) Passo Dell'Ampolo
12.(670m,51.9km) profile goes around south side of Lago Di Ledro on path
13.(670m,57.2km) profile rejoins road east of Lado Di Ledro
14.(250m,64.6km) START-END SOUTH 2: route joins other approach on south side of Ponale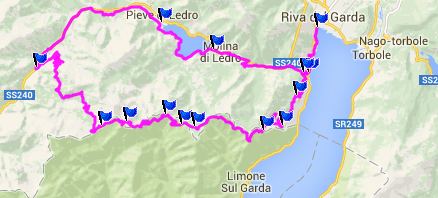 Approaches

From East. Leaving Garda along the lake heading south, and then looking back at its plaza facing the lake, you can't help but turn around and wonder at this space, and if maybe you shouldn't have lingered just a bit longer. But the view gets better.

Before the road enters the first short tunnel, a right leads to the start of the Ponale. The next few miles have only one thing in common, they climb and there are lots of mountain bikes on it. Sometimes the road climbs in a tunnel, sometimes in a gallery, sometimes the tunnel was paved with asphalt, sometimes with smooth rocks. At times there are alternatives to ride around the tunnels. Below another stripe of asphalt seems in danger of being rained on by rocks. That road is closed.

Looking back a series of hills grow in perspective behind Garda. In the background a vertical mountain capped by a cloud spurrs the imagination. The Ponale is great for mountain bikers. But it does not last very long. Also there are two options. Staying right at a fork leads to the main road into Ledro Valley, meeting it just after the tunnel section that is closed to bicycles. Staying left leads to the road to Pregasina.

The profile follows the latter. At first all road seem to end in Pregasina. But asking around for direction Tremalzo, I am sent on a concrete path climbing above the cemetery. This is a nice place to climb, and for the moment I was am alone, since most of the published descriptions seem to send the crowds along the valley to Molina di Ledro. But it is nice here above the cemetery. The path enters a deep forest and the flagstone pavement with its rough surface is perfect for climbing standing up. No dirt could give this traction. But then eventually the road turns to dirt also, and delivers me to the first point with a view: Bocca di Lanci at 881 meters. This is view with right angles, a shoebox with a blue bottom. The sides of the shoebox have snow on top. A sign here points to a 1.5km descent into Tremosine. Another sign comemorates an author of a bicycle magazine who is said to have made this route to Tremalzo famous. However - this is not a life like stone statue, like would be appropriate for the townsquare back in Riva - just a simple metal plaque.

It's ironic that this plaque would be, not only at this particular spot, but also helpful. The next several km (starting after a few hundred meters from here) are impossible to ride, and without this plaque about a famous bike route, I would have definitely concluded that this can't be the right way. Heaving the bike up over roots and rocks I finally get it up to Passo Rocchetta (1159m). I should also mention that apparently there are two trails between here and Bocca di Lanci. I took the shallower version, which involves staying right at a closed inn of sorts, and then taking the next hard left. My directions sense is helped along by my gps unit, and I fear since I have this electronic aid now, I have probably forgot several junctions along the trail. But in this case I may have never reached the top without it.
Passo Tremalzo: section between Bocca di Lanzi and start of pavement

A grand surprise stands next to the trail, a hut selling drinks for many euros each, signed by a scaregrow with a sign : "Langsam Raststation". That's not Italian, but people on this end of the lake don't even try to act Italian anymore, because they are probably 90 percent visiting German speakers.

After being reminded how thirsty I was, and consequently drinking most of my own water (and resisting the temptation to buy beer or coke - which really was not so difficult), I quickly realize a new section is about to get under way. Passo Rocchetta was the last point directly over the lake, as if flying above it. The trail now traverses into a canyon at right angle to the lake. Its vertical cliffs and zig zag trails descend into its depths lend it a Himalayan appearance, especially in the typical hazy of early afternoon light, that makes judgement of distance nearly impossible. Somewhere along this section the published route from Molina must come up, because nearly every trail section, where trees break open to reveal the depths below, are occupied by groups of bikers. Several Inns built with stone walls so thick they could also be war fortifications line this path. The path meanwhile allows for much quicker progress, because of smoother trail conditions.

The next noticeable pass is Passo Nota - no views, just a albergo in the woods and a junction with what must actually be the most direct approach from this side, and that is an actual road most of the way from Tremosine. The map also marks a Passo Bestana before Passo Nota, of which I saw no indication along the way.

Okay, so after this round about approach to this point, all Tremalzo bikers should finally be united in heading for the summit. But I was the only one on the path - maybe because a thunderstorm was threatening to break loose. But for right now, it was just going to collect some more energy from the atmosphere into a dark somber blue color, that does not evoke any feelings of coziness. But then - who knows how long this phase will last ? I am not going to wait.

In many ways the wilderness games begin all over again. First a path with a concrete surface starts. This is ideal for climbing - a sort of traction carpet. Then the road turns to dirt and starts the first of three sections of switchbacks, interspersed with occasional short tunnels, traversing along limestone spires, that resemble a hairbrush turned at a 45 degree angle. The first major tunnel comes into sight, promising a complete change in viewsheds. Maybe on the other side the sun will shine. It does not. But it does reveal the next set of switchbacks.

Looking back down, it is satisfying to see that I have actually been making some horizontal progress too. Immediately below are pieces of road like pieces of spaghetti. But then far off is a long single spaghetti reaching into the depth of the valley.

Monte Baldo and its snowcovered peaks on the other side of the valley float into view above the tunnel, making it look like a digital overlay. How can mountains obscured by haze for all this time appear so detailed ? Apparently the rain did its job of clearing the athmosphere well, and thankfully I only got a few drops of it for once.

Exiting the next tunnel, the route continues on a narrow path between two big piles of snow, and surprise - who would have thought - that this is the actual top ? The spot marked as pass on the maps is still a km or so away and maybe 100 meters below.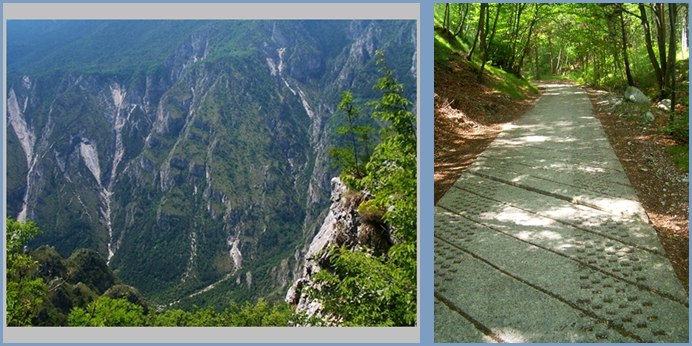 left: climbing avove the Bocca di Lanzi
right: concrete path through the forest between Pregasine and the Bocca di Lanzi

From West. It does not become apparent that there is an actual paved road leading up here until you see the Albergo Tremalzo and a few motorcycles parked in front of it. The view to the north west is of mountains with a rounder appearance, snowcapped non the less, and with a carpet of high alpine meadows at their feet. Several high farms also call this home.

This side enters forest quickly. With that the far views disappear. Descending further a crucifix in a carefully tended roadside park takes on the glittering appearance of a jewel just as the sun comes out. After a long smooth descend on a wide road with very few cars, the road ends on Passo Ampolo. Compared with this ride, that spot is just a nondescript spot along a straight road in a flat forest with a parking lot next to a hotel.

The profile goes down the Ledro Valley on the main road, but a separate longer bicycle path exists along most of the way. It leads around the east side of the Lago di Ledro, giving great views of the west side. The main road also is on the west side. If taking the west side route, bicycle traffic is finally prohibited on the main road and detoured below the attractive village Predi. The profile ends where the route is led back onto the Ponale, just at the entrance of the long main tunnel on the main road.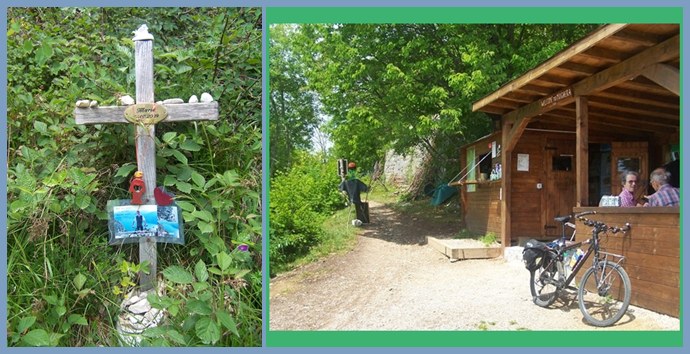 right- the sign reads: Langsam Raststation
left- the last Raststation
Historical Notes:

The Tremalzo Pass Road was built before WW1 for strategic reasons by Italy. At that time the border between the Hapsburger Austro-Hungarian empire and Italy ran along the ridge to the south of Valle di Ledro. Already before the war there were many arrests of Italian sympathizers. Towards the end of 1915 the Ledro Valley was evacuated entirely. The people were relocated to "Boehmen" and "Maehren", which was a center for power for the Hapsburg dynasty. They remained there for three years, and the Valli de Ledro was completely destroyed during the war.
Dayride with this point as highest summit:

Passo Tremalzo : Torbole > Riva del Garda > up Ponale with detours > Pregasine > Bocca di Lianci > Passo Rocchetta(shp) > Passo Notta(shp) > Passo Tremalzo > Passo Ambolo(shp) > down Ledro Valley sometimes on bike route, sometimes on main road > down Ponale > Riva del Garda > starting point in Torbole: 50.5miles with 7339ft of climbing in 6:38hrs (Garmin etrex30 m4:14.6.3).
Notes using the old method this measured 50.1miles with 7034ft of climbing in 6:08hrs with a VDO MC1.0

The last day with different start and end points is on page: Passo Lagostrello