SP10 Castelnuovo Di Garfagnana - Ceravezza(sh)
There are two ways to get from one side of the Alpi Apuani Mountains to the other, when riding a road bike. You can go over them, on the famous and scenic
Passo Vestito
. Alternatively, you can also go through them - at least 1125 meters "worth of through them" on SP10. A large part of the eastern approach is common to both options. Both routes combined make a popular loop ride from the Massa area. If you have to choose between the two, going over the pass is by far more interesting in every way, unless of course it is raining cats and dogs.

1.(280m,00.0km) START-END EAST: Castelnuovo Di Garfagnana: jct SR445 - SP13
2.(590m,13.0km) west end of Isola Santa
3.(770m,16.6km) right goes to Passo Vestito; profile stays left
4.(840m,18.0km) TOP: tunnel entrance
5.(820m,19.2km) tunnel exit
6.(65m,36.3km) Seravazza
7.(20m,41.6km) START-END SOUTH: jct SP10 - Via Emalia, Forte Dei Marmi, south of Massa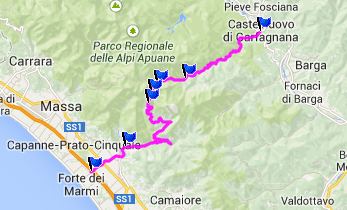 Approaches

From West. After SP10 splits off the Passo del Vestito route it only needs a few km to curve through a canyon and 70 meters of climbing in order to reach the entrance to the tunnel. This is the only tunnel along the entire route that is lit, not very brightly, but more than enough to get a bike through without loosing orientation. The highest point is somewhere in the tunnel.

From East. (described downwards) In my case the peaks above were obscured by clouds. But the stone quarries below were visible in their full ghastliness. It seemed like men with trucks were toting away parts of the mountain wherever you looked. The entire road is lined with quarry byproducts, and businesses dealing in them. First come the Volkswagen sized blocks on display next to the road. The remnants are ground up into ever smaller pieces and carted around on trucks. Ceravezza's economy has been built on this marble business for centuries. Rolling along the linear canal through the middle of this town today, has an industrial feeling to it.
A Day on a Tour:
COMPLETELY PAVED:
(< Col de Bigorno | Passo de Lagastrello >)
SP10 Castelnuovo da Garfagnana - Seravezza : Borgo a Mozzano > east side of Serchio River > Castelnuovo > SP10 Castelnuovo da Garfagnana s(u) > Seravecca > Forte dei Marmi > along coast northwards > Massa > Carrara > Sanzana > La Spezia: 72.9miles with 3490ft of climbing in 6:0hrs (VDO MC1.0 m4:14.5.26)
Notes: Light to heavy rain everywhere, except for sunshine on the coast due to big downslope from mountains. Includes quite a bit of time for rolling around La Spezia

Dayrides between this and the previous day with different start and end points are on pages:

SP51 Cinque Terre: Manarolo - Monterosso a Mare