The area traversed by this pass, can be seen from a favorable angle from the bike path below, following the river Adige (Etsch): Cruising along on flat, paper smooth pavement next to the river, the smell of grapes drift over from the practically vertical green ridge to the west. Looking up there are various towers and groups of houses that can be grouped into two localities. Somewhere up there in that green wall between the towers, cliffs and church steeples is Passo Bordala, even if the road is really not easily visible from below.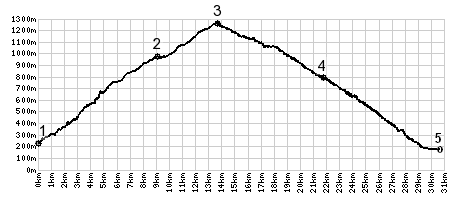 1.(240m,00.0km) START-END EAST: jct Ss240-Sp88, Loppio
2.(950m,09.1km) jct with Sp48, coming down from Passo Santa Barbara in Ronzo-Chienis
3.(1250m,13.7km) TOP: Passo Bordala
4.(800m,21.7km) Castellano
5.(200m,30.6km) START-END WEST: jct with bike path followign Adige (Etsch) river in Rovereto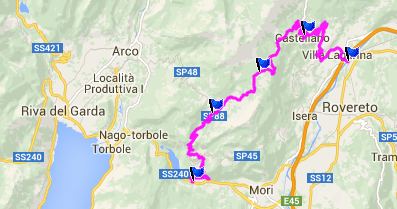 Approaches

From West. The profil starts in Loppio, a short distance east of the north end of Lago di Garda. I didn't ride the lower part, but came down from Passo Santa Barbara, then picked up the profiled route at the point in Ronzo.

From Ronzo an unusually wide, but curvy road quickly climbs the gap above the village. It seems every sign and billboard here has something to do with percorso MTB, hanggliding or some form of human racing. The top is in open forest with an albergo. On the right, there is a turnoff onto a narrow but busy road, that goes to a refugio.

From East. I think that this side is more interesting. The road becomes narrower and pulls off a few picturesque tight turns below a crest of limestone. Rolling down in long traverses, two separate villages spread out around their respective church towers. In the distance a sharp dagger like peak is barely visible through the moist summer athmosphere. But it is really only after the descent, from the bottom, that all the features of this approach can be seen in one view, the limestone crest on top, the two villages foreshortened into a flat canvas on green grape plantations - and this way it looks the most impressive.

On the bottom waits the supersmooth bike path mentioned in the introduction. It is totally separate from the road and follows the Etsch/ Adige river in both directions. Another separate path connects to Lago di Garda via the ultra low Passo Giovanni.

History - Cycling: In 2002 this pass was part of the Giro d'Italia, leading from Bolognana over Passo Santa Barbara onwards to Passo Bordala.
Dayride with this point as highest summit:

COMPLETELY PAVED:

Passo Bordala , Passo Santa Barbara , Passo Giovanni, additonal out and back: Torbole, Lago di Garda > pista ciclabile to Arco > Passo Santa Barbara > Ronzo > Passo Bordala > Rovereto <> out and back on Pista Ciclabile north to turn around point just before reaching Trento >> Pista Ciclabile south > Mori > Loppio > Passo Giovanni(shp) > Nago > back to starting point in Torbole: 66.3miles with 5308ft of climbing in 6:30hrs (Garmin etrex30 14.6.2)
Notes:With an accidental extra out and back down the Adige River, before turning off to Lago di Garda, Passo Giovanni has just barely the 300ft of elevation gain (~100m) on this side, to count it.

The last day with different start and end points is on page: Passo Lagostrello