Route des Cretes s(u)
This summit is the highest point on a ride around the Canyon of Verdun, the largest Canyon in Europe. One can still ride around the canyon and skip this optional loop, but it would be a shame since it has some of the best views.


1.(00.0km,645m) START-END EAST: jct D6-D955 between Castellane and Rougon
2.(05.8km,792m) profile turns left off D6 onto Route des Cretes
3.(08.5km,690m) intermediate low point
4.(20.4km,1314m) TOP: Route des Cretes s(u)
5.(29.7km,767m) intermediate low point
6.(33.7km,923m) profile rejoins D6 in Pallud and turns left
7.(36.2km,1032m) Col d'Ayen
8.(50.5km,523m) START-END WEST: profile turns left on D957 towards Lac de Sainte Croix
9.(53.0km,472m) START-END WEST: north east end of Lac de Sainte Croix, near D957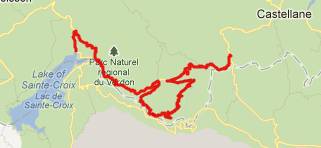 Approaches
From West. The profile covers the entire northern side of a ride around the canyon. This also includes Col d'Ayen at point 7 and another small summit between points 1 and 2. All of these are substatantially lower than the highest point on this route. The Route de Cretes is usually only thought of as the section, starting at Point Sublime, located several miles after point 3, and ending at point 6.

Right after the viewpoint labeled Point Sublime, an equally sublime side road climbs back towards the East. It takes in several astonishing viewpoints and crests near the summit of this forested hill.

From East. (described downwards). I think the best views are on the upper portion of this side. The road follows the edge of the canyon more closely. At times it is possible to mistake the road on the other side of the canyon for the one you are descending. There is a small climb involved when the road leaves the canyon edge to return further inland to La Pallud. Here the Route des Cretes merges back into Main Road, in Pallud-sur-Verdun, just slightly west of where it took off.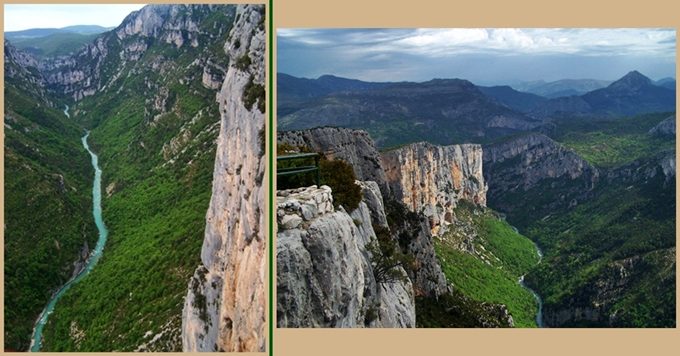 Route des Cretes, western approach

Dayride with this point as the highest summit
Routes des Cretes , D71 Le petit St-Maimes s(u) , D71 Col d'Illoire s(u)
,
D71 Tunnel du Fayet s(u)
:La Colle (1km west and 100m above Castellane) > Route du Cretes s(u) > Col d'Ayen(shp?) la-Pallud-sur-Verdun > Aiguines > col dI'lloire(shp) > D71 col d'Illoire s(u) > D71 Tunnel du Fayet s(u) > D71 Le Petit St-Maimes s(u) > Trigance > sp: 83.1miles with 9100ft of climbing in 7:48hours (VDO MC1.0 m4:12.5.19).
The last summit point with different start and end points on this Extended Tour is: Col de Luens

back to Cycling Passes in Europe