D71 le Petit St-Maimes s(u)


This is the highest road point on the south side of Verdun Canyon. It is not directly on the rim. As a matter of fact from the summit the canyon is nowhere to be seen.


1.(00.0km,684m) START-END SOUTH: bridge across Canyon de l'Artuby
2.(06.4km,975m) TOP: D71 le Petit St-Maimes s(u)
3.(08.6km,978m) profile turns left towards Trigance
4.(13.1km,739m) upper turnoff to Trigance
5.(14.0km,725m) profile turns left onto D955 towards Castellane
6.(20.1km,645m) START-END NORTH: jct D955 - D952, south west of Castellane

Approaches
From East. However the lower approach on this side is directly over the canyon. It starts on the bridge over the Canyon de l'Arturby. Another memorable point is where there just happens to stand a restaurant. I have no idea how memorable that is, but the view from next to the road is just about as vertical down as possible. A short trail also leads to a precariousely located view perch, a stone box on top of cliffs in almost all directions. Past this point the road slowly leaves the canyon rim, goes through a village with sheep pastures, then crests with a far view of upper Verdun Canyon, which looks more like a valley from here.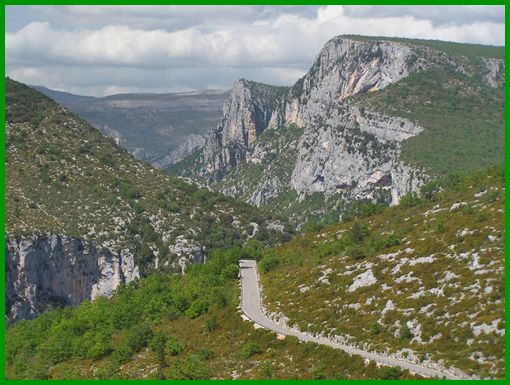 From West. Soon after the top you can make a left and descend via Trigance back to Castellane, which makes a good base for a ride around the canyon. This road, even though shown as secondary road, is just as wide or wider than the "fatter" road categories on the map. The medieval village of Trigance is another high point along the route. Small climbs keep showing up on the descend, and on a ride around the canyon in this direction, they are now definitely noticable as the day draws to a close. A low point is reached the the junction with the right bank road.



Tours
A Dayride
with this point as intermediate summit is on the page:
Route des Cretes s(u)
The last summit point with different start and end points on this
Extended Tour
is:
Col de Luens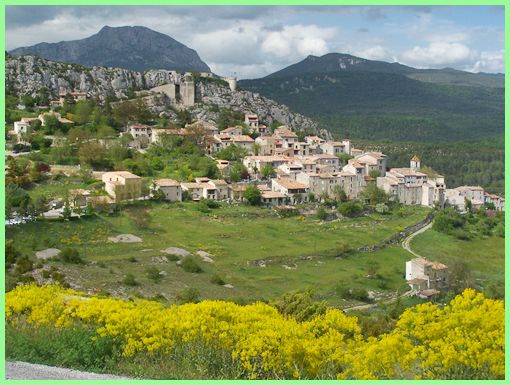 Trigance

back to Cycling Passes in Europe