D71 Tunnel du Fayet s(u)
The road on the south side on the Canyon du Verdon has many ups and downs, so that it is difficult to feel where the actual summit points are. You could easily think that the western entrance to this tunnel is the highest point along the entire southern rim. But actually the road crosses higher points in both directions. But who cares about altitude and summit points with scenery like this ?

Approaches
From West. After reaching the D71 Col d'Illoire summit, the road continues to traverse along the edge of the canyon, now often a little further away from it. It looses only about 350 meters on the downward traverse before it starts climbing again to the D71 Tunnel du Fayet s(u). The portal is at the highest elevation.

From East. The bridge over the Canyon de l'Arturby marks the lowest point after this summit. From here the road starts its scenic climb over the D71 le Petit Ste Maime s(u).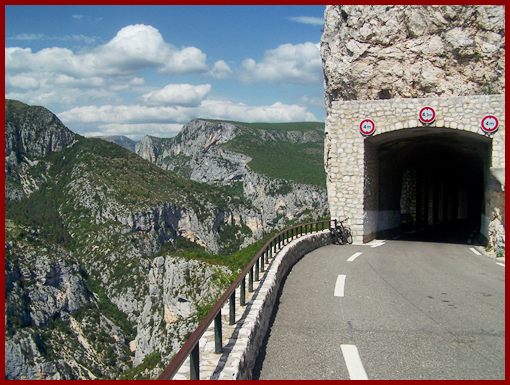 A Dayride
with this point as intermediate summit is on page:
Route des Cretes s(u)
The last summit point with different start and end points on this
Extended Tour
is:
Col de Luens
back to Cycling Passes in Europe