D71 Col d'Illoire s(u)
This is the second highest point on the road, following the south side of Canyon de Verdun. The western approach goes up to Col d'Illoire. From the pass, the eastern approach descends into the canyon on a trail. But the road just keeps on climbing. The pass is not even close to the summit. Therefore the point has an s(u) following it. To complete a route along the eastern side of the Canyon du Verdun, you still have to go over the higher
D71 le Petit Ste Maimes s(u)
.
picture page

1.(00.0km,481m) START-END WEST: bridge on D22 over north west end of Lac de Sainte Croix
2.(02.0km,490m) profile turns left onto D19
3.(07.9km,796m) Auguines
4.(11.0km,964m) Col d'Illoire
5.(13.4km,1188m) TOP: Col d'Illoire s(u)
6.(22.0km,800m) intermediate low point
7.(25.7km,961m) D71 Tunnel du Fayet s(u)
8.(29.8km,674m) START-END EAST: bridge over Canyon de l'Artuby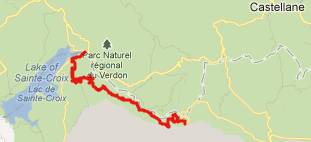 Approaches
From West. Right after passing the water sport activities of Lac de Saint Croix, D19/D71 forks off to the left and starts climbing. At this point far away from the edge of the canyon, the first picturesque spot is the town of Aiglunes. It looks like this place can be pretty busy with tourists. A few switchbacks higher is the best vantage point on the iron church tower and the row houses stuck to the hill. Col d'Illoire is reached quickly, where a sudden drop off into the Canyon of Verdun becomes visible on the left side of the road.

But D71 just keeps on climbing. The most spectacular part is still ahead, as the road traverses ever higher, opening up a view of the limestone cliffs sitting over much smaller hills, that almost look like a plain in comparison. This is very different than the east side of the canyon. The road on this side traverses much higher near the mouth of the canyon. From the other side no such magnificent drop off is visible. Finally the road crests at an unmarked summit and the map tells us that this is the highest point. Without an altimeter it actually feels like the entrance to the D71 Tunnel de Fayet s(u) (also contained in the profile above) should be the highest point, but the profile shows just how wrong this is.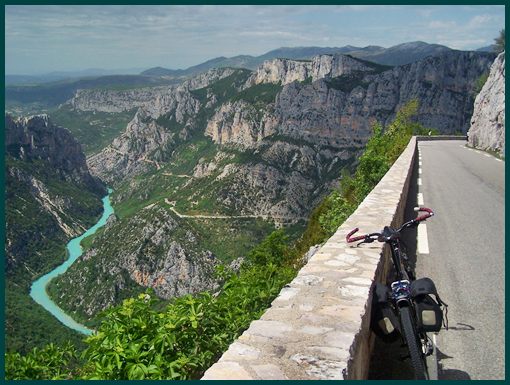 above the Col d'Illoire

From East. (described downwards). The descend switches the viewshed to deep incised canyons. The route des Cretes is now visible on the other side of the canyon, quite a bit higher. A low point is reached when the road crosses a bridge over the Canyon de l'Arturby.

Tours
The last summit point with different start and end points on this Extended Tour is: Col de Luens
back to Cycling Passes in Europe