Col de Bigorno

So - now I have cycled just very few of the Corsica summits, that people who know these things, told me I just had to do. Now it was time to just look at the map - and then ride something that looked interesing, and then maybe turn out to be very interesting, but who knows ?

Actually this may be my favorite Corsica ride, but then I haven't done very many. Also - Corsica rides should be divided into rides that involve the ocean in some way, and those that do not. Otherwise coming up with favorites may be just too difficult - there are so many. Anyway - this ride does not involve the ocean in a consequential way, but it does encircle a number of old hilltowns in panoramic fashion.


1.(200m,km00.0) START-END SOUTH: jct N97 - D105, north of Ponte Leccia
2.(700m,13.7km) Canavaggia
3.(650m,18.7km) D5 comes up from valley and joins route, jus before Canto
4.(680m,22.0km) D7, another road climbing from below, joins in Bigorno
5.(870m,26.1km) TOP: Col de Bigorno
6.(500m,35.4km) Murato
7.(372m,39.7km) Col St Michelle(shp)
8.(20m,48.3km) START-END EAST: Biguglia, south of Bastia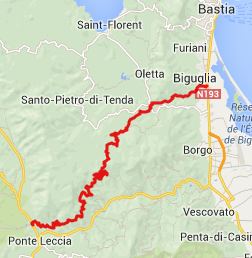 Approaches

From West. The road over Col de Bigorno is an alternative to the direct, awful, busy N133 between Ponte Leccia and Bastia. Counting the squiggles of the Col de Bigorno route on the map is an exercise in futility. Even coming up with a good guess, as to how much longer this curving traverse along the mountain is, compared to N133, is more than I can handle.
So why take the long way ? Well for starters, the Aigles de Popalasca will never look so imposing from the bottom. But this limestone comb is just the starting point in a panorama that grows ever larger as you climb. This limestone ridge gradually takes its place next to a more bread loaf shaped landform. Finally both are dwarfed by a snow covered ridge that slowly emerges from the clouds to the south.
While the road climbs, it doubles back onto itself numerous times. Looking back - at times it's hard to tell, which small section of truncated road curvature below, comes before or after the other.
The towns are still ahead. I cannot find the first one marked on any map. But clearly it exists. Before entering it, I also encountered a rarity in Corsica, a comfortable scenic bench with backrest, perfect for the purpose of trying to recondition tired biking legs with a good lunch.

The next town is approached from several angles. Canavaggia's most impressive building is an old church. But it looks like, that the soccer goal posts in front of it get more attention than the church these days. The road approaches the town Bigorn by making almost a half circle around it, while traversing along the hillside. From some vantage points the snow covered ridge appears directly behind, to complete the scene. A few switchbacks above the town on a bare ridge complete the climb to the summit.

From South. (described downwards). This villages on this side have a more populated, alive appearance. No wonder - southern Corsica's singular large city, Bastia, is not far away. On this side the road is wider also, so that it's easier to drive here too. The one location shown most prominently on my map, on this side is San Michele. In addition to a small village, this refers to a nearby, small, attractive 12th century church, a narrow building, built from stone of contrasting colors, that sets it off perfectly from the flowing green hills that encircle it. Using two separate colors of rocks was characteristic of the architecture of Pisa, and Corisca was ruled by that state at the time.

By the time the road reaches Col de San Michele, the transfer back to modern times is complete. Garage businesses sell useless knicknacks next to the wide road, containing a still moderate amount of traffic. There is one more way to delay the delay the traffic nightmare of Bastia, and that is to follow the narrow Defile de Lancone, opposite N193 down the last canyon before the coast.

A Day on a Tour with this point as highest summit:

COMPLETELY PAVED:

( < Col de Vergio | SP10 Castelnuovo di Garfagagna - Seravezza s(u) > )
Col de Bigorno , Col d'Arbitro : Castirla > Pont de Castirla > Col d'Arbitro > N193 north > Ponte Leccia > D105 west > Canavaggia > Lento > Col de Bigorno > Murato > San Michele > Col de San Michele(shp) > down Defile de Lancone > N193 north > Bastia <> out and back along coast a little beyond Erbalunga (in an unsuccesful attempt to find decent accomodations) : 67.7miles with 5290ft of climbing in 6:20hrs (VDO MC1.0 m4:14.4.21)

Dayrides between this day and the next pass crossed as part of a day with different start and end points are on pages:
Passo del Vestito
Foce a Giovo
Pascoso - Gragliana s(u)