I first read about this summit on the Qualdich.de site. It is directed towards road bike riders, and they describe this road as not suitable for that. But of course they had to ride it in order to come up with that conclusion. Sometimes you just have to come up with your own conclusions. Still, I have to agree. Take a mountain bike instead. This summit happens to be my favorite category of riding. It has enough rough pavement to keep cars and motors away, but it's still smooth enough, that you do not have to jump over anything, and can cover as many miles as any road bike in a day. If the day is a little longer, who cares ? - in today's parlance: a nontechnical mountain bike ride.



1.(148m,00.0km) START-END WEST: west of Ghivizzano, SP56 turns of SR445
2.(560m,8.7km) route from hilltown Coregia descends to join with profile
3.(684m,12.8km) another road connects on the right with mountain locations
4.(1664m,28.0km) TOP Foce a Giovo
5.(1365m,35.0km) dirt road terminates at gate onto paved road
6.(1000m,39.9km) turnoff to Fiumalbo, immediately below
7.(900m,42.1km) START-END WEST: Pievpelago and turnoff to Passo delle Radici on left
8.(580m,56.2km) START-END WEST ALT: aproximate intermediate low point near Strettara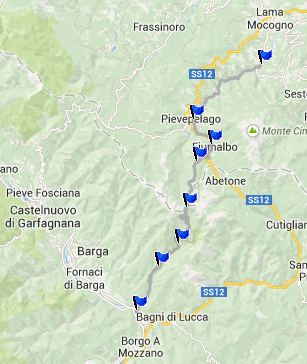 Approaches

From South. Signs in this area also use the designation "Passo a Giovo". The most direct way to approach the summit is from the west side of the Serchio River and riding up towards Tereglio. But there is not much there there. Instead there is much more happening in the upper field of view. Two hilltowns make an appearance far above during the first few miles (one of them is Coreglia). And this will also be the last hilltown view on the entire ride.

Now the road traverses up the north side of the valley, periodically adding switchbacks to the traverses to gain altitude more quickly. An occasional thick walled private house surrounded by dense woods passes by, watched over by sheppard dog, or somebody tending to the yard.

Then the turns start up again. Actually, there seem to be countless switchbacks on this approach. But at least the separate sections of switchbacks can be counted. The second set starts where the pavement changes to - lets say intermittent - patches on patches on patches with holes. This second set tends in a westerly direction and gets the road no closer to the summit, as the crow flies. But it does deliver the first views on cut off pieces of pavement in the forest below. While gaining this ridge, the open forest periodically disappears completely and gives great views on the ridge ahead.

The next next set of switchbacks again coincide with a surface change. First a narrow unpaved road gives way to a wide, fairly smooth unpaved highway through thick forest, gaining the ridge with switchbacks that have the regularity of somebody doing knee bend exercises.

On the last traverse a great view opens up to the east. A few rugged breadloaf mountains fall off into vertical cliffs, because these breadloaves stand on edge. Behind that green ridges recede into haze. Behind them you think you see the sea, actually you know it, because a few features resembling islands are barely discenible. But mostly you see haze.

The last traverse has one more set of switchbacks following it. Just a few to finish things off, above the trees with a great view below and bikers waiting above.

From North. (described downwards) Actually this side appeared quite a bit rougher to me surface wise, but the slope is more gentle. The road remains within 100m of summit level and contours on an open ridge northwards. To the north you can make out a town. But these loosely spaced dwellings have a the appearance of modern luxury, without the medieval need to huddle together for safety on top of a hill.

After much rolling the surface improves. However now there are, what must be hundreds of small half burried logs across the road, apparently drainage control. They are not difficult to ride over with a mountain bike. But the spokes of a trusty old wheel with any thousands of miles on it may not hold up to it.

But the road has mercy and pavement is reached still hundreds of meters above the valley bottom. At the junction with the paved road, there is no sign pointing up the unpaved path, just a barrier and a sign closing the road to cars. Both directions on this paved saddle go downhill. So its important to keep a sense of direction. Descending towards the right finally leads to a final landing approach in switchbacks, honing in on the church tower of Fiumalbo, a pleasant looking town with ski tourism in the winter and bikers in the summer.

But staying left here the road descends further, now a wide main road into Pievepelago. Before this town is reached, staying straight will lead the way back to the south side of the ridge over Passo delle Radici or San Pelegrin in Alpe s(u). That's the way my route went. But in order to find a lower point on this side I continued the profile to a low point north of Montecreto.

Dayride
PARTIALLY PAVED / UNPAVED
Foce a Giovo , San Pelegrino in Alpe s(u) : Borgo a Mozzano > unplanned detour to edge of Bagni di Lucca > Tereglio > Foce a Giovo > Fiumalbo > Passo delle Radici(shp) > San Pelegrino in Alpe s(u) > Castelnuovo in Gagargagna > back to starting point: 69.5miles with 8697ft of climbing in 7:38hrs (Garmin Etrex30 m4:14.5.25)

Notes: On top I met a group of Italian mountain bikers who invited me to abuse them with all the Italian I do not know. Mi dispiace ma mi Italiano e molto malo. But no it is very good they answered in English. Still I could see that periodically I said something very funny, or maybe it was offensive and ignorant, but thank you for interpreting it as funny. We finished the language lessons with a common picture with the "pane" (bread) in my saddle bag as central focal point
The last day with different start and end points is on page: Passo di Bigorno