Wixson Divide

A relatively quiet paved road runs along the east side of the Wet Mountains. Along the way it goes over three named divides. This one is the highest by a small margin.

01. START-END NORTH: jct Co96 - Co87, Wetmore
02. jct with Northcreek Rd on left
03. profile turns left onto Greenhorn Highway in McKenzie Jct
04. 9479ft - Wixson Divide
05. 8840ft , intermediate low point at jct with road down South Hardscrabble Creek
06. 9400ft - Bigelow Divide
07. 8720ft ,intermediate low point
08. 9360f - Greenhill Divide, just before jct with Co78 to its summit in the Wet Mtns
09. jct with Old Isabel Rd on the left
10.START-END SOUTH: jct Co165 - I25, Colorado City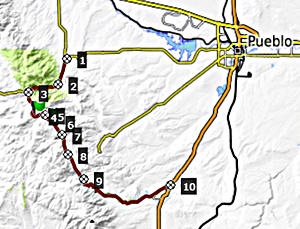 Approaches
From North: It would have been easy to start the profile way back in Pueblo, and give this little divide an impressive elevation gain. That section is included on the Hardscrabble Pass page. But before getting to the Hardscrabble summit, the profile turns left at Mc Kenzee Jct. From here a wide highway curves gently to a summit where the trees open up into meadows. More grass land and hills reach higher on all sides. There are no views, but on the map a dirt road on the right promises to go higher towards the crest of the Wet Mountains. The road is gated by a private ranch. This is the only divide along Co78 that is signed.

From South: A short descend leads to an approximately equal climb to the next divide in this series of three, the Bigelow Divide. At the bottom between the two is an unpaved road, following down South Hardscrabble Creek.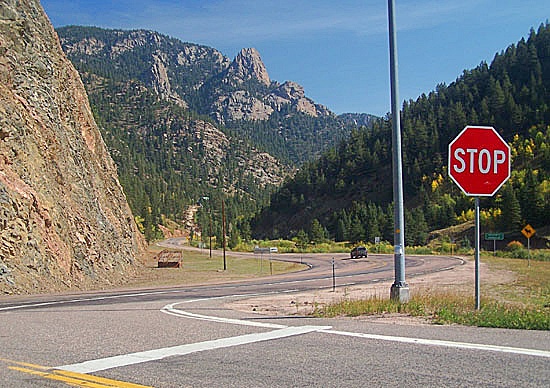 Mc Kenzie Jct
Dayrides with this Divide as intermediate summit are on pages:
FR400 Gardner Rd s(u)
Co67 Wet Mountains s(u)


A Day on a Three Day Tour with this point as highest summit point:

PARTIALLY PAVED / UNPAVED:
(|Cucharas Pass>)
Wixson Divide , Bigelow Divide , Greenhill Divide , CR329 - 347 Rosita Rd s(u) : Colorado City > Co165 north > Greehill Divide > Bigelow Divide > Wixson Divide > Mc Kenzie Junction > Co96 north > CR329 - 347 Rosita Rd s(u) > Westcliff: 56 miles (mech odo m1:88.5.28).
Notes: Ride with DBTC. Most in the group substituted Hardscrabble Pass for the C329 - 347 Rosita Rd summit. That way the route stays on pavement for the entire three days. The entire three day route was: Day 1: Colorado City > Greenhill Divide > Bigelow Divide > Wixson Divide > Rosita Rd s(u) > Westcliff. Day 2: Westcliff > Promontory Divide(shp) > Walsenburg. Day 3: Walsenburg > Cucharas Pass > Trinidad; carshuttle back to Colorado City. Mileages measured with an odometer came to 56, 61 and 79 miles