Co78 Wet Mountains s(u)

This unpaved forest summit seems to be created just for a nice, comfortable gravel day loop ride in the Wet Mountains. The scenery here is trees. The spectacle of the Sangre de Cristo Range is hidden on the other side of Green Horn Mtn.


01. START-END NORTH: jct Co96 - Co87, Wetmore
02. jct with Northcreek Rd on left
03. profile turns left onto Greenhorn Highway in McKenzie Jct
04. 9479ft - Wixson Divide
05. 8840ft , intermediate low point at jct with road down South Hardscrabble Creek
06. 9400ft - Bigelow Divide
07. 8720ft ,intermediate low point
08. 9360f - Greenhill Divide, profile turns left, soon after this point
09. TOP: 9600ft Co78 Wet Mountains s(u)
10. jct with Old Ham Rd. Profile stays left towards Beulah
11. START-END SOUTH: jct Co78 - Northcreek Rd, east of Beulah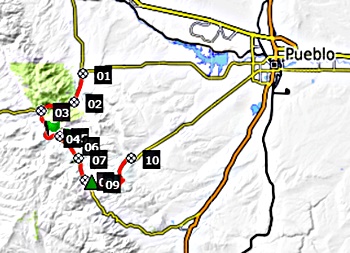 Approaches

From West. Co96 west of Pueblo not only goes to Hardscrabble Pass and its sublime view onto the Sangre de Criston Mountains. It also connects to the "Co165 Greenhorn Highway". Co165 is named after the highest mountain in the Wet Mountains. It is a pleasant paved forest road through a forested valley. Along the way it crosses 3 named divides. The highest one is the one furthest to the south, and from its summit a smooth gravel road climbs a little higher to crest at this summit. The road stays in the forest and there are no views from the top. Even a short dirt track leaving from the summit does not go to any real view points.

From East. A fast and long decent leads to the outskirts of Beulah. Along the way the closest thing to a great mountain view can be spotted through the trees, in the form of Greenhorn Mountain, framed by trees. Approaching Beulah, there are enough turns and roads to vacation homes to potentially cause a loss of all sence of direction, and the residents of Beulah don't seem to think much of road signs. Sometimes, even in the age of google maps, you can still find a friendly resident, to explain nearby road situation, although it took me several tries this time.

While completing a gravel loop back to the north, another summit has to be crossed : Northcreek Rd s(u).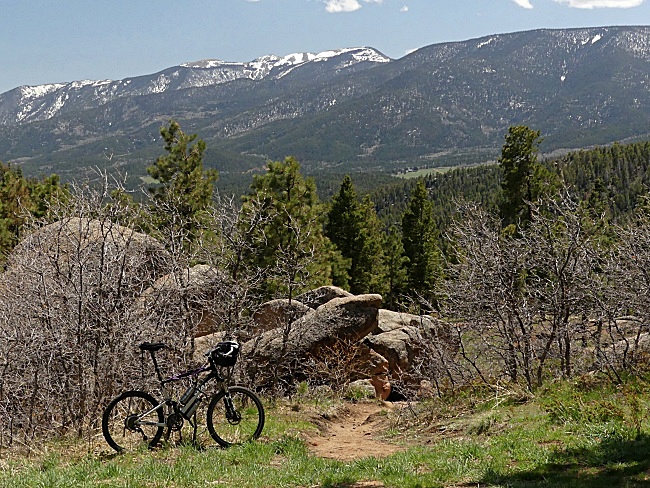 Dayride with this point as highest summit:
PARTIALLY PAVED / UNPAVED
(<
Skyline Dr s(u)
|
Old Raton Pass
> )
Co78 Wet Mountains s(u) , Wixson Divide , Bigelow Divide , CR387 Northcreek Rd s(u) :
jct Co96 - Smith Creek Forest Rd > up Co96 > upCo165 > Wixson Divide > Bigelow Divide > Co78 east > Co78 Wet Mountains s(u) > South Pine Dr north > Curtis Dr north > Beulah > Central Ave east > CR387 Northcreek Rd north > CR387 Northcreek Rd s(u) > Co96 west back to starting point: 48.0miles with 6300ft of climbing in 5:39hrs (garmin etrex20 m5:21.5.8)