Monarch Pass

Monarch Pass is a typical American highway through non typical, special American mountains. The mountains are the Sawatch Range. Books with lots of pictures often describe them as the "backbone of the continent". The Sawatch Range contains a total of 14 peaks over 14000 feet, not to mention the continental divide. All of the "14ers", the other paved pass,
Independence Pass
, and several dirt road passes reaching over 12 thousand feet, are north of Monarch Pass. The peaks immediately surrounding Monarch Pass are "only" in the 12 thousand foot range. But then the valley floor is also 2000ft lower here too. South of Monarch Pass the range takes on a more rounded appearance.
The road cuts through this landscape like a knife. But there are some great views along the way. During the summer months this road may also carry a lot of through going traffic, consisting of tourists towing double trailers, which they haven't learned how to drive properly.


click on profile for more detail
01.(5370ft,mile00) START-END WEST-ALTERNATE: Canyon City
02.(6410ft,mile06) intermediate high point
03.(5710ft,mile10) Arkansas River crossing in Parkdale
04.(6180ft,mile25) Texas Creek Junction and jct with Co69
05.(6340ft,mile32) Cotopaxi
06.(6450ft,mile37) jct with forest road west of Coaldale
07.(7070ft,mile55) Salida
08.(7530ft,mile61) START-END EAST: Poncha Springs at intersection of US50 and US285,
09.(9650ft,mile74) Chalk Creek Pass road joins on right
10.(10980ft,mile78) Old Monarch Pass road joins on right
11.(11312ft,mile80) TOP: Monarch Pass, Monarch Crest Trail joins on left
12.(8470ft,mile89) START-END WEST: Sargents

Approaches
From East. The profile starts on the plains in Canyon City, and includes all of the Arkansas Canyon. Near the entrance to the canyon there is a climb, that is big enough, that you could call it a separate summit. Many years ago this was a great ride through a scenic canyon, but with little or no shoulder. I don't know how the traffic conditions are now. There is also an MTB trail, partially up the now abandoned old DRG rail line.

Most people think of the pass as starting at point 8, where US50 turns away from the flag lined roadside businesses, advertising everything from raft trips to ATV rentals on the sprawling outskirts of Salida.

US50 starts to climb the ever so gentle slope of a huge alluvial fan, spread out around the canyon of the upper Arkansas River. The road has a shoulder that may be wide enough to place bicycle wheels on, but is not enough to get out of, what may be fairly heavy traffic in the summer. Parallel CR220, south of the US50 lets you get away from the traffic for 5 or 6 miles. Most of it has a hard medalled surface with some dirt on top, sufficient for many skinny tire bikes in an upward direction. It is signed as a bicycle route. The very top part of it is paved and separately accessible. The access spot is easily recognized in Maysville, by the old historic schoolhouse below US50.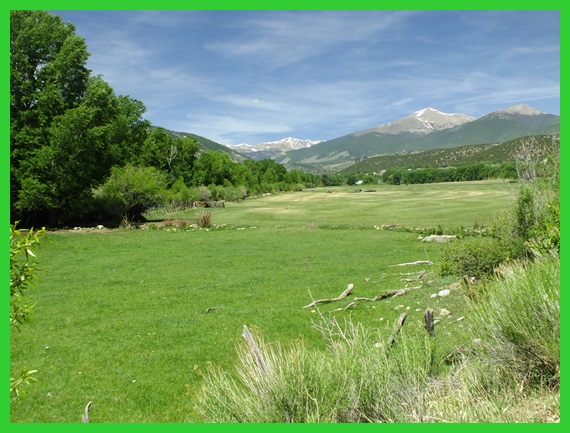 CR220 on the way to Monarch Pass
The road stays at the bottom of the forested canyon, passing. Maysfield and Garfielid were once mining towns, and more recently, now failed tourist businesses. "Garfield's only Mall" reads a faded sign in front of a solitary sheet metal building next to the road. Periodic climbing lanes make traffic conditions more tolerable, but increase the noise and smell, resulting from the floored gaspedals.

On the left side of the valley the mountain side has been sacrificed to the Madonna Mine, apparently a limestone quarry, that must be several thousand feet high. Turning back, Mount Shavano, a 14er with a unmistakable flat top, remains in its natural beauty and grandeur.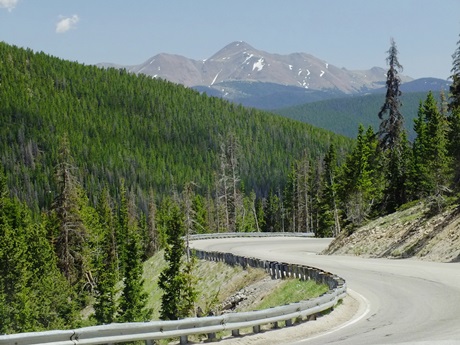 The area around Salida is notoriously dry in the winter. So a ski area around here has to be at a high altitude. When the turnoff to Ski-Monarch comes up, the first 180 degree turns start the final ascent to the summit. At the ski area is also the unsigned turnoff to Original Monarch Pass, half a mile below that a signed turnoff to Old Monarch Pass. "Original" was first and is highest, was pioneered by miners, and became a stage route. "Old" came next and is in elevation between the two. Other mountain bike routes, that branch off to the south further down are Chalk Creek Pass and the Colorado Trail. And then on top of course there is the world famous Monarch Crest Trail.

The top contains a parking lot, apparently anticipating large crowds. A small tourist lift leads a few hundred feet higher. A souvenir store greets the tourist with a onslaught of John Wayne depictions, on the way to T-shirt and the souvenir selection.

From West. (described downwards) The curves are banked for high speed traffic. The mountains above treeline have a smooth appearance, no discernible edges. Ouray Peak, Pahlone Peak, Mount Chipeta and other landforms all look inviting for a walk up. They stand between here and the next, more historic pass to the south, Marhsall Pass.

The bike rolls into a landscape, more characteristic of sagebrush western slope. Approaching Sargents, a dirt road to the north reunites Monarch Pass with its Old and Original companions. This dirt road also goes to Tomichi Pass, an extremely rough and scenic jeep trail pass. Sargents itself contains a gas station with access to a water source. To the south is the juction with another convenient, unpaved pass back to the starting point: Marshall Pass.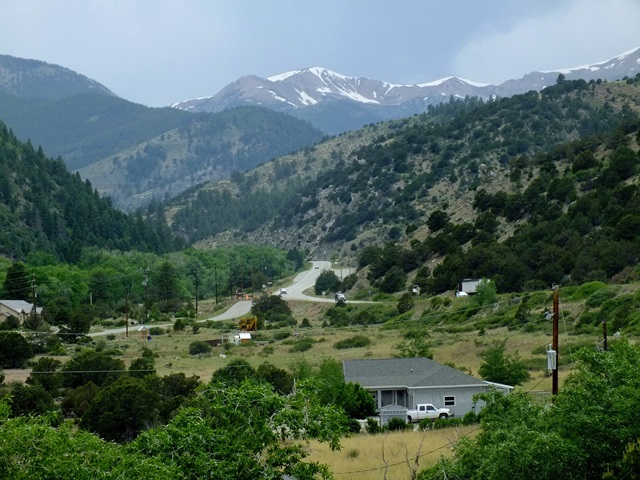 Dayride with this point as highest summit:

( < Hoosier Pass | Canyon Creek Trail s(u) > )

Monarch Pass , Marshall Pass : near jct FR200 - FR201, on eastside bottom of Marshall Pass > FR247 east > US285 north > Poncha Springs > US50 west > Monarch Pass > Sargents > Marshall Pass > back down to starting point: 65.2miles with 6130ft of climbing in 6:51 hrs (garmin etrex30 m5:18.6.4)
Notes: strong headwind on Monarch Pass; two separate very close calls with pickup trucks, towing camping trailers and an additional trailer containing another boat or motor vehicle, by drivers with little or no idea of what they were towing and leaving about 4 inches of space on weekday in early June; slow leak front tire on second part of ride.



Dayrides with this point as intermediate summit are on page:


History

Leadville Mining Boom: While today's highway crossing has only a recent history, the nearby crossing of the same ridge line over Original Monarch Pass dates back to the times when miners carved trails without filing environmental impact statements. This crossing was first used regularly after miners ascended a small branch of the South Arkansas River, crossed the divide and founded the mining camps of White Pine and Tomichi on the other side. By spring of 1881 a stage crossed the pass on a daily basis from Garfield to Pitkin, also crossing the low Waunita Pass.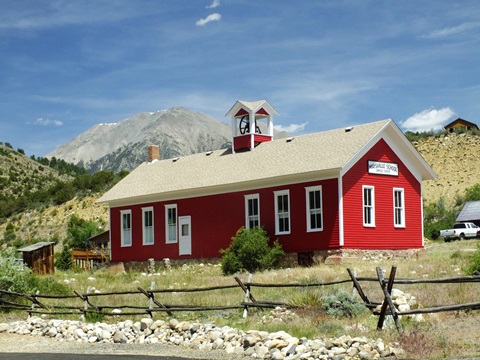 Modern Highways ( < Cerro Summit | Vail Pass > ) The relocation of Old Monarch Pass to today's Monarch Pass is at least partially a result of snow. By 1939 most major highway passes were kept open during the winter, including such difficult cases as Wolf Creek Pass and Red Mountain Pass. Old Monarch Pass was the major exception. Residents of the area made a plea to relocate the highway over a crossing 500 feet lower, Marshall Pass.

However road relocation is not determined by direct vote of the people. The Chief engineer of the highway department, Charles Vail found his own crossing, today's Monarch Pass. In November 1939 the new pass was opened, bearing shiny signs with the name "Vail Pass". Unknown dissidents defaced the signs with black paint overnight. The Highway department retreated, announcing that the naming had just been "a joke". However Charles' Vail quest for immortality in the form of a pass named after him was not dead.

Cycling - Ride the Rockies: (< Cerro Summit | Rabbit Ears Pass >); Between its first tour in 87 and 2005, the pass has been part of the Denver Post's "Ride the Rockies" during 87 89 92 97 99 and 02. The day's ride was Gunnsion to Salida or Buena Vista.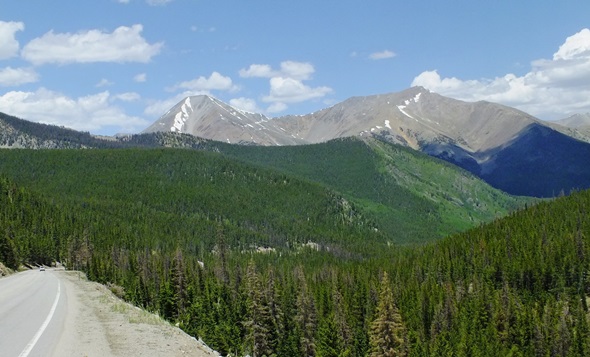 Monarch Pass (Summary)

Elevation/Highest Point: 11312ft




Eastern Approach: paved






drop



from Canon City (5370ft)

5942ft

78+1/2miles

~600ft

from Parkdale (5710ft)

5602ft

72+1/2miles



from Salida (7070ft)

4242ft

23miles



from Poncha Springs (7530ft)

3782ft

18miles



Western Approach: paved







from Sargents (8470ft)

2842ft

10 miles




---------

---------