FR751 Ptarmingan Hill(sh)

The Gore Range south of
Vail Pass
hardly resembles the range of the same name north of the pass. On the north side a a high rock wall is protected as a wilderness area. On the south side, stretching to the
Tennessee Pass
road, all sorts of travelers from mountain sheep to passenger cars, pass through the area on a fairly dense network of trails, among them also mountain bikers. This is one of the more obscure loops in the area. It connects the western approaches of
Ptarmigan Pass
with the western approach to
Shrine Pass
. In order to traverse the profile in its entirety, a short portage is required.

01.(9240ft,mile00) START-END SOUTH: northern access road to Camp Hale
02.(9320ft,mile01) jct with FR708 Mc Allister Gulch. Profile stays right on FR702 Resolution Creek
03.(11350ft,mile06) turn hard left onto FR751
04.(11540ft,mile07) TOP
05.(10900ft,mile11) begin portage on snowmobile route
06.(10940ft,mile12) end portage and turn down FR747 Wearyman Gulch
07.(9290ft,mile15) FR708 Mc Allister Gulch joins from right
08.(9050ft,mile14) route turns left down Shrine Pass Rd
09.(8670ft,mile18) Redcliff
10.(8580ft,mile19) START-END NORTH: lowest poit on Redcliff access road, below Co24 Bridge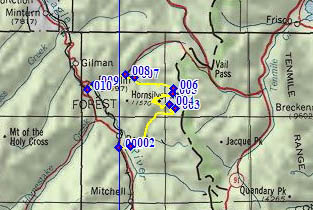 Approaches
From South. FR702 Resolution Creek Road leaves from the south east corner of Camp Hale. It is signed at the junction with FR708 Mc Allister Gulch. FR702 climbs steadily only with slight wave like turns towards the treeline. At one point, where the steepness increases just a bit, a look back yields a great view of the cross on Mt Holy Cross. During late summer, when all the snow has melted except for the cross in the coloirs, one can almost imagine the religiosity that drove people to name the peak back in the 1800s.
Shortly before the summit of Ptarmigan Pass, and just after the road has finally climbed entirely above treeline, FR751 diverts from the Resolution Creek Road and switches back to the west. The next short segment is supremely scenic as the road traverses the high alpine tundra, situated at a perfect vantage point onto the entire Holy Cross Range. The road passes between Ptarmigan Hill on the right (12143ft) and Resolution Mountain on the left (11905ft), both shaped like aunt hills. Even those oblivious to the scenic splendor across the valley should still enjoy this stretch, as riding becomes much easier. The road levels out and eventually imperceptivity rolls over the high point.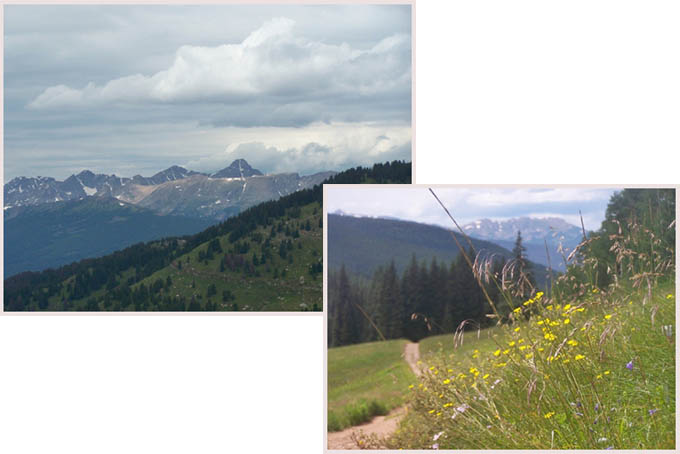 From North. (described downwards). Shortly past the summit FR751A diverts towards the west, direction Mc Allister Hut. That option is part of the FR708 Resolution Mountain s(u) route. This route continues on FR751 downhill on the other side of a "closed" barrier, referring to motor vehicles. Several switchbacks descend uniformly on a densely forested slope without views. Several lesser used roads branch off towards the left. The description follows the most heavily used branch at every intersection. The road takes on a more abandoned character until it finally ends, still a small distance above the valley floor.
A short portage can be used to connect to the FR747 Wearyman Gulch Trail/Road. But it does go through a wet area, that was even still a bit muddy at the end of August 2011. The route is marked with blue trapezoids as a snowmobile route and leads through a timber cut area. It leaves the end of the road by turning 90 degrees to the left, then skirts around a small creek, then climbs a short distance to FR747. There is no indication on FR747 of this turnoff. One landmark is a powerline close to the northern edge of the subalpine meadow where the routes merge.
The upper part of FR747 Wearyman Gulch is fun to ride, fairly smooth and very steep in places. The lower part can be more problematic. Wearyman Road has such a strong attraction on Wearyman Creek, so that it not only crosses it several times but just plain follows it at times. The name Wearyman Road Creek may be more appropriate than Wearyman Creek Road. One Corollary to Murphy's Law says, that if you are going to meet a 14 ATV convoy anywhere along the route, you will meet it in the creek.
Shortly after Wearyman Creek/Road merges with FR708 Mc Allister Gulch Rd (see beginning of western approach), the route also joins the Shrine Pass Road. From here its a fast roll down to Redcliff, a town which serves as antidote to nearby Vail. It is decay at its most pleasing. The profile continues along the lower Redcliff access road to its lowest point, where it crosses under Co24 near its low point between Battle Hill Summit and Tennessee Pass.

Dayrides with this point as highest summit

PARTIALLY PAVED / UNPAVED / PORTAGE

FR751 Ptarmigan Hill(sh): just south of Camp Hale > along railroad tracks into Camp Hale > up FR702 Resolution Creek Rd > FR751 Ptarmigan Hill(sh) > short portage to FR747 Wearyman Gulch Rd > down FR747 > down west side of Shrine Pass Rd > a few turns around Redcliff > upper Redcliff access road > Co24 back to starting point: 26.6miles with 3050ft of climbing in 3:46 hours. Cyclecomputer measurements exclude part of the portage. (VDO MC1.0 m3:11.8.20 t11_4).