FR708 Resolution Mountain s(u)

The Gore Range between
Vail Pass
and
Tennessee Pass
has many great bikable passes and summits. Even more impressive panorama points can be reached if one is willing to walk the bike just a bit. But what do I know ? Maybe other people ride this sort of stuff. Anyway, traversing the top of Resolution Mountain requires walking only a very short section without trails. I nominate this summit as the best mountain panorama, at least between Vail and Leadville. It covers 360 degrees from Tennessee Pass, Mount Holy Cross and the Sawatch Range, south to the peaks in the Gore Range wilderness. Compared with that part of the Gore Range, the range by the same name east of here has a more subdued character with its many other bikable summits. Resolution Mountain is also a favorite cross country skiing peak, partly due to the presence of an alpine hut, belonging to the 10th mountain division hut system.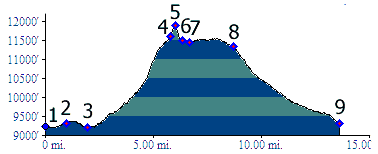 1.(9240ft,mile00) START-END WEST-1: jct Co24 - northern entrance road to Camp Hale
2.(9210ft,mile02) profile goes left on FR708 Mc Allister Gulch
3.(9200ft,mile02) low point
4.(11600ft,mile06) profile goes right, to top of Resolution Mountain
5.(11905ft,mile06) TOP: Resolution Mountain
6.(11490ft,mile07) Fowler-Hilliard Hut
7.(11450ft,mile07) profile turns right onto FR751
8.(11350ft,mile09) profile turns right down FR702: Resolution Creek
9.(9240ft,mile14) START-END WEST-2: same as point 2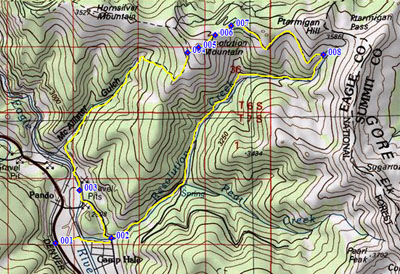 Approaches
From West-1. The road up Mc Allister Gulch can be seen from Co24 for quite a distance south of Camp Hale. But it is on the other side of South Fork Creek. To get there, it makes sense to take the northern entrance to Camp Hale, and then head for its south east corner. Soon a sign makes you choose between FR708 Mc Allister Gulch and FR702 Resolution Creek. The profiled route ascends the former and descends the latter.
Traversing along the valley the road already gains considerable elevation, so that the peaks of the Sawatch Range become visible. Best to enjoy the view now - the next time I saw them, I was quite a bit more tired. The point before the road enters the gulch is also a prime vantage point onto Camp Hale. When railroads were still crossing Tennessee Pass, this must have been the prime vantage point for railroad photos, in which the landscape played as important a role as the rolling stock itself.
My first impression of this road was: this road is steep but not too steep, a little rocky but not too rocky. But first impressions are generally only partially correct. As a whole, there are really no rocks to speak of, and the steepness wears, slowly but surely. I rode much of the first couple of miles. After that I was content to walk. When the road finally does break out into a clearing, it first presents views of the green depths of the Tennessee Pass road, and another thread like road, climbing the rounded hills across to Kokomo Pass. A hundred feet higher and the northern Gore Range centered around Mount Holy Cross appears in perfect morning light. The meadow reaches to treeline. From here a track goes straight up to the right, up Resolution Mountain. The continuation of the main track, FR708, can also be seen (and cycled/walked), continuing on the ridge to the north. Turning back to the track up Resolution Mountain: it's a tough slog, but very short. It makes good training if Imogene Pass is something you would like to do.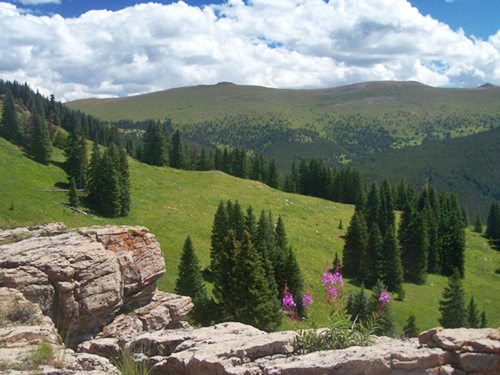 From West-2.

Looking down the eastern side of the peak, you can see the Fowler-Hilliard Hut. Descending to it covers roughly the same elevation difference, as the short hike up Resolution Mountain. The walk down is uncomplicated and only takes a few minutes. From there a flat access road reaches across to join with FR751. Both directions of FR751 are viable return routes. But by far the more attractive one is the one described here, continuing to the right. A traverse across the tundra puts the Sawatch Range in ever changing relationship to the road just traversed, surrounded by mountain meadow hills on all sides. This road soon merges onto FR702, not far below

Ptarmigan Pass

. The roll down back down to where we started is very quick.




Dayrides with this point as highest summit point


PARTIALLY PAVED / UNPAVED / BIKE AND HIKE WITHOUT TRAIL


FR708 Resolution Mountain s(u), Colorado Trail m139.9 (section Camp Hale - Tennesee Pass Rd cr(sh)) : just north of Camp Hale > along railroad tracks north to Camp Hale > up FR 708 Mc Allister Gulch > Resolution Mountain s(u) > Fowler Hilliard Hut > south on FR751 > down FR702 Resolution Creek > Camp Hale > south on Colorado Trail > Colorado Trail: section Camp Hale - Tennesee Pass Rd cr(sh) > down Co24 > back to starting point: 29.8miles with 3830ft of climbing in 4:03 hours (VDO MC1.0 m3:11.8.23 t11_4).

History

Mountain Biking: Part of the approach from point west-2 (the descend above) has been described in a moutain biking book from 1994: "the Mountain Biker's Guide to Colorado" (Linda Gong and Gregg Bromka). They describe it as a 16 mile out and back ride "Camp Hale to the Fowler-Hilliard Hut", without the climb to Resolution Mountain.