Shrine Pass

Shrine Pass is the most often visited road in order to see distant views of Mount Holy Cross. With a name like Shrine, how can it be otherwise ? Many of the surrounding summits, accessible by bicycle or foot, or even motor vehicle, have more expansive views. The ridge to the north over Commando Run is one of these vantage points onto the northern Sawatch Range. A little distance to the south of Shrine Pass,
Ptarmigan Pass
also offers more extensive views. Instead the vantage point from Shrine Pass has the attraction of being historically more interesting.


click on profile for more detail

1.(7750ft,mile00) START-END NORTH: Dowds Junction
2.(8187ft,mile05) Vail village
3.(8649ft,mile10) cross under I70 to north side. Sevice road eventuall becomes biketrail
4.(10604ft,mile19) Vail Pass, turn left onto Shrine Pass dirt road
5.(11050ft,mile21) TOP: high point
6.(11089ft,mile22) Shrine Pass
7.(10354ft,mile24) turn right to continue on Shrine Pass road
8.(8671ft,mile31) Redcliff
9.(8592ft,mile32) START-END SOUTH: junction with Tennessee Pass and Battle Hill Summit profiles.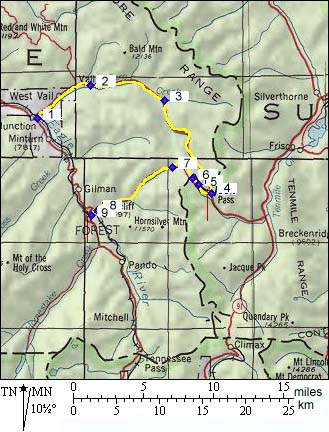 Approaches
From North West. In one way of thinking Shrine Pass is little more than a 300 foot rise on a dirt road from the top of Vail Pass. But that also means that this approach to Shrine Pass contains all of Vail Pass and even more.

After climbing above all the hubbub of the Vail summit parking lot, the pass quickly reaches high meadows near treeline. Turning back the Tenmile Range and Jacques Peak make the most impressive panorama that can be seen from the immediate road. A parking area near the highest point of Shrine Pass is as busy as a pass summit in the alps in August (only the tour buses are missing). This point serves as popular trailhead for the Shrine Ridge hiking Trail. Bicycles are prohibited on the trail. The top of the pass is fairly flat and there are no pass signs or any other designations.
From South West. (also described upwards) From Redcliff a good all weather dirt road follows a deep, heavily forested canyon. It rarely ventures far from the valley floor to afford views of further surroundings until it approaches the meadows near the summit.
A short distance below the summit a official national forest sign announces the Mount Holy Cross viewpoint trail. This is by far the most interesting spot along the route. A short, smooth, well constructed trail that can also be used by the infirm, leads to a wooden deck in the forest. The view presents Mount Holly Cross, sublimely framed by pines. Early light is best for this view. The construction of the deck is also very interesting. It resembles a church like setting. On one end a small bench sits under a wing like wooden tent structure, resembling the position of an altar. Facing it at some distance are more benches, resembling in look and function the benches in a church.
Past this point, there is not much climbing involved to get to the summit, just a bit of sand maybe. But there is no need to rush away from the viewpoint.
Dayrides with this point as highest summit:

PARTIALLY PAVED / UNPAVED:

Shrine Pass , Battle Hill Summit: Vail > Vail Pass(shp) > Shrine Pass > Redcliff > Battle Hill Summit > Minturn > Vail: 56miles (mech odo m1:91.08.24).

Shrine Pass , Vail Pass , Battle Hill Summit : Frisco > Copper Mountain > Vail Pass > Minturn > Battle Hill Summit > Redcliff > Shrine Pass > Vail Pass(shp) > Copper Mountain > Frisco: 73miles (mech odo m1.87.6.21).
Notes: this route touches Vail Pass twice, once as a summit point, once as a shoulder point. This is basically the same loop as above, with the out and back from Frisco added.

Dayrides with this point as intermediate summit are on page:

Searle Pass
Kokomo Pass
F745 Lime Creek Rd s(u)

History
Highways: Historically Shrine Pass was an easy way to view Mount Holy Cross. While other pilgrims by the 100s climbed nearby Notch Mountain for the image that made Mount Holy Cross famous, here you could let your motor car do the work for you. Wide spread public Interest in visiting Mount Holy Cross declined after WW2. At that time the national monument, which had been established in 1929, was decommissioned.
Prior to the construction of the Vail Pass road in the 1930s, Shrine Pass was the fastest way to get from Denver to point west, like Glenwood Springs.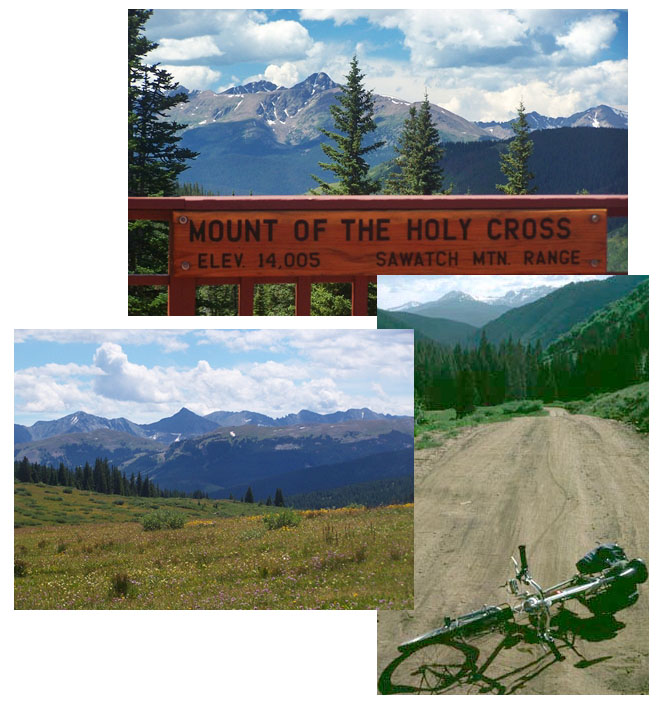 Cycling: An early mountain biking guide book that described part of this route as an out and back ride was William M Stoehr's "Bicycling the Backcountry", published in 1987. He lists the route as "Vail Pass to Redcliff".