Col de la Forclaz


There are at least tree passes with this name marked on my Michelin map of the Rhone-Alps area. This one is a small short cut, that connects Queige in the Doron valley with Ugine in the Gorge de l'Arly.

1.(00.0km,342m) START-END 1- Albertville, bridge over Arly
2.(08.0km,531m) profile turns left, up to Queige
3.(12.5km,870m) TOP: Col de la Forclaz
4.(15.6km,620m) left also descends into valley; right goes up onto ridge; profile stays straight
5.(19.4km,405m) profile turns left onto D1212 in Ugine
6.(27.7km,340m) START-END 2: same as point 1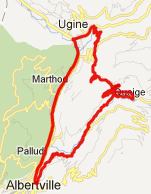 Approaches
From South. A sign at the rondell below Queige points the way up to Col de la Forclaz. Queige sits a short distance up the valley, a group of houses huddled together around a church tower. The road is fairly narrow and has little traffic, except during rush hour. It stays in the forest with few views on this side. Instead it is a nice quiet ride through the forest. On top is a sign, a few houses scattered nearby, and another paved narrow track leading higher.

From North. (also described upwards). The turnoffs to Col de la Forclaz and Col de l'Arpettaz from N212 are at the same location in opposite directions. Col de la Forclaz climbs steadily above the factories and row houses of lower Urgine. For a short time the road enters dense forest and runs along a fairly high brick wall, built to stabilize the hill. About half ways up it meets an alternate approach from lower in the Arly valley. More switchbacks in the forest lead to the top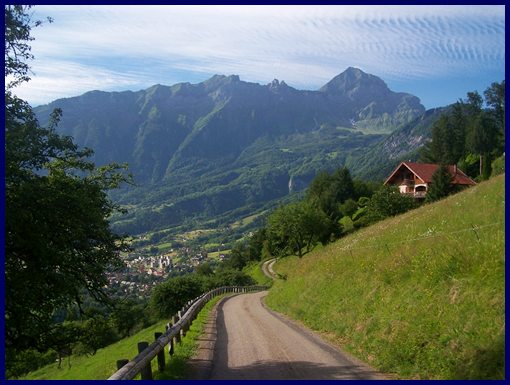 descending into Ugine from Col de Forclaz

Dayrides with this pass as intermediate summit are on pages:
Col de l'Arpettaz
Col des Saises
Colle de Tamie

The last pass with different end and starting points on this Tour is: Cormet de la Roselend

back to Cycling Passes in Europe