Font d'Urle s(u)

Font d'Urle is a little ski town in the Vercors region. It is surrounded by named road passes in all directions. What is not immediately apparent though, is that the town is actually higher than most, if not all, of the surrounding passes. ... And since a road goes through it in 2 directions, Font d'Urle becomes the summit instead of those passes.


1.(00.0km,0910m)START-END EAST:D199 from Col de Carri ends on D178
2.(03.7km,1100m)Col de Proncel
3.(10.7km,1337m)Col de Lachau
4.(12.9km,1440m)TOP:Font D'Urle s(u); turnoff to village on left
5.(23.9km,1060m)turnoff to Col de Carri on left, and Col de Echarasson on left
6.(25.0km,1011m)Col de la Machine
7.(38.0km,0275m)START-END WEST:St Jean en Royans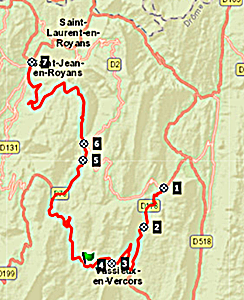 Approaches

From East. In my loop I came down from Col de Carri, and then joined D7. The map shows a little village named Chapelle-en-Vercors in this spot. While this is a historic old settlement in the valley, now it really is just a "Chapelle" without a village. The first topographic surprise is that both directions "along the valley" go uphill from here.

Turning south the first climb passes a whole series of inviting picnic benches in the forest. It was long past lunch time for me. A picnic bench was just what the legs had ordered, and it was hard to pick just one picnic bench, with such a preponderance of magnificent choices. But actually the nicest rest benches are -I think- on top of the first pass: Col de Proncai. There is a nice sign here with the main ridge of the Vercors Park in the background. But it is little early to celebrate arrival at a summt. As nice as this spot is, it is just a shoulder point for a road ride, no matter how you look at it. On the hardly noticeable downhill to a war memorial gravesight, I have to work noticably hard, because the wind was just about knocking me over the backwheels.

And then the climb to the next pass started. The peaks in main ridge of the Vercors are displayed ever better with rising elevation (picture below). Another pass sign appears next to the road: "Col de Lachau" - just a few cars parked around a body of water in the forest. The road just keeps on climbing. It does finally top out at the turnoff to the ski village by the name of Font d'Urle, just as the road is about to reach treeline -but doesn't quite do it. The summit point is still a short distance below the actual ski village. I did not take the time to check if there was any actual life in the form of open businesses during this easter week.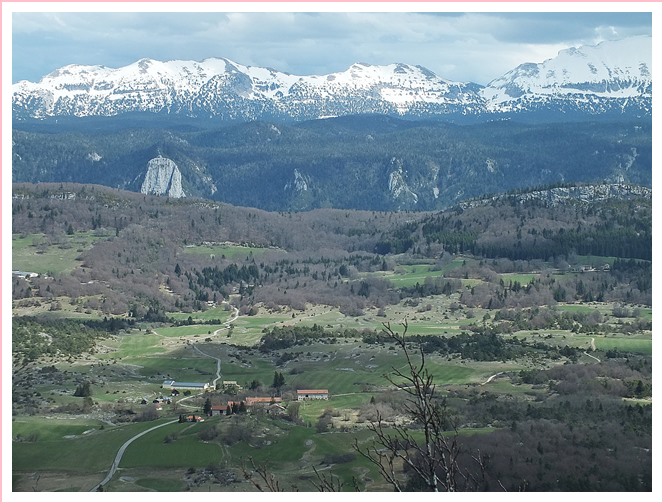 From West. (described downwards). On this side the road stays in a high shallow forested ravine. It is a pleasant roll without much breaking required, and not much reason to stop. The direct way down leads along the Col de la Machine and the Combe Laval. This is the really the scenic high point of my own day loop journey. But pictures of that part are included in the Col de La Machine via D2 s(u) page.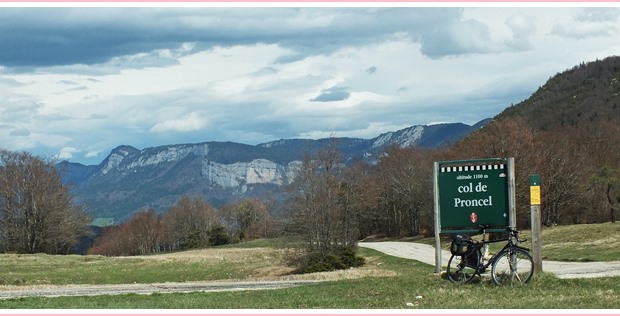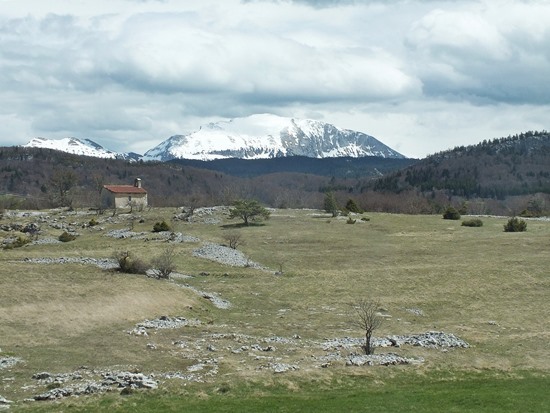 Dayride with this point as highest summit:

COMPLETELY PAVED:

( < Tunnel du Morier la Sure s(u) | Col de Praletang > )

Font d'Urle s(u) , Col de Carri s(u) , Col de L'Echarasson , Col de La Machine via D2 s(u) : Pont en Royans > Eulalie <> out and back several kms up D518 before realizing wrong way >> Col de la Machine via D2 s(u) <> out and back down Combe Laval witth turnaround point about a km below the comb >> Col de Carri s(u) > D178 south > Col de Proncai(shp) > Col de Lachau(shp) > Font d'Urle s(u) > D76 north > Col de L'Echerasson > D76 east > St Jean en Royan with grocery shopping detour > St Laurent > Eulali > back to starting point in Pont en Royans : 66.3m 9511ft 9.2mph 7:14hrs (garmin etrex30: r5:19.4.25) (Pics: t19_3:1-45)