Tunnel du Morier la Sure s(u)

On the map this may look like a prime road bike route south of Grenoble. But once on the real thing, it soon becomes obvious that part of this road has been abandoned. It still is a feasible bike ride in combination with a walk, even when there is still snow on the road, as there was on an Easter Sunday, like when I did this. ... nice views of Grenoble from above.


1.(00.0km,200m) START-END WEST: bridge across river l'Isere, west of Grenoble
2.(06.8km,660m)jct with road to Colombere and another approach from north
3.(21.3km,1400m)TOP:entrance to Tunnel du Morier
4.(30.3,1050m)Autrans
5.(36.1km,1218m)Col de la Croix Perrin Jaune
6.(40.0km,1010m)Lans en Vercors, route goes up Col Croix Perrin Jaune
7.(58.9km,220m)START-END EAST: road ends on D1532 in Sassenage, just west of Grenoble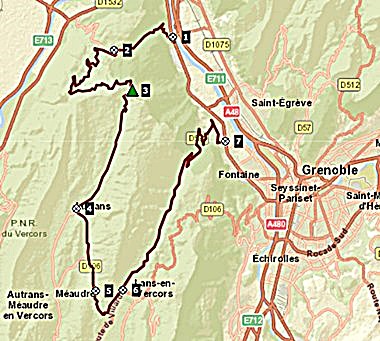 Approaches

From North. An immaculately paved bike path leads to the start of the climb. It follows the river l'Isere and is called the Voi Verte des Berges de l"Isere on signs. The profile and the climb start at a bridge on the other side of that bike path. Climbing up from Quentin you get the first great views of Grenoble. Soon signs along the road refer to an upcoming "barre". But no road block ever appears. The surface just deteriorates further and further. Along the way a few villages mingle with modern farm buildings, bordered by dense forest, liberally sprinkled with ever larger growing pot holes.

Around noon I meet the first cyclist coming the other way. He tells me, he has about 3km of carrying his bike through the snow behind him, as well as a half km dark tunnel. I reconsider and turn back. But what is this ? Another Easter Sunday biker is on his way up, and we join together and head for the snow. It is not deep and only involves some pushing. Approaching the tunnel entrance, much of the road along a shelf has been eroded, and it would take a major construction project to restore it to a point where a road for cars could use it. This last section of the climb heads for a limestone wall, and also has the best city views below. The tunnel entrance is completely invisible until you practically stand in front of it. The tunnel itself is wide, not lit, but no problem at all to cross. It is straight, so it never gets completely dark, and it is definitely less than .5km long.

| | | |
| --- | --- | --- |
| | | bottom left and right: April snow still made walking necessary at the summit |
From South. On the other side waits a wide paved road, cleared of snow, and several car loads of people looking to hike the hills on this holliday. A fast gradual descend, in a gentle valley leads through a very laid back ski town landscape. Finally I have to make a decision weather to continue downhill back north to Grenoble, or loop south instead, towards Valence. My daytrip turns left towards Grenoble here. But this involves crossing another pass: the Col de la Croix Perin Jaune. So in order to make the profile as strictly descending as possible, the profiles turns right and continues to Villard-de-Lans through the Gorge de la Bourne to Pont-en-Royans. See the Col de Romeyere for pictures of that lower section.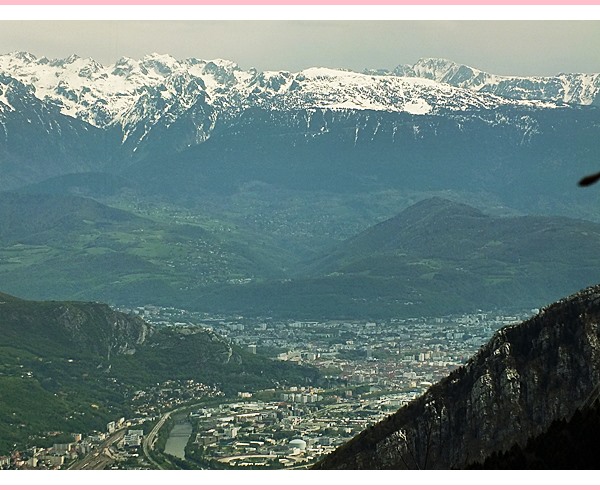 Grenoble through a telephoto lens, from the upper northern approach






Dayride with this point as highest summit:

PARTIALLY PAVED / UNPAVED

( < Col du Romeyere | Font d'Urle s(u) > )

Tunnel du Morrier la Sure , Col de la Croix Perrin Jaune: St Gervais le port > Voi Verte des Berges de l"Isere north > Quentin > Montaud > Tunnel du Morier la Sure s(u) > Autrans > Col du Croix Perin Jaune > Lans en Vercors > Sassenage > Quentin > back on Voi Verte des Berges de l'Isere to starting point : 70.2m with 5051ft of climbing in 6:35hrs (r5:19.4.21)