Col De La Cluse


I didn't find this small remote road, winding its way around limestone cliffs and over high meadows in the northern end of the Chartreuse until my last ride in the area. That's a a shame. There would have been more small roads to explore here, expecially the gorge between Col de la Cluse and Col des Egaux. This short road goes over two passes. This is the higher of the two.

1.(270m,00.0km) START-END EAST: Chambery
2.(640m,16.3km)Col de Couz(shp)
3.(960m,21.4km)Col des Egaux
4.(850m,24.3km)Corbel and turnoff on right down Route Du Buis
5.(1170m,29.1km)Col De La Cluse
6.(1200m,30.5km)TOP: point of highest elevation
7.(820m,35.7km)START-END WEST: Entremont-le-Vieux
8.(650m,41.2km)Saint-Pierre-D'Entremont
9.(400m,53.0km)START-END EAST: Les Echelles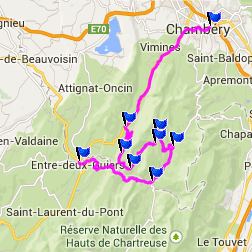 Approaches

From South. The profile starts on in Chambery and goes up D1006. From the top of Col de Couz, the profile takes a small road over the Col des Egaux and quickly reaches a low point at the junction with the adventurous path up the Gorge Le Guies Vif.
Looking back various triangular limenstone cliffs on edge, they have the shape of ship hulls at an angle before descending into the depths. I would name one of these mountains Lusitania. These wedges tower over a deep valley in the center of the Chartreuse range. Looking forward the goal seems obvious: a moderately shallow gap where two straight lines running down from forested mountains meet. The pass is a peaceful meadow with a sign between wild flowers. But the road keeps climbing a little more past the pass. It reaches its highest altitude a little later a le Desert d'Entremont, a very small and peaceful ski area - yes, I think there is such a thing. During a Sunday in July the place was busy with people walking the meadows. This is a great vantage point onto the cliffs of the southern Chartreuse.

From North. (described downwards). After a few picturesque turns celebrating the green mountain meadows the road disapears in the forest and steeply descends to Entremont le Vieux. Once in a while a view opens onto the village. From here one can start climbing the next pass Col du Granier. But the profilel descends to St Piere d'Entremont and turns back east towards Les Echelles. The profile ends where it meets the southern approach.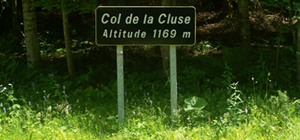 Dayride with this point as highest summit:

Col de la Cluse , Col du Granier , Col des Egaux : la Ravoire > Chanbery > Col de Couz(shp) > Col des Egaux > Corbel > Col de la Cluse > Entremont le Vieux > Col du Granier > down D285A > la Palud > various small paved backroads back to la Ravoir with shopping detour: 41.6miles with 4500ft of climbing in 4:05hrs (VDO MC1.0 m4:14.7.5)

The last day with different start and end points over a pass on this tour is on page: D207 Aiguebelle - St Pierre de Belleville(s)