Col de Couz
This low pass just barely skirts the north eastern edge of the Chartreuse Mountains. Along the way several turnoffs lead to more interesting passes in the Chartreuse.


1.(400m,00.0km) START-END SOUTH: Les Echelles
2.(636m,07.6km)TOP: Col De Couz
3.(280m,24.2km)START-END NORTH: Chambery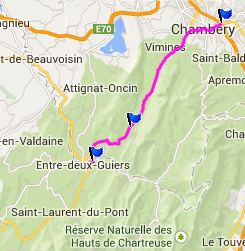 Approaches

From South. The wide and busy road leaving les Echelles also has a bikelane, at least on the climbing side, and is nice bike ride without problems. There is a nice view onto the village Saint Christophe sur Guiers with bands of limestone cliffs behind it (pictured below). Then the road goes through a tunnel and gains the crest with a long straight away. The few widely spaced houses near the top of the pass comprise the village St Jean de Couz. In 2005 it was 260 people spread over 7.7 square kms.

From North. (described downwards) a long shallow roll leads straight into the center of Annecy. The bike line disappears on the downhill section

A Dayride with this summit as intermediate point is on page: Col du Cucheron


History:

This seemingly insignificant pass has a long history. It was already part of a Roman road between Lyon to Milan. The road was restored by the Piedmont-Sardinia kingdom. It was also a post for French resistance during the German invasion in WW2.