Col de St. Barnabe
An extremely quiet road near Castellane through pretty, forested country.


1.(00.0km,729m) START-END WEST: bridge over le Verdun, south end of Castellane
2.(02.5km,774m) route turns left from D4085 onto D102 and passes Chaudanne reservoir
3.(11.3km,1176m) Demandoix
4.(15.7km,1365m) TOP: Col de Saint Barnabe
5.(19.4km,1123m) START-END EAST: Soleihas
6.(26.6km,1052m) turnoff to Saint Auban, and Clue de St Auban shortly afterwards
7.(29.4km,903m) START-END WEST ALT: bridge over Esteron, below Clue de St Auban

Approaches
From West. A short distance west of Castellane on the route du Napoleon a very quiet road forks to the left. It passes a power station on a lake, goes through a few short tunnels and climbs in forested switchbacks to Demandoix. There is probably a pretty nice view from here, but it was raining profusely when I was there. From here it's a straight shot to the top of the pass. On the pass an out and back road leads to the Vauplane ski area.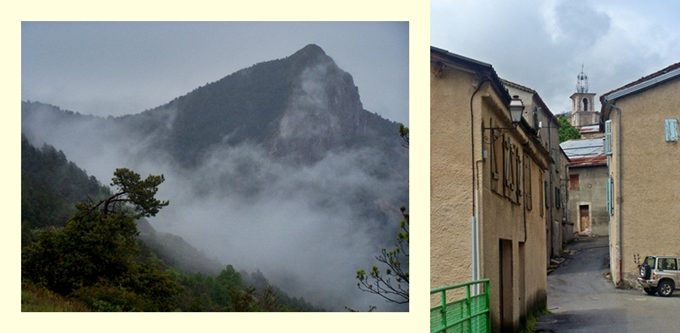 From East. (described downwards). The picturesque quiet old town of Soleihas (picture top right) is just 230 meters lower. During my ride the Gite there was open, so I could warm up from the Christmas weather in late May. In the afternoon the sun came out and I continued down to through the Clue de St Auban, a short but extremely interesting stretch of road at the very bottom of the approach.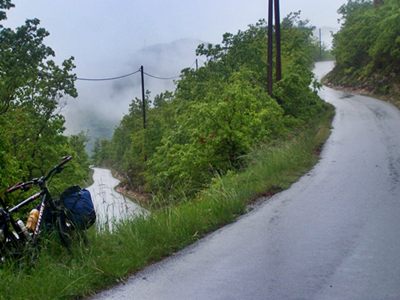 Extended Tour:


(<
Col de Luens
|
Col du Buis
>)

Col de St. Barnabe , Col du Buis , Col de Felines :
La Colle (near Castellane) > Castellane > Demandoix > Col de St Barnabe > Soleilhas > St Auban > Clue de St Auban > Brianconnet > Col de Buis > Col de Felines > Entrevaux : 39.6miles with 4140ft of climbing in 4:17 hours on a fully loaded mountain bike:
Notes: includes a mile or two of rolling around Soleilhas and Entrevaux
back to Cycling Passes in Europe