Col du Buis
Between the suburbs of Nice and N202, following the valley of Vars, there is a land of many small foothill passes, that are perfect for cycling, especially during spring when other high passes are still snow covered. One of them is Col du Buis, connectable with
Col de Felines
,
Col de Trebuches
,
Col de St Barnabe
and others in many day loop combinations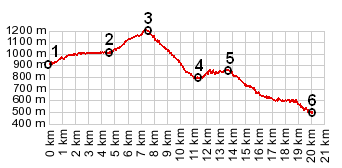 1.(00.0km,902m) START-END SOUTH: bridge over l'Esteron, south of Clue de Saint Auban
2.(04.6km,1085m) route branches uphill left, immediately west of Brianconnet
3.(07.3km,1197m) TOP: Col du Buis
4.(11.3km,798m) START-END NORTH: Several roads meet at this low point at a stone bridge. Profile continues straight on D710
5.(13.6km,852m) intermediate high point
6.(20.1km,477m) START-END NORTH ALT: Entrevaux
Approaches
From North. When descending through the Clue de St Auban from the town by the same name, the road reaches a low point when crossing the river Esteron. This is where the profile starts. The road rolls gently through the forest, following every contour of the land. In the quiet old village of Brianconnet a steep, very narrow road branches up the hill on the left. It is written that the road reaches a 19 percent grade on this climb. If this is really true, it is a very short stretch. After a short climb the road reaches a summit via a straight traverse along a wavy guardrail. There is a really nice views of the hogback hills in the valley.

From South. (described downwards). A curvy descend through quiet forest leads to a low point at an interesting old stone bridge, flanked on both sides by short steep sections. Four roads meet near here. Two of them roads lead up more small named passes: Col de Felines and Col de Trebuchet. The forth road also goes uphill from here, but does not gain enough elevation to make it a separate summit. This is the path the profile takes to reach Entrevaux in the Gorge of the Var. Alternatively one can reach the same endpoint with just a small amount of additional climbing by following the other side of the valley over the Col de Felines.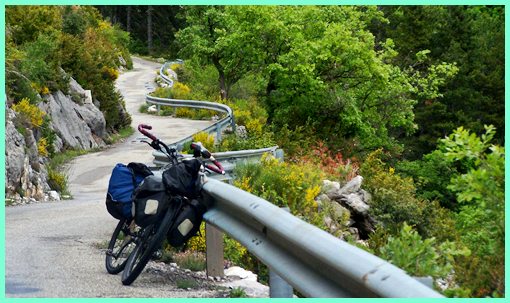 wavy pavement over the top of Col du Buis

A Day on a Extended Tour:
(<
Col de St Barabe
|
Col de Felines
>)

Col de St. Barnabe , Col du Buis , Col de Felines :
La Colle (near Castellane) > Castellane > Demandoix > Col de St Barnabe > Soleilhas > St Auban > Clue de St Auban > Brianconnet > Col de Buis > Col de Felines > Entrevaux : 39.6miles with 4140ft of climbing in 4:17 hours on a fully loaded mountain bike:
Notes: includes a mile or two of rolling around Soleilhas and Entrevaux