Col d'Azet

This is one of the stars of the Pyrenean foothill passes. It belongs to the group of passes that parallel the main ridge of the Pyrenees as closely as possible on the French side, even if this is at some distance. Other passes that fit that description are Col de Peyresourde and Col de Portet. Col d'Azet sits right in a line between them. But it doesn't have the heavy traffic of the former, and both of its sides can be cycled unlike the latter. This also seems to be a favorite spot for people to stop and just have a pass-top-picnic. I did too, but I do that a lot, so I don't count.


1.(00.0km,0780m)START-END WEST:camping de Loustou, Vielle Aure
2.(04.7km,0920m)Sailhan
3.(06.3km,1000m)Estensan
4.(08.3km,1170m)Azet
5.(13.7km,1580m)TOP: Col d'Azet
6.(20.8km,0990m)Genos
7.(25.2km,0930m)jct with D618 to Col de Peyresroude
8.(33.8km,0740m)START-END EAST:Arreau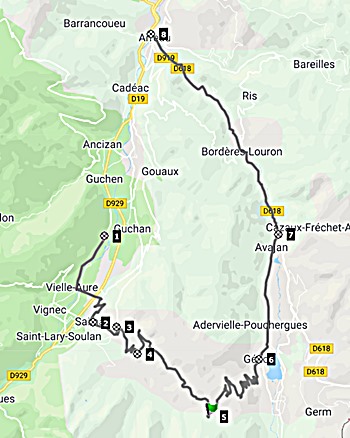 Approaches

From East. The profile starts at a roundabout west of St Lary Soulan. The road turns out to be the ultimate vantage point on the lower approach to Col du Portet and its long initial ramps. By the time the climb reached the village Azet, I have already found reasons to stop. An old bicycle turned into a flower holder made me do it. Below is a plaque, honoring a cyclist and his racing accomplishments. And since I have already stopped, the cemetery, just a few feet away is a great place to take more pictures. It's all about location, location, location ... when it comes to cemeteries. The background of mountains is just incredible.


This beautiful little village too, finally becomes nothing more than a collection of toy buildings, when viewed from a handful of switchbacks above. The pass ahead becomes obvious. Behind it looms a white face of a mountain.


The top is great perch: Col du Portet and its mighty collection of walls on one side, Col de Peyresourde cutting through a lower green loaf of a mountain on the other. To the south a group of icy blocks in the 2600 to 3000 meter range form a vague boundary to Spain. Dirt tracks in each direction invite to get an even better overview of the area.





From West. (described downwards). Switchbacks connect together new vantage points on the mountains to the south, and finally reach Loudenville. A billboard at its entrance advertises the fact that here calves are being raised with their mother's milk. The town makes a coherent impression of belonging to a period, that started far in the past, but is still persistently present. From here a new wider road leads down direction Arreau. There are several different options to connect with the next pass to the east, Col de Peyresourde



cLiCk on image , arrows , or thumbnails to advance slideshow


Dayride with this point as highest summit:

COMPLETELY PAVED

( < Col de Portet(ow) | Lac d'Aubert/d'Aumart(ow) > )

Col d'Azet , Hourquette d'Ancizan x2 , Col de Lancon: Vielle Aure > Col d'Azet > Loudenville > Ilhan > Col de Lancon > Lancon > Anzican <> out and back over Hourquette d'Anzican s(u) with turnaround point ~550ft below summit on east side >> back to starting point in Vielle Aure: 45.1m with 7064ft of climbing in 5:43hrs (garmin etrex30 r5:19.6.3)
Notes: the original idea was to return over Col d'Aspet. But I took too many pictures and ran out of time (and energy too). 7000ft if climbing is generally enough for me, even it is contained in only 45 miles.

History

Cycling - Tour de France: The summit has been in the Tour de France six times, the first time in 2014. St Lary Soulan was an anchor point three times out of the six. All stages had different routes.