Col de Lancon

Generally I am excited, when I can report the fact, that I have met a lot of other cyclists going over a particular summit. That is especially true about the area where I live, because that is something special, and it does not happen all that often. Well - in this part of the Pyrenees in June, there are so many racers on bikes out there on the road, the special exception is actually, when few bikers ride over a summit. This pass falls into the latter category. Granted - there are no superspectacular views along the way. But there is a practically deserted old town on the edge of a mountain, grouped in perfect harmony around the massive walls of a small church, that despite its small size, still manages to dominate the town picture in every way. At the highest point of the road is a single metal cross, which makes a perfect picnic site. Actually - I enjoyed this little summit more than some Tour de France passes. Oh - I should mention, on the way down I did see two other cyclists, a couple on touring bikes who seemed to be enjoying themselves very much.

I have used the pictures of panoramio and flickr contributors, as well as other web sites to illustrate this page. There are copyright notices and links to all original pictures. My own pictures were on a computer, that was stolen at the train station Frankfurt Airport (model Acer Aspire One (serial# NUSGPAA01625101C947600F)

1.(00.0km,0720m)START-END NORTH: Arreau
2.(05.4km,0840m)profile turns right in Borderes de Louron
3.(08.2km,1070m)Ilhan
4.(09.8km,1120m)TOP: Col de Lancon
5.(14.6km,0930m)Gouaux
6.(17.3km,0770m)START-END SOUTH: bridge over Aure, south of Guchen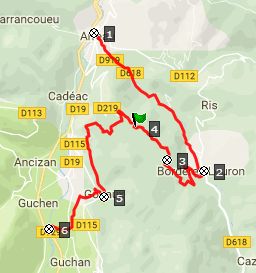 Approaches

From North. The route up to point 2 follows the route to Col de Peyresroude. In Borderes-de-Louron a tiny turnoff between two hedges looks as if it is a private driveway. But a sign (I think it said Ilhan) verifies that this is the little road I am looking for.

Ilhan turns out to be just a house at a turn in the road further up the hill. A little later the first mountain view appears behind, and the Ilhan house is the foreground. Curving around the north end of this little ridge, the road levels out and enters open high fields. The road reaches a clearly defined high point, at a metal cross before entering the town of Lancon. The church here makes a great foreground to whatever you want to place behind it in the photograph.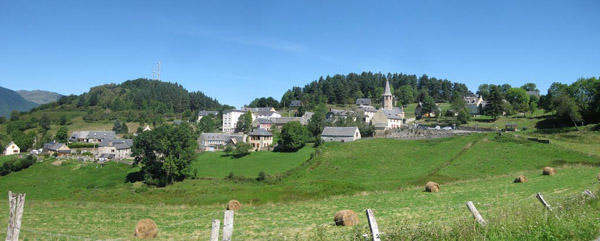 Copyright: Panoramio Contributor: Jan Matthieu piclink


From South. (described downwards) There are at least two ways down on this side. A northerly route goes directly back to Arreau. I took the southern option. It passes a picturesque walled in cemetery at the edge of the forest. Then a long traverse through the woods leads down to Gouaux. It's still a couple of km on the numerous valley roads between not-so-small villages in this wide bottomed valley, to find a low point at a bridge over the river Aure.

Dayrides with this point as intermediate summit are on pages:
Hourquette d'Ancizan s(u)
Col d'Azet

cLiCk on image , arrows , or thumbnails to advance slideshow