Lac d'Aubert / d'Aumart(ow)
also includes Barrage de Cap de Long[ow]

This is a remarkably long, high and (for Europe) isolated climb into a high mountain area of damed lakes. The road forks for the last 300 meters of climbing, so that there are two one-way summits, that lend themselves to being cycled in the same day ride. The two one-way summit points are at roughly the same elevation, but have a very different character. I packed along hiking shoes on this ride, and I am glad I did.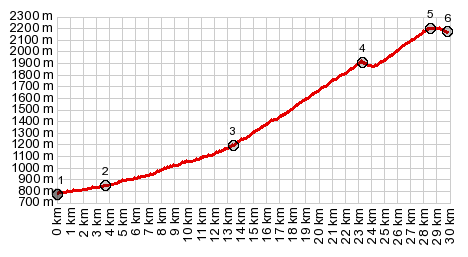 1.(00.0km,0780m) START-END NORTH:camping de Loustou, Vielle Aure
2.(03.8km,0850m)Lary-St-Soulan
3.(13.4km,1190m)Route des Lacs branches off D113
4.(23.3km,1910m)route to Lac d'Aubert branches off route to Cap de Long
5.(28.5km,2200m)TOP: Lac d'Aumart
6.(29.8km,2160m)end of road at Lac d'Aubert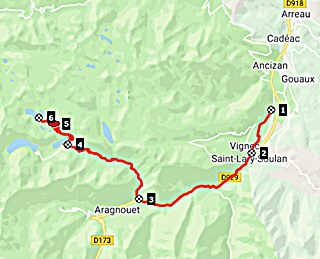 Approaches

From South: The first part of the profile is the international trucking route through the Bielsa tunnel between St Lary Soulan, France and Spain. In my case the traffic was moderately heavy - really not too bad. The turnoff to this lake is signed as "Route des Lacs".

Now on much rougher pavement and with practically no traffic, the route leads up the bottom of a rugged, incised V shaped canyon, in thick forest. When the switchbacks start, they follow each other very quickly. It is not like a waltz, it is like the twist. Still - the road never has a chance to climb out of the narrow valley. At the jct with the road to the other one-way summit point at Cap de Long (see below), a small downhill leads to a narrow crossing on a small lake, flanked by a restaurant.

The last act of this climbing play starts with a traverse, still in thick forest. The road climbs above the lake and reaches a saddle. During this section you get a good view of the other option, the ride to Cap de Long. This last part to Lac Aubert is in a designated "wild(erness) area", where cars are not allowed to park, as well as other restrictions exist for dog and man alike. The two lakes at the summit are just slightly above treeline, and also managed with dams, although these are much smaller than the one on Cap de Long. The summit section is relatively short. Yet most of the pictures are taken there. The lakes are located in a shallow high valley, and they seem like an invitation for a comparison with other alpine environments around the world. There is very little if anything in the form of man made structures, that would exhibit a local regional character, The mountains. lining the valleys are wild and vertical. From this side most look utterly unclimbable, but many north faces do. From the immediate environment it is difficult to guess the relative high elevation of the lakes where the road ends. Here a well used trail with two destination options invites for a hike, leaving from a large parking lot.

cLiCk on image , arrows , or thumbnails to advance slideshow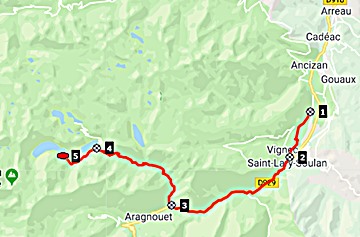 Addtitional one way summits on this route:

Barrage de Lac de Cap de Long. The other out and back climb from the fork has a completely different character. While the road to Lac Aubert has a wild scenic beauty to it, this side is more industrial in character. From the final traverse to Lac Aubert a thousand feet below the high point, you can see a wall, gluing shut a high valley above, at its exit. The dam seems to connect two mountain sides, rather than just a block off a narrow exit of valley. After a short level area a final set of switchbacks leads through an assemblage of ramps, viewing- and support structures. Much of the area along the road has transformed into platforms of some sort. What uses they all have or had is impossible to speculate. Many of these structures give the impression of a complex of industrial ruins.

At the top a curious small restaurant has signs offering guide services and coffee. It is possible to bike across the dam to the other side. The map shows a hiking trail leaving from there, but all I saw was vertical rocks. The other road from the restaurant/bar follows the west side of the reservoir. It is repeatedly blocked by large rockfalls, that take considerable time to cross. I never did get across all of them.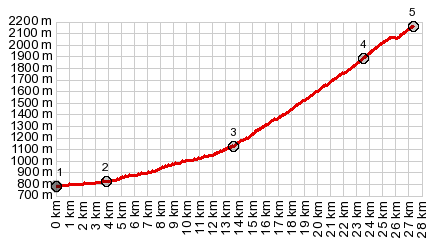 1.(00.0km,0780m) START-END NORTH:camping de Loustou, Vielle Aure
2.(03.8km,0850m)Lary-St-Soulan
3.(13.4km,1190m)Route des Lacs branches off D113
4.(23.3km,1910m)route to Lac d'Aubert branches off route to Cap de Long
5.(27.0km,m,2160)TOP:Barrage de Lac de Cap de Long







cLiCk on image , arrows , or thumbnails to advance slideshow


Dayride with no two way summits and this as highest one way summit:

( < Col d'Azet | Col des Tentes(ow) > )

Lac d'Aubert/d'Aumart(ow) , Barrage de Cap de Long(ow) : Vielle Aure > St Lary-Soulan > la pont du Moudang > to end of road at Barrage de Cap de Long << back down same way >> to end of road at Lac d'Aubert/ d'Aumart(ow) << back down to la pont du Moudang > back to starting point in Vielle Aure: 44.5miles with 6223ft of climbing in 5:23hrs (garmn etrex 30 r5:19.6.4)
Notes: day also contained a hike from Lac d'Aubert to a pass north of there
h+b: max-min=8255ft-2556ft=5699ft, 48.6miles with 7480ft of climbing in 7:27hrs
h only: max-min=8251-7084=1203ft, 3.1miles with 1243ft of climbing in 2:24hrs