Colorado Trail m139.9 (sh)

(section: Camp Hale - Tennesee Pass Rd crossing)

Between Camp Hale and the top of Tennessee Pass, the Colorado Trail stays relatively close to the Tennessee Pass road. Several access points along the way make it possible to separate the trail into very short sections. This shoulder summit combines a short portion of the trail with a part of the Tennessee Pass road into a loop. For a bigger view, this section of the Colorado Trail is also included in the next section: Colorado Trail m148.8(sh) (section: Camp Hale - Long Gulch).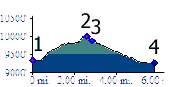 1.(9340ft,mile00) START-END WEST: Colorado Trail turns left onto FR741C before entering Camp Hale.
2.(10010ft,mile03) TOP
3.(9970ft,mile03) Colorado Trail crosses US24 on its way to Tennessee Pass. Profile turns down US24.
3.(9260ft,mile06) START-END EAST: jct US24 - southern access rd to Camp Hale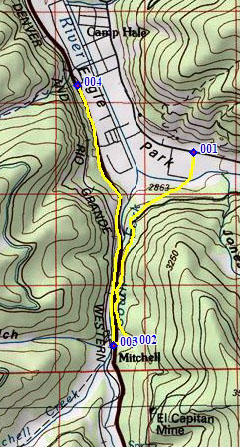 Approaches
From East. When coming down from Kokomo Pass, the Colorado Trail turns off to the south before it really enters Camp Hale. The turnoff onto FR741C is marked. But this is one of the few CT junctions, that could actually be missed if you don't look closely. The road leads to the end of a long Camp Hale housing structure of some sort. Here the CT crosses a small bridge and heads for an eminently ridable single track in the trees. This section is not quite as smooth as the next section on the west side of the Tennessee Pass Road, but it comes close in places. There is every indication that this trail has been prepared for bikers, by placing an occasional small bridge on the route, removing a vew rocks here and there, and just eliminating totally unridable sections. As for myself, I still get off the bike now and then.

The trail meanders and rolls along. On the map it looks like a clean contour above Tennessee Pass. Reality has more ups and downs. After crossing a dirt road, it remains in sight and ear shot of Tennessee Pass road traffic. A simple half split log, making a bench invites to rest and enjoy the view onto the nearby road. The highest point on this section is just a few hundred yard before crossing Tennessee Pass, and about 50ft above the road.

From West. (described downwards) The logical thing to do here is to keep climbing on the Colorado Trail. But to show this point as a shoulder summit, this side descends Co24 back down to Camp Hale.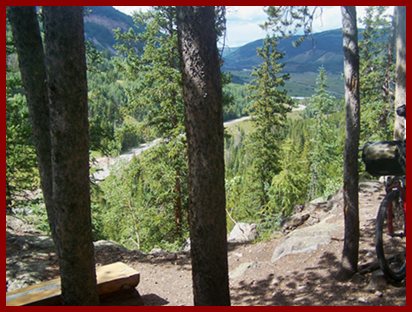 Dayrides with this point as intermediate summit:


FR708 Resolution Mountain s(u), Colorado Trail m139.9(sh)
: just north of Camp Hale > along railroad tracks north to Camp Hale > up FR 708 Mc Allister Gulch > Resolution Mountain s(u) > Fowler Hilliard Hut > south on FR751 > down FR702 Resolution Creek > Camp Hale > south on Colorado Trail > Colorado Trail: section Camp Hale - Tennesee Pass Rd cr(sh) > down Co24 > back to starting point: 29.8miles with 3830ft of climbing in 4:03 hours (VDO MC1.0 m3:11.8.23 t11_4).