Old Raton Pass

Old Raton Pass is in many ways the oldest and most historic mountain pass in Colorado. However, since much of it is no longer publicly accessible, more about the history is on the Raton Pass page, and this page is more of a description.

In the book "Passes of Colorado" Raton Pass and Old Raton Pass are not treated as separate points, and that even though it lists three different historical versions of Monarch Pass (for example). But the old historical pass road does reach a different summit point. Besides the highest points are actually just across the boundary in New Mexico. The entire old pass road on the south side is now on private, gated land, as I discovered during my last visit.

While looking for the route again recently, I joined the conversation between a man who has lived in Raton for a long time and a couple who had just moved here. "Back then you could drive from here to Colorado." he observed - "That would be cool" added one of the newly arrived residents. "But then this guy from Texas bought it up and closed down all the access". In all fairness, the whole area around Raton Pass is probably the most private, heavily gated and access restricted area I have ever seen in Colorado, and it is hard to imagine this as a result of only a single land owner. I imagine public interest in this area is fairly large. The Santa Fe Trail crossed here, an old historic rail line crossed here, reincarnated as a still functioning railroad. The description below is a mixture of old photos and what I remember of a ride several decades ago, updated with what one can expect to find now as told by the old man from Raton. The profile was fairly easy to reconstruct. All the roads still show up on modern maps.


1.START-END SOUTH: low point on the south side of Raton
2.upper part of Moulton Ave, Raton
3.TOP: 7880ft, point of highest elevation
4.junction between road to top of I25 Raton Summit and road continuing on west side.
5.profile joins I25
6.START-END NORTH: low point in Trinidad, near park north of downtown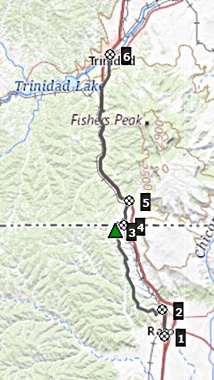 Approaches

From North. Moulton Ave in Raton leads up to the water tower above town, with the first hint of a scenic view over the old town. During my last visit there was already a gate here. This one belonged to the city of Raton, and restricted access for what even this sign labels as "The Historic Pass Road", open to those that have requested permission from the town. You could argue that it is refreshing to see the relaxed fashion, in which Raton markets its tourist attractions. This lessens the probability for tourist traps and commercial exploitation. Above there is a lone, neglected picnic bench relic and a sign advertising a layer of iridium in the rocks.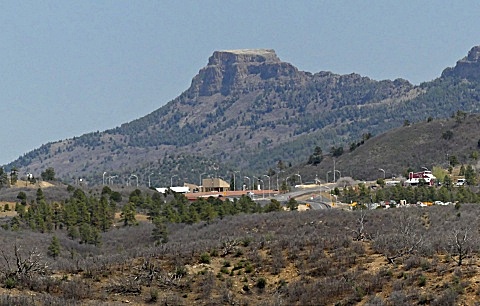 After that the road continues unabated, near the edge of the gentle mesa, apparently to another gate. The road continues through juniper forest to a turnaround circle and a ditch of sorts, where a land boundary has been transformed into something resembling a WW1 combat ditch. Apparently this marks a boundary between two private land owners. On the other side the once through going road continues again. Further along the way, I remember an old adobe building next to that road. A sign above the entrance reads "Fort of Welcome", apparently a relic from days of the Old Pass Road, during the early days of automobiles. Today the greeting stands in stark contrast to reality. Apparently it is fenced in now, probably the best for its own protection, even if the area is no longer accessible. Past that the road splits, and a small detour leads to a local high point with the best views along the route. This small detour is included in profile and pictures. You can also see I25 cresting at the new Raton Summit with an especially stark image of Fisher Peak behind it. This route rejoins the more heavily used road after this view. But the summit elevation of Old Raton Pass is still a little higher, and slightly south of Co-NM boundary.
From South. Past that the road is more heavily used and curves around to the east, direction new Raton Pass summit. More gates and junctions confuse the situation further. A right leads down to the Port of Entry at the I25 Raton Summit, a left goes down to another farm with closed access. It is possible to bushwack with a bike to I25 from here. More heavily used private roads continue on the south side of the farm. But the reconstructed profile goes down I25 on this side.

cLiCk on image , arrows , or thumbnails to advance slideshow
Dayride with this point as highest summit
PARTIALLY PAVED / UNPAVED
( <
Co78 Wet Mountains s(u)
|
Laughlin Peak / Blosser Gap Rd s(u)
> )
Old Raton Pass , Raton Pass :
low point at southern end of Raton > Raton with several city street detours > Moulton Ave west > a variety of unmarked dirt roads north > Old Raton Pass > more unmarked roads north to near Wooton exit > I25 north > several sightseeing loops around Trinidad > service road on east side of I25 south > I25 south > Raton Pass > several sightseeing loops around Raton > back to starting point: 55.4 miles with 4250ft of climbing in 5:35hrs (r4:12.5.14s[y1,y2])