Skyline Drive s(u)

Adventurous road constructions are a relatively rare in America - because they are often an expensive item, and the population density is much smaller here than in areas of multitudes of expensive road constructions, like the european alps for example. But, if cheap prison labor is available, the country may make an exception. But this is not a big, high expensive pass road, - rather it is to that what mini golf is to big golf. It's a beautiful little one way road that runs along the top of a hogback ridge above Canon city - built with prison labor from the famous nearby Canon City federal penitentiary.


1.START-END EAST-1: 5320ft - low point close to US50 on the east side of Canon City.
2.5640ft - profile turns right from US50 onto Skyline Dr
3.TOP: 5840ft
4.end of Skline Drive at trailhead
5.START-END EAST-2: 5360ft- profile rejoins the EAST-1 approach in downtown Canon city at a point between 1 and 2.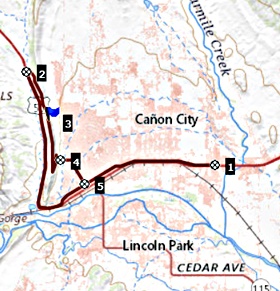 Approaches

From North. The turnoff onto this narrow one way road up US50 is well signed. There are no switchbacks on this side. A single steep traverse leads to the top of the ridge, where a foot/ mountain bike trail crosses the road. A wide trail along the east side of the ridge in the valley below becomes visible, which makes a good way to continue the ride.

From South. This side does have a single oh so tight switchback to bring you into the neighborhood of Canon City waiting below.

Dayride with this point as highest summit:
PARTIALLY PAVED / UNPAVED
( <
Phantom Canyon / Shelf Rd(sh)
|
Co78 Wet Mountains s(u)
> )
Skyline Drive s(u):
lower Phantom Canyon Rd > down Phantom Canyon Rd > FR123 Fremont Rd west > Canon City > US50 north > Skyline Drive south > Skyline Drive s(u) > Canon City with short detours > FR123 Fremont Rd east > back up Phantom Canyon Rd to starting point : 31.7miles with `1480ft of climbing in 2:55hrs (garmin etre20 m5:21.5.7)
Notes: short, hot day before the snows of May returned