White Pass
White Pass parallels the higher
Chinook Pass
in Mount Rainier National Park. I would guess that it sees a lot less bicycle traffic than
Chinook Pass
. This road has heavier and faster motor traffic. But I think I got the best pictures of Mount Rainier overall, from a viewpoint along this route.

1.(1050ft,mile00.0)START-END: Packwood
2.(1610ft,mile07.5)turnoff on left goes to Cayuse Pass in Mt Rainier National Park
3.(4501ft,mile19.9)TOP: White Pass
4.(3130ft,mile27.3)western jct with Tieton Reservoir Rd on left
5.(2630ft,mile36.4)START-END WEST: eastern jct with Tieton Reservoir Rd
6.(1600ft,mile54.1)START-END EAST: jct US12-Wa410 on Naches River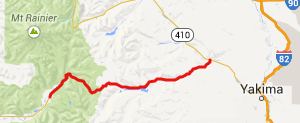 Approaches
From West. When Wa123 turns into Mount Rainier National Park, away from busy US12 over White Pass, it is very tempting to take the turn. But the ride over White Pass can have its interesting sides too. At first it does not look very appealing, when a sign promises passing lanes for the motorists over the next three miles. But, surprisingly the spacious shoulder for cycling remains, even as the passing lane is added. In many other parts of the country, the shoulder would be sacrificed for the passing lane. But this road is mercilessly straight, and so every contraption towing vehicle seems to be floored, so that the noise reminded me personally of cycling in Mexico.

There are a few points to keep you entertained. First a viewpoint onto lava columns, then an unannounced waterfall, and best of all, for me the best reason to ride this pass, the hope for an unusually spectacular far view onto Mount Rainier, as it deals with eggshells of complex clouds, that are different during every weather pattern. Photos from two different visits to this point are in the slide show below. All of these are extreme telephoto shots. Many visitors never paid attention to the mountain, as they happily photographed each other standing in front of it.

After that excitement the road leads uneventfully to the top. Just one more short view of a few Cascade peaks above treeline, and the road reaches the ski area / gas station, selling food on top of the pass. The Pacific Crest Trail also crosses this broad wooded expanse.

From East. (described downwards). Another waterfall together with a view down the long wooded valley to Rimrock Lake is another reason to stop and wander along the edge of the lava for a while. After that a long straight traverse quickly shoots down to the aforementioned lake. Tieton Road around the south side of the lake is a nice alternative to US12, also quite a bit longer and a bit more up and down. The turnoff is easy to miss during a fast downhill. The sign simply reads :"Rimrock Recreation area".

Dayride

COMPLETELY PAVED:

( < Cayuse Pass | Blewett Pass > )
White Pass x2 : near jct US12 - eastern end of Tieton Road > US12 west > White Pass << turnaround point at jct Wa123-US12 > back over White Pass > around south side of Rimrock Reservoir on Tieton Road > back to starting point: 70.2miles with 5460ft of climbing in 5:22hrs (VDO MC1.0 m5:13.9.3)