-
Chinook Pass
This is a big climb on the west side of Mount Rainier, with a scenic top section across from the perpetually snow capped mountain. de Lorme Gazeteer maps label this spot as Yakima Pass. All signs in the area use "Chinook Pass".


1.(1050ft,mile00.0)START-END SOUTH ALTERNATE: Packwood
2.(1620ft,mile07.6)profile goes left onto Wa123, while right goes to White Pass
3.(2260ft,mile13.0)jct with Stevens Canyon Rd to Paradise on left
4.(4675ft,mile23.9)profile goes right on Cayuse Pass onto Wa410
5.(5430ft,mile27.3)TOP: Chinook Pass
6.(2830ft,mile46.5)jct with with Bumping River Rd on right
7.(2590ft,mile50.1)START-END EAST: Wa410 crosses Naches River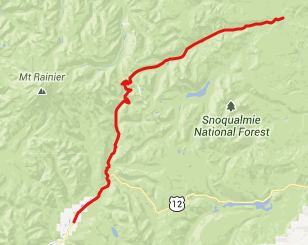 Approaches
From East. The profile goes up the southern approach to Cayuse Pass. This is a long steady climb in the forest. Wa123 through Rainier National Park, does not really have a shoulder, but also much less traffic than the previous US12 or the following Wa410. The most interesting section starts at the top of Cayuse Pass. Several switchbacks wind up another 1000ft in elevation, across from Mount Rainier. This section has a shoulder that can be used for climbing.

The one view surpassing everything else on this huge climb is the view just before the top, with Dewey Lake in the foreground, and hopefully not too many cars parked next to it, while Mount Rainier high above and in the background is putting on a cloud show. Immediately after this spectacle the road goes through a big wooden gate with a historic national Park flair, announcing "Wenatchee National Forest" to east bound travelers and "Rainier National Park" to the west bound

From West. This is just a long traverse along a straight wooden ridge, much like making your way down a large boat's hull turned upside down. Climbing this side can be a little unpleasant if the traffic is heavy during the weekend. There are no turns and nothing to keep the roadsters from flooring their gas pedals.

After entering the valley floor after about 1500ft of unimpeded rolling, the difference in the forest is striking. Over here it consists mostly of lodgepole pines. Gone are all the ferns and mosses, that thrive in the wetter climate on the east side.

Dayride

COMPLETELY PAVED:

( < TR216D Abraham's Trail s(u) | Paradise s(u) > )
Chinook Pass x2 : jct FR46 - US12 <> up US12 <> Wa123 north <> Cayuse Pass(shp) <> Chinook Pass <> turnaround point: Pleasant Valley Campground: 69.3miles with 6620ft of climbing in 5:33hrs (VDO MC1.0 r2:13.8.30).

-