FR221 Sheep Creek - Long Park(sh)

FR221 runs along peaks of the eastern Uinta mountains, surrounded by meadows and parks and gentle grades. It us higher than paved Ut44 to Manila, but it still remains quite a distance below the ridge


1.(00.0m,6140ft)START-END EAST-1: low point on Ut44 at the jct with an access rd to Flamging Gorge Reservoir
2.(09.4m,7700ft)route turns west onto FR539
3.(17.3m,8380ft)jct with one way climb to Ute Mtn lookout
4.(24.5m,8700ft)TOP: profile takes turnoff to Long Park Reservoir on right
5.(27.1m,8600ft)path has crossed reservoir dam and starts descend down Sheep Creek Canyon
6.(29.7m,7600ft)profile turns right onto D1 rd
7.(34.9m,7230ft)route joins Ut43, west of Manila
8.(40.8m,6410ft)START-END EAST-2: jct Ut43 - Ut44 in Manila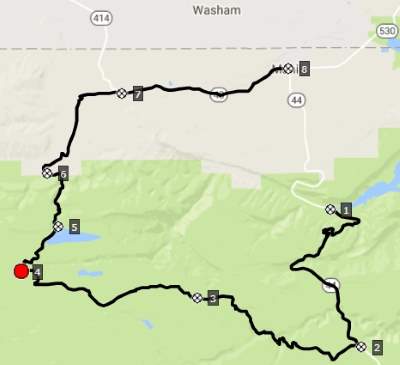 Approaches

From East. Connecting the two ends of the profile involves another small summit point between Manila (point6), and an access point to Flaming Gorge Evaporation Pond.

The profile starts at a low point, a short distance east of the junction: Ut44 - Sheep Creek Canyon. Both Ut44 and Sheep Creek Canyon are options to approach Uinta Pass, Ut44 does so with wide sweeping turns and views onto Flaming Gorge, and Sheep Creek Canyon accomplishes this with a much smaller road through interesting rock formations.

The profile follows Ut44. While climbing in the heat the wide road cuts far above can look intimidating. As the road approaches the forested zone it levels out and meets the upper access road to Sheep Creek Canyon. The recorded route continues on Ut44. The next big wave in the profile (on Ut44) is more than 300ft tall, but it cant be made into a 500ft approach. So I am not counting it as a separate summit. Soon the jct with Deep Creek Rd and its campground appears along the forested road
The profile turnns onto Deep Creek Rd. It largely stays in the forest. Near the beginning of FR221 an out and back on FR5 leads to a fire lookout. Unfortunately it is not accessible, and there are no real views from the bottom. But later along FR221, the road runs along expansive sub alpine meadows and wetlands, with an ever so gently rounded chain of snow capped mountains behind it. These wild flower strewn meadows are the best part of the ride and many are signed: Half Moon Park, Sheep Creek Park and others. FR221 gently climbs to higher points (such as FR221 Uinta Mtns(sh) ). But this route reaches its high point at the turnoff to FR14 Long Park Reservoir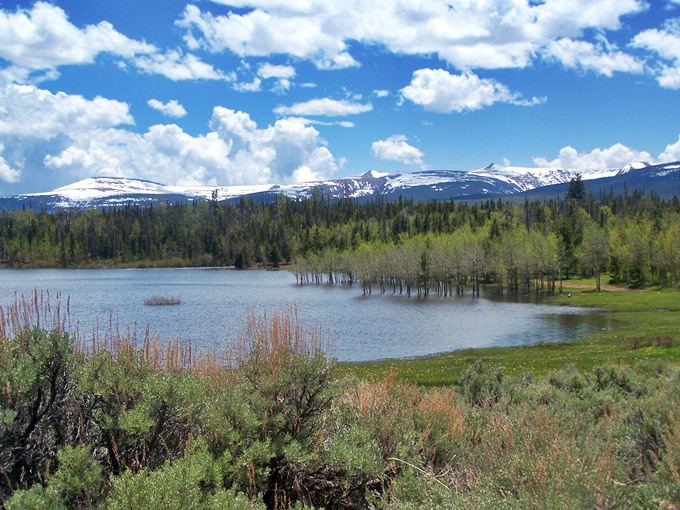 From West. (described downwards) The road traverses points that are practically the same elevation as the summit. Long Park Reservoir is drowning its grasses and aspen trees in blue snow melt water. It makes a beautiful foreground for the chain of big white lumps behind it.

The route crosses a gate, then a small damn and descends on a rocky rarely used road down the Sheep Creek Canal. The water runs underground in a pipe, leaving the stream bed dry. However vents along the way give off loud hissing sounds - a strange combination of being along a kind of canal wilderness.

In order to return to Ut44 the profile makes several confusing changes in direction in order to negotiate the Uinta foothill canyons. But the profile always follows the most used route. Along this part of the route it is easy to forget, that this is still part of Utah. It looks much more typical of nearby Wyoming. The last part of the descent is a long, straight and gentle roll into Manila. The most exciting part about Manila is the fake paper mache deer next to the only motel in town.

Dayride with this point as highest summit:

( < Harper's Corner Rd via Echo Park Rd s(u) | FR221 Uinta Mtns s(u) > )

FR221 Sheep Creek - Long Park(sh) , Ut44 Manila - Sheep Creek s(u) : a short distance up FR539 Deep Creek Rd > FR539 west > FR221 west <> out and back to end of FR5 Ute Mtn Fire lookout >> FR221 west > Half Moon Park > Sheep Creek Park > FR221 Sheep Creek - Long Park(sh) > FR14 north > Long Park Reservoir > across dam > down road following Sheep Creek Canal > D1A rd west > Connor Basin Rd east > Ut43 east > Manila > Ut44 south > Ut44 Manila - Sheep Creek s(u) > back to starting point on FR539 Deep Creek Rd: 52.0miles with 5400ft of climbing in 5:44hrs (garmin etrex30: m5:17.06.02)
Notes: hot day but pleasantly cool night along Deep Creek area