FR221 Uinta Mountans s(u)

FR221 runs along the north side of the Unita Crest through gentle hills and meadows. The straight road is far above the dessert valley floor, and also far from the linear ridge line line. This is a great way to get away from the summer heat, but not the dust.


1.(00.0m,6230ft)START-END EAST-1: jct Ut44 - Sheep Creek Canyon
2.(10.0m,8240ft)profile turns left onto FR221
3.(17.4m,8620ft)turnoff to Long Park reservoir is on right; profile continues straight
4.(23.6m,9360ft)TOP
5.(33.6m,7230ft)route joins Wy414 to Manila
6.(49.5m,6380ft)jct Ut43 - Ut44, Manila
7.(55.3m,6290ft)START-END EAST-2 same as point 1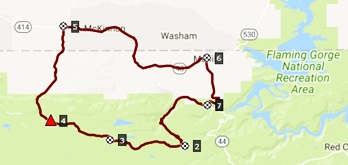 Approaches

From East. FR221 takes off from the top of the paved Sheep Creek Canyon Summit. The road climbs gently towards the west. The prettiest spots are actually on the lower part of the road, where it crosses expansive subalpine meadows, several of them labeled with signs. My favorite is Half Moon Park.

After the jct with the road to Long Park Reservoir (another possible summit point on FR221), it becomes apparent that the road has climbed gently in relation to the snowline on the rounded loaves of mountains, that are the Uinta Crest. But more and more of the view becomes obscured by forest. The road crests without great views or any curves, soon after the junction to Spirit Lake. This is where most of the trailer trains with other motor vehicles in tow are heading, surrounded by large clouds of dust.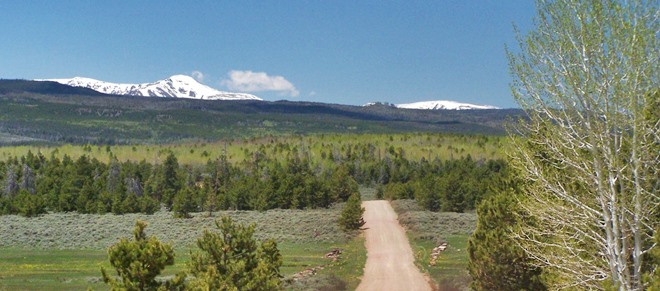 From West. (described downwards). A steep, fast, featureless canyon heads north. The most interesting moment comes, when I spot an old camouflaged train car in a private yard next to the road. When the road exits the mountains it becomes paved, only to turn to a thick gravel for the last miles before hitting pavement at the jct with Wy-414

Dayride with this point as highest summit:

( < FR221 Sheep Creek - Long Park | Bald Mountain Pass > )

FR221 Uinta Mtns s(u) , Sheep Creek Canyon s(u) , Ut44 Manila - Sheep Creek s(u) : near jct FR221 - Sheep Creek Canyon > FR221 west > FR221 Uinta Mtns s(u) > FR1652 north > Wy43 west > Ut43 west > Manila > Ut44 south > Ut44 Manila - Sheep Creek s(u) > up Sheep Creek Canyon > Sheep Creek Canyon s(u) <> out and back down east side to jct with Ut44 >> back to starting point on FR221: 62.4miles with 5420ft of climbing in 6:07hrs (garmin etrex30 m5:17.06.04)